Catholic Life
Catholic Life
CAFOD Family Fast Day
 On Thursday 14 March, we had some visitors into school from CAFOD who explained about the work of the charity. The following day we held a non-uniform day – wear Purple for Lent day where we raised £143. Well Done everyone!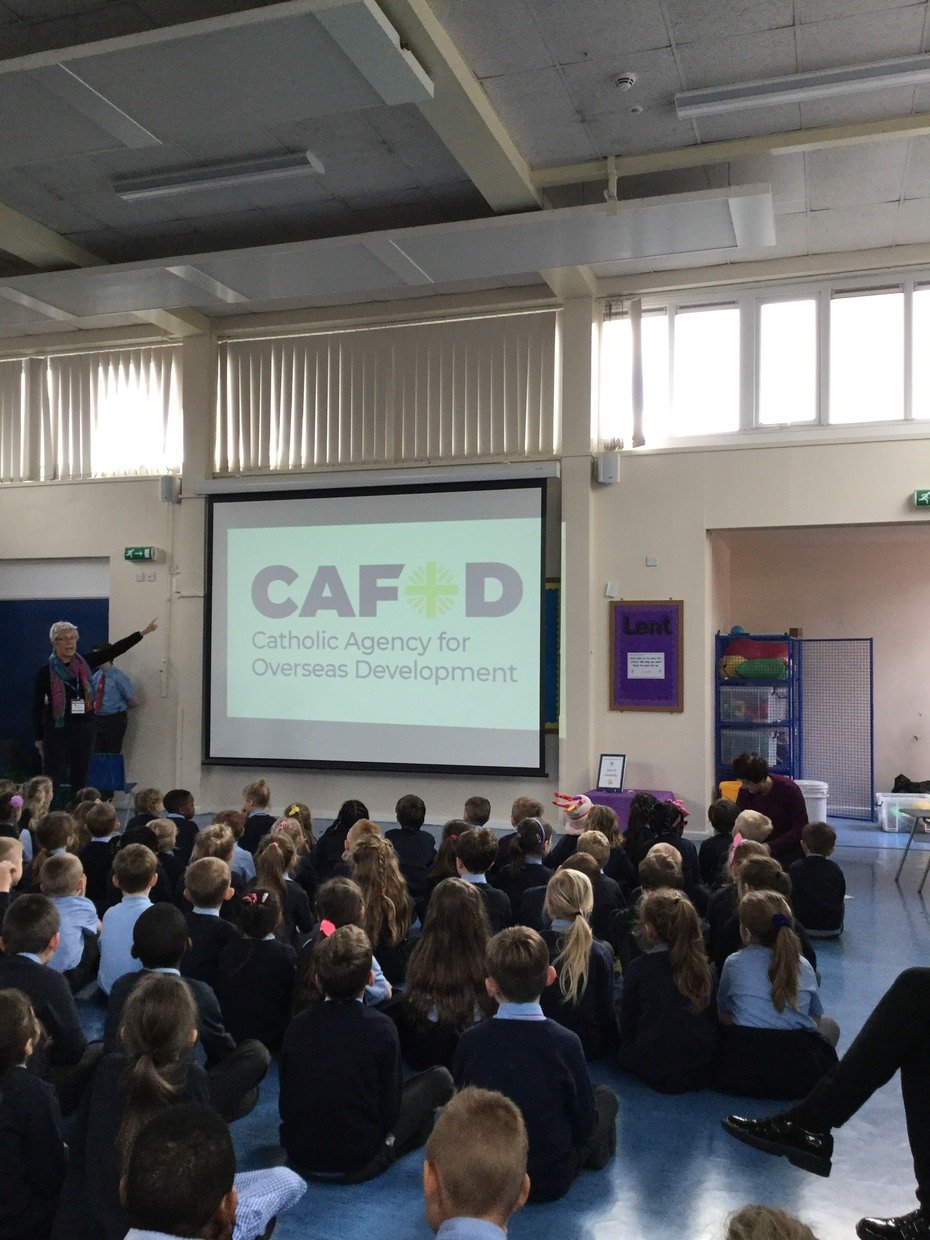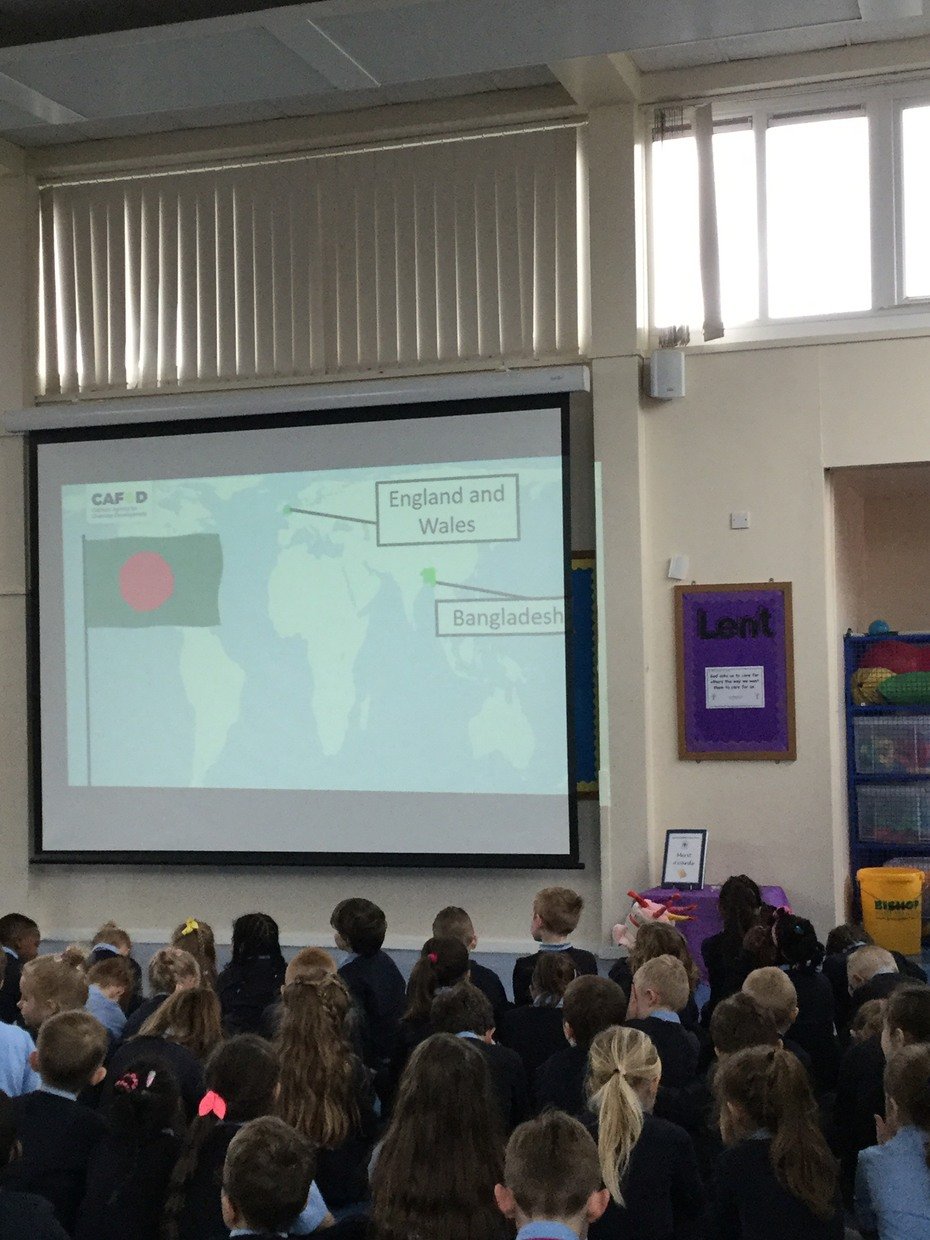 Ash Wednesday,
On Ash Wednesday, Key Stage 2 attended Mass at Holy Rood Church Hall. Our Foundation Stage and Key Stage 1 children held their own liturgy in the school hall. Father Damian blessed the ashes at Mass and these were brought back to school to distribute.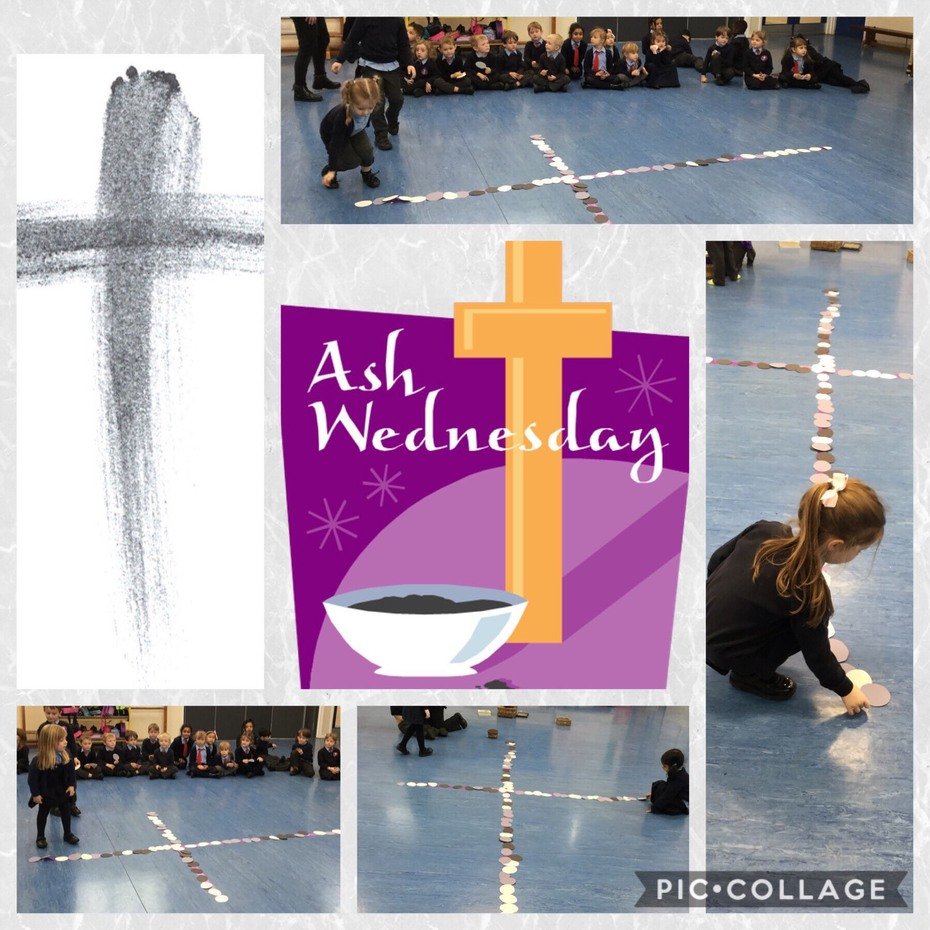 January 2019
On Monday 28 January, Bishop Ralph visited our school to bless the new Foundation Stage building. He was joined by Father Damian and our Nursery children presented Bishop Ralph with a gift. Bishop Ralph praised our children for their impeccable behaviour and he enjoyed his lunch with our children.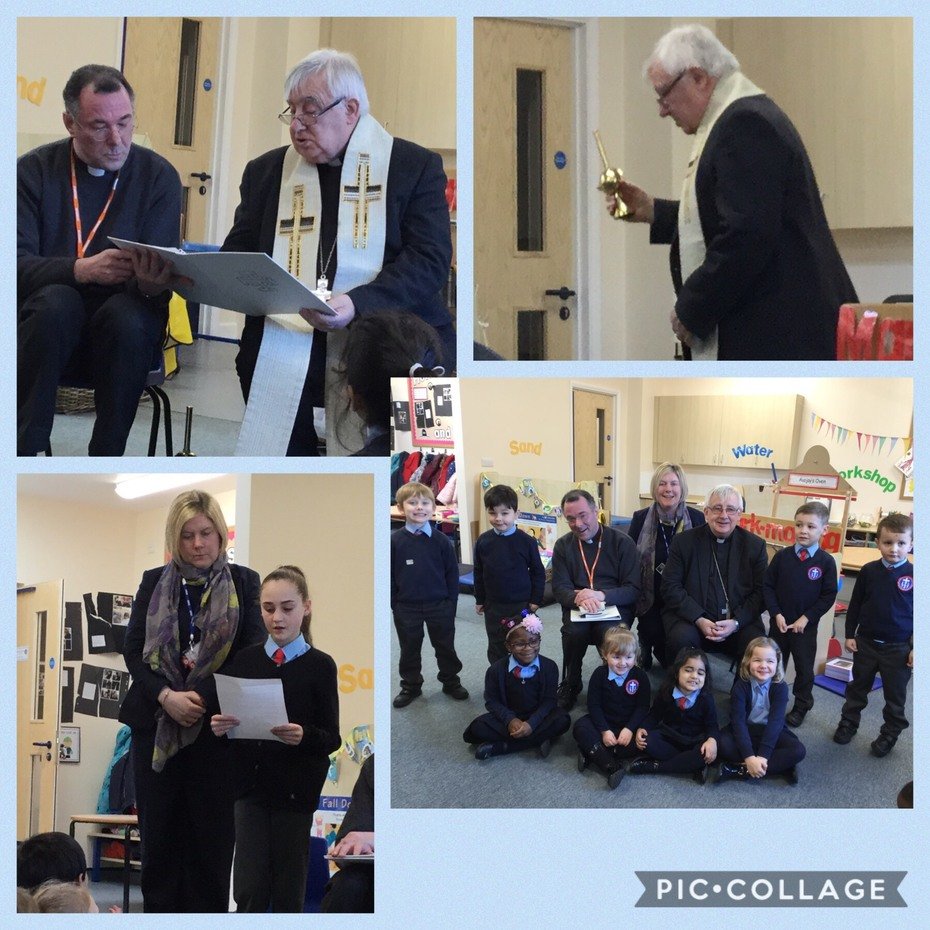 December 2018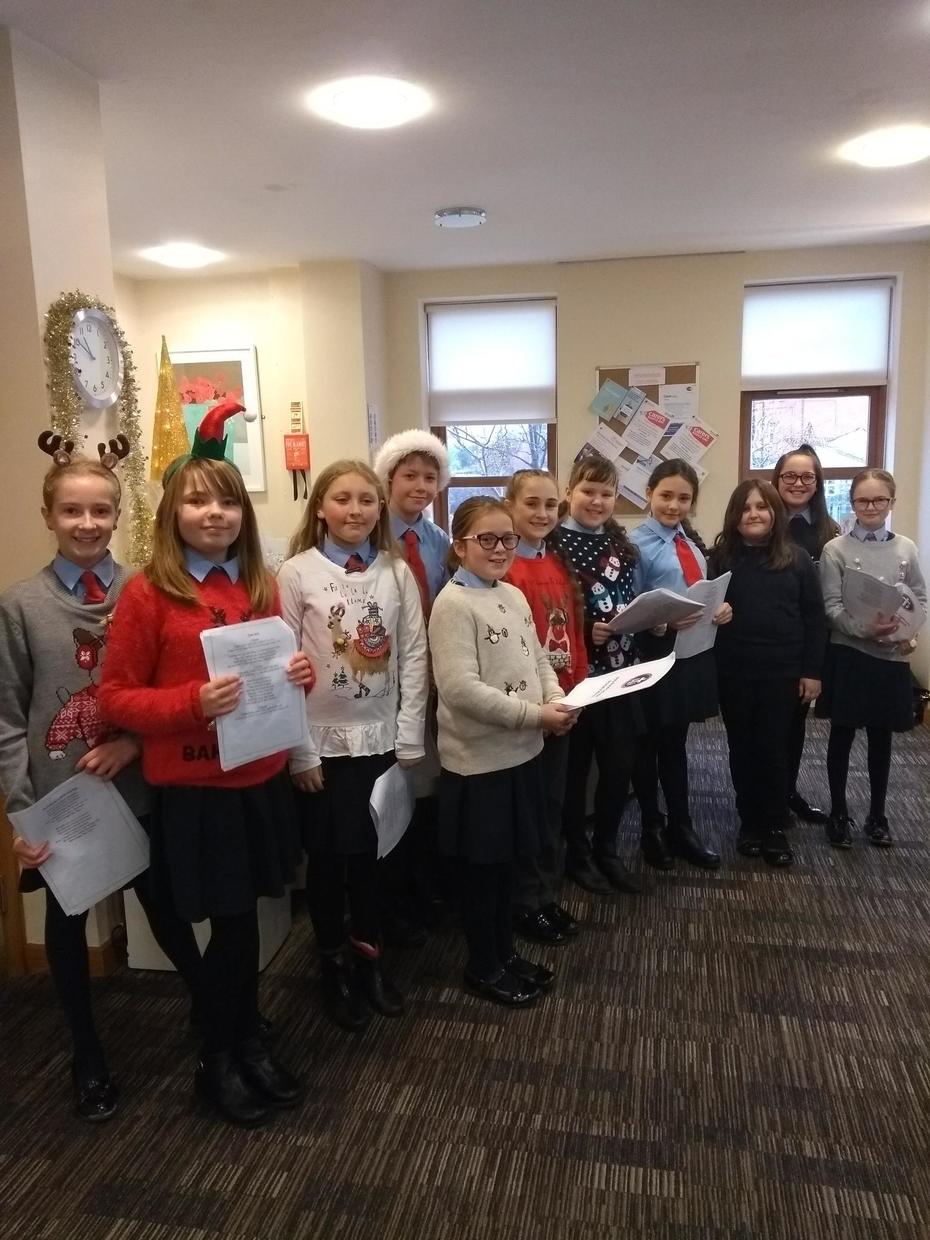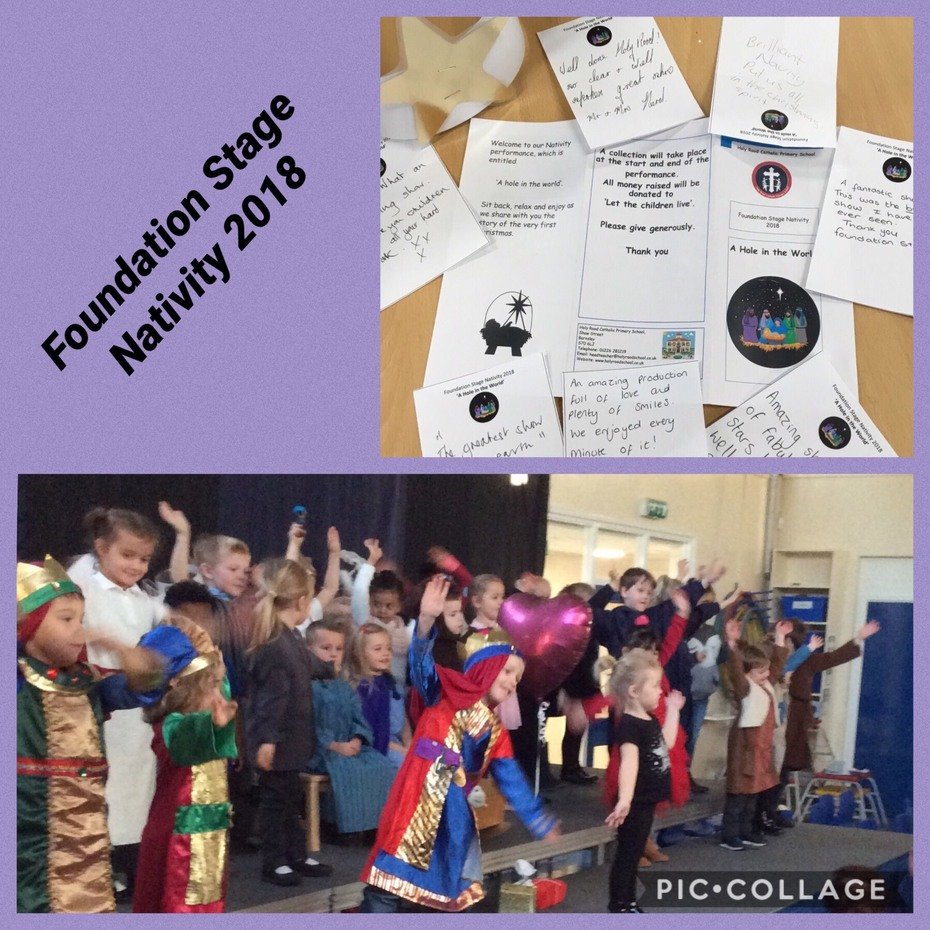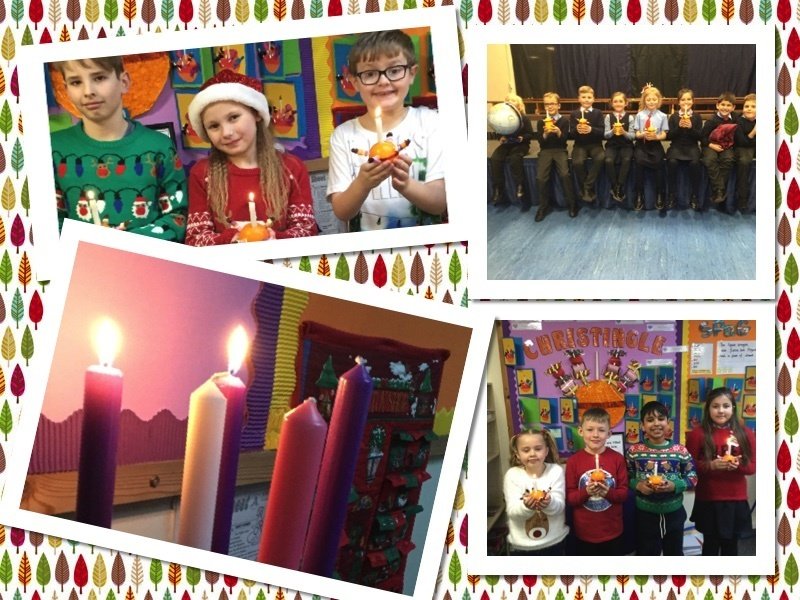 November 2018
Remembrance photos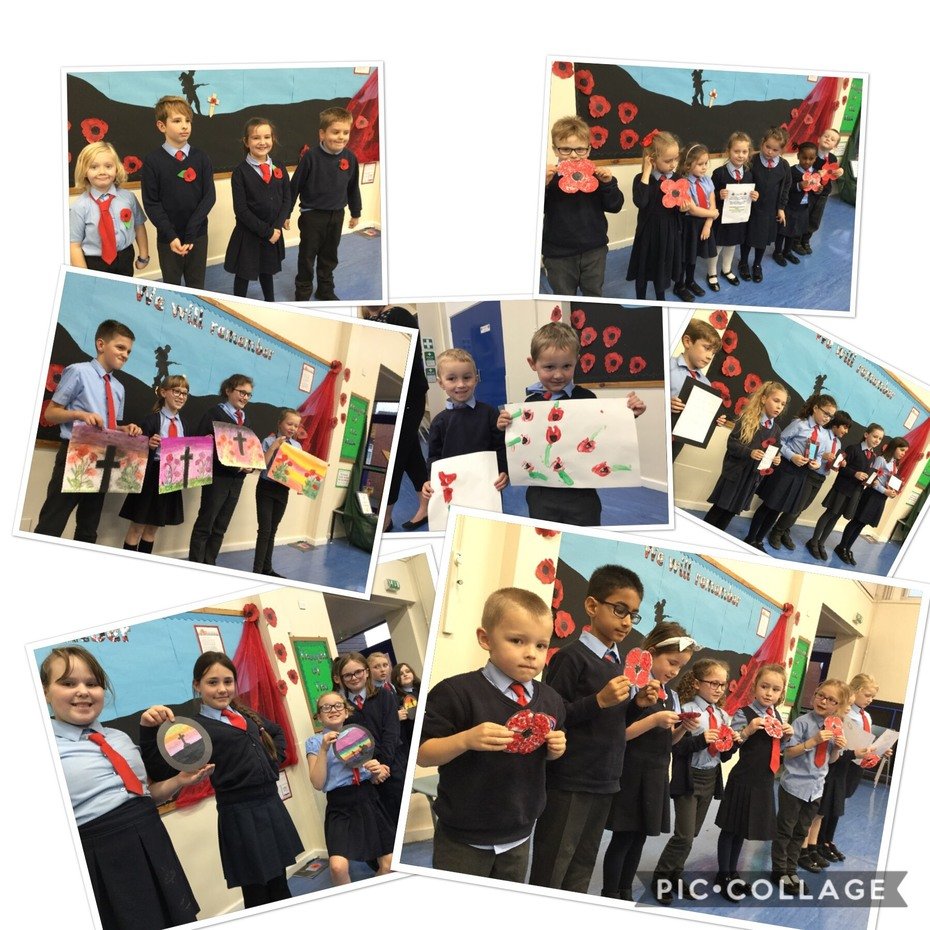 October 2018
We invited parents and grandparents in to Nursery to join us for a family liturgy. The children are beginning to 'talk to God' and are aware of the some of the signs and symbols that we use when we say a prayer. We spoke about how precious we all are as babies and as we grow up. We introduced a simple prayer tree and said thank you for each child's name as they placed a named leaf on the tree. We concluded our liturgy by sharing bread. 
The prayer tree will remain in nursery and families are encouraged to add to it if they would like the children to say a prayer for anyone. Each family took home a 'Talking to God' leaflet with simple ideas to support them in beginning to talk to God with young children. Thank you to everyone who joined us.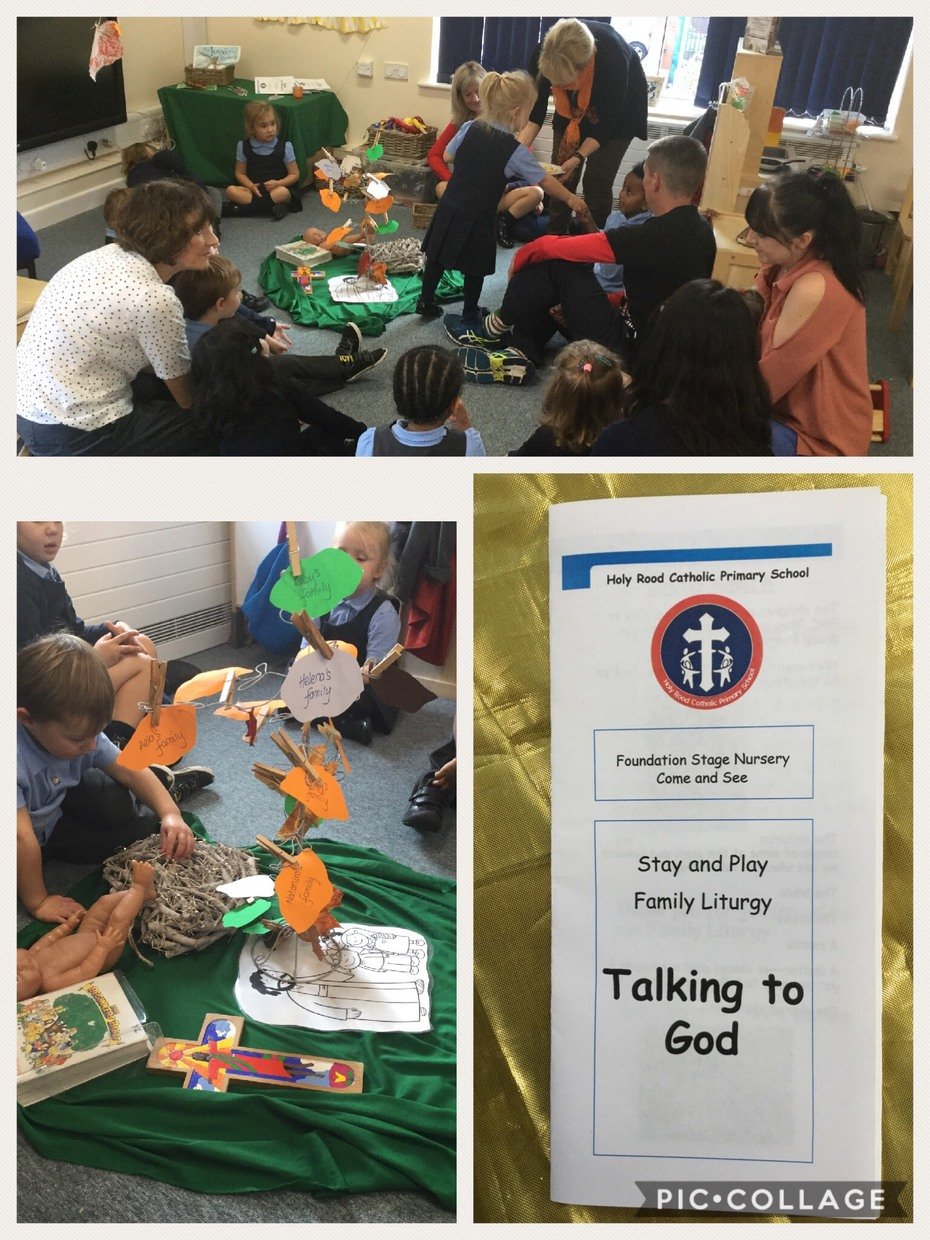 Harvest Liturgy
We celebrated our Harvest Liturgy through looking at the work of CAFOD and how they have helped and supported others. We talked about the meaning of Harvest and next week we will hold our 'Wear it Bright Day' to raise money to support such a great cause. Thank you to our parents and parishioners who came along to support our children.
4th October 2018
Thank you to Father Damian and Deacon Derek for coming to celebrate Mass with us today. It was so lovely to welcome parents and parishioners to our Mass.
30th September 2018
Today we celebrated Mass at Holy Rood Church. The children who are going to make their First Holy Communion in June enrolled at Mass with their families. We will continue to support them in their Sacramental journey and preparation.
September 2018
The children joined together for a group liturgy. We heard how God knows each of us and that we are precious to Him. We talked about baby brothers and sisters and how we need to be gentle with them and look after them. We wrapped a shawl around a baby doll and passed it around our circle. The Children heard how God loves and cares for us because he is our Father. We said the prayer  "God cares for me I know his love, like a baby safe and snug."
This is some of our children's first experiences of talking to God. We want them to know that they are indeed precious to God.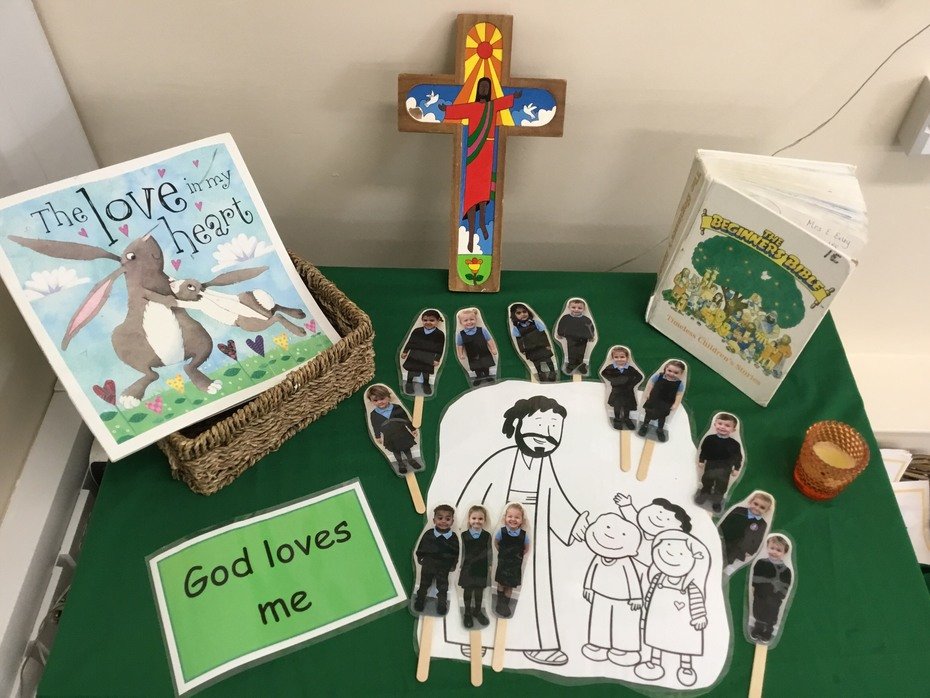 On Saturday 16 June 2018, our children made their First Holy Communion at Holy Rood Church.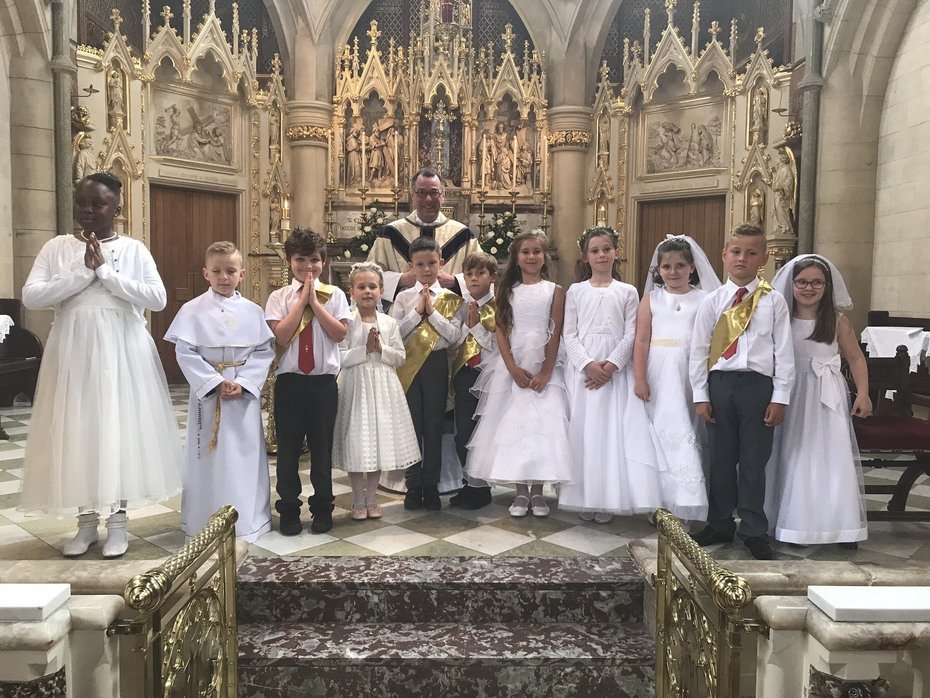 Palm Sunday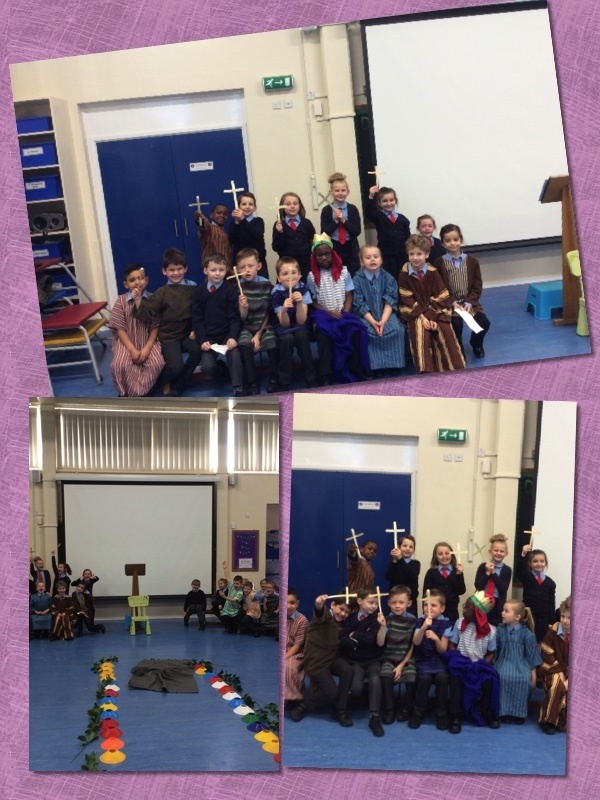 Stations of the Cross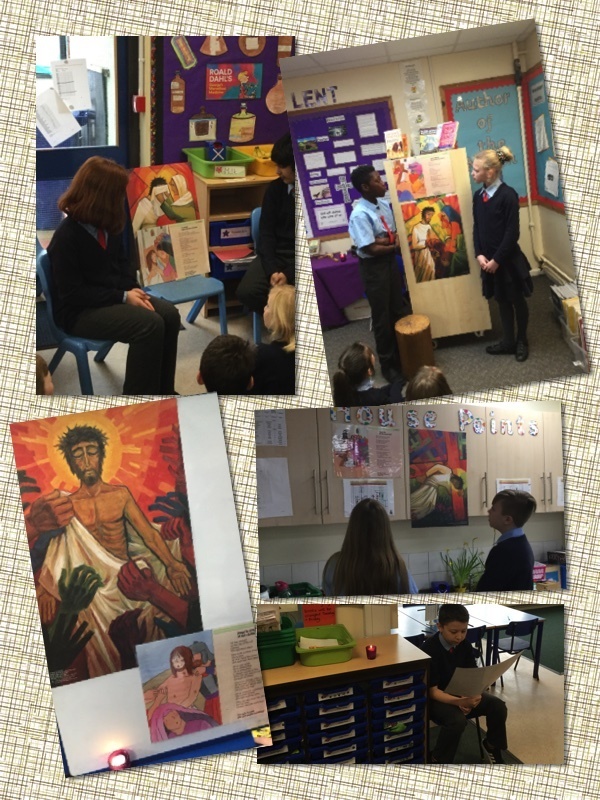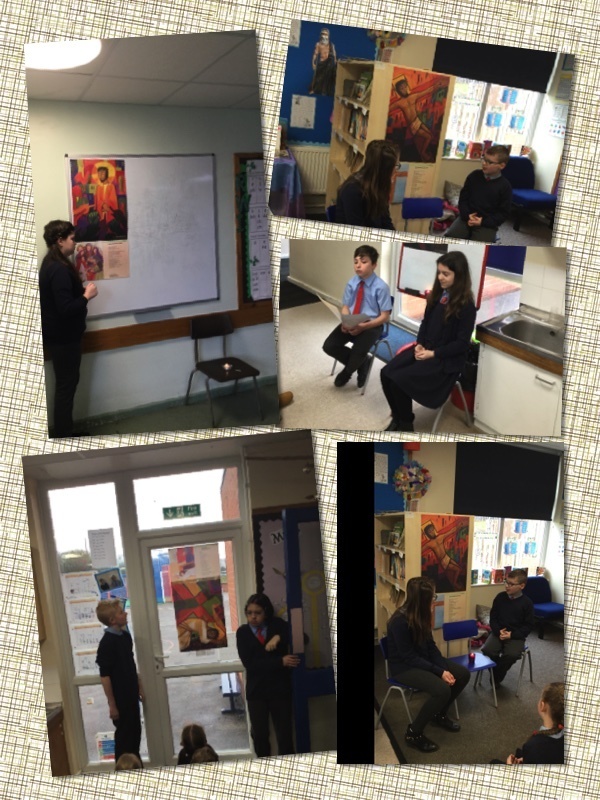 One of our pupils role played Jesus during Holy Week. We waved our palm leaves to welcome Jesus into Jerusalem. We  heard about the last supper and about the very difficult job Jesus had to do when He was put on the Cross. Each child  showed great respect as they  added in turn a purple heart to our Easter garden .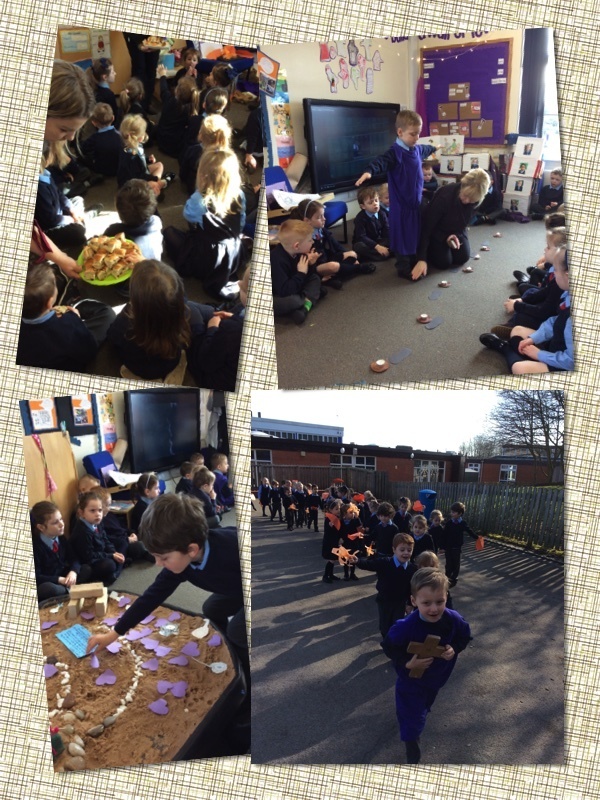 Lenten Reflection led by Y4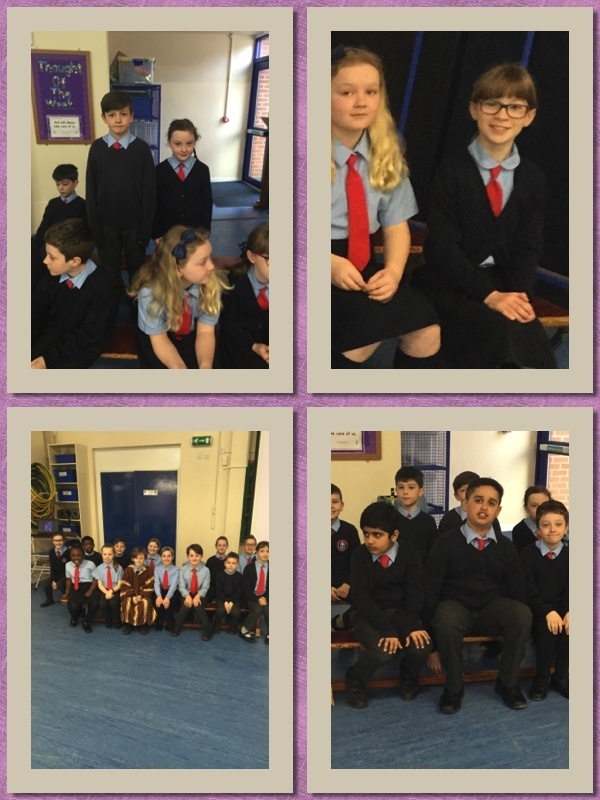 Lent 2018
Throughout Lent, KS2 children attended Mass on a Friday morning at Holy Rood Church. Mass was also said in school on Friday 9 March and our Foundation Stage children led this Mass for Mother's Day.
Year 4 have been washing the feet of the disciples.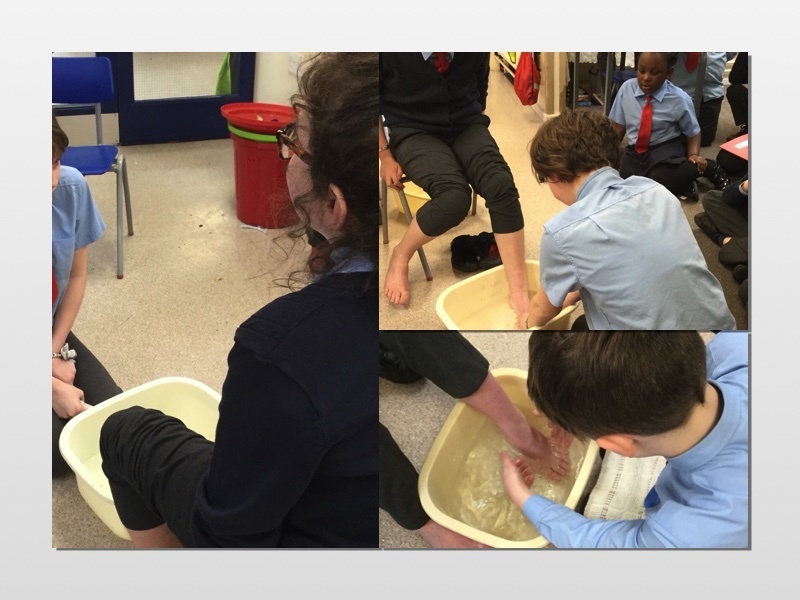 Last Supper Liturgy led by Y6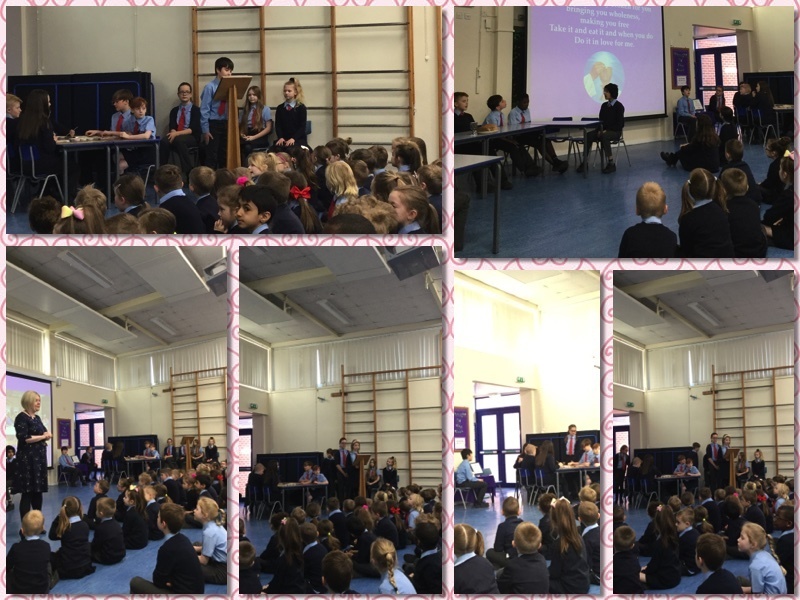 In Nursery we explored what happened to Jesus during Lent. The children had a shoe box each and we used them to build a 'wall of love'. We sang the song...
'Jesus went away to have a think (x3) 
And he really needs our help
He went away for forty days and night (x3)
And he really needs our help.
We are going to build a wall of love (x3)
To show we are good friends'.
The children have been working hard to be good friends by sharing, being gentle, helpful, saying sorry and being kind. We have added bricks (boxes) to the wall to make it bigger and stronger when we have seen the children being like Jesus. 
During Holy Week we found out what happened to Jesus at Easter and took part in a series of liturgies. We re-enacted what happened on Palm Sunday. We heard about the last supper and shared bread together. We then took part in 'Jesus' Walk of Love' and the children placed purple hearts on our Easter garden with a promise that we will remember Jesus.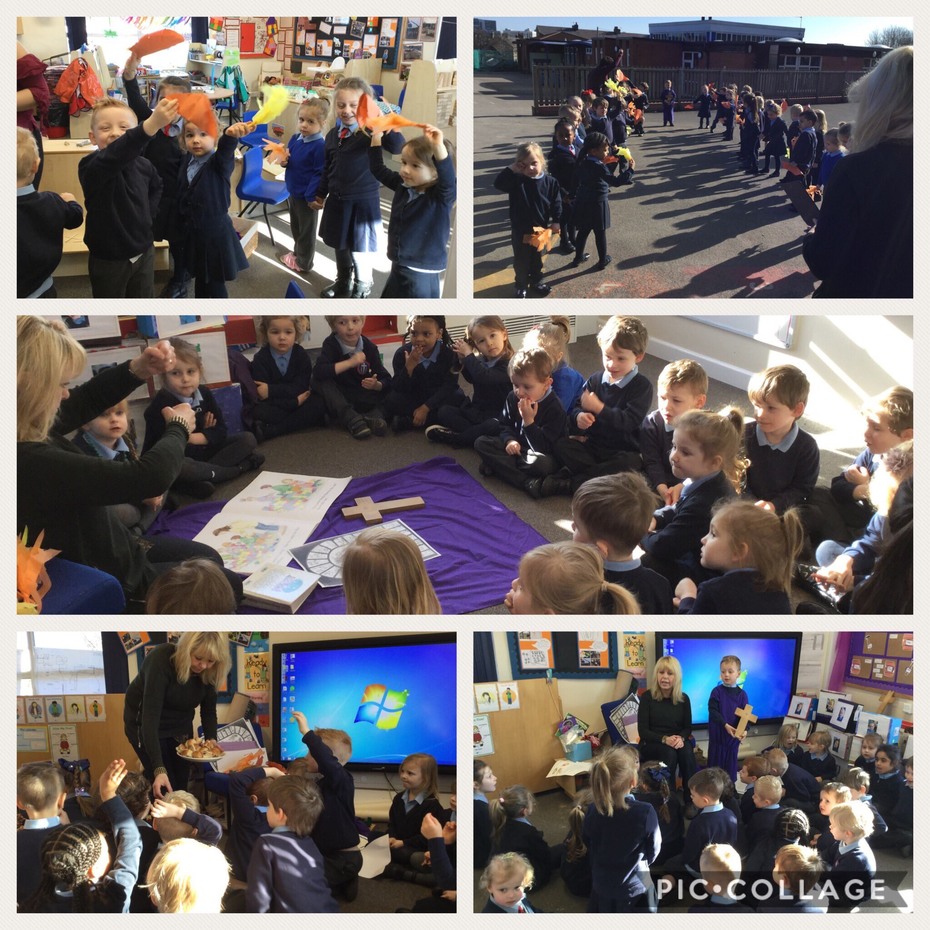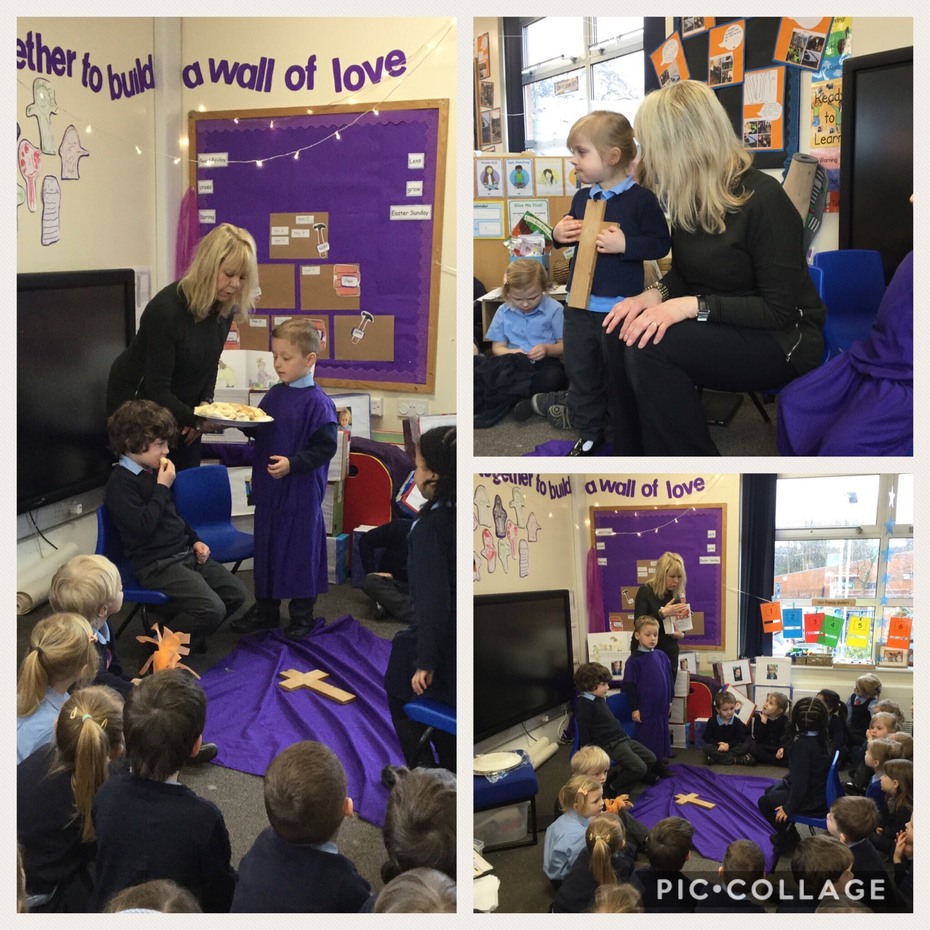 First Confession 2018
On Thursday 8 February 2018, our children began their sacramental journey. The children celebrated their First Confession at Holy Rood Church along with other children from the parish.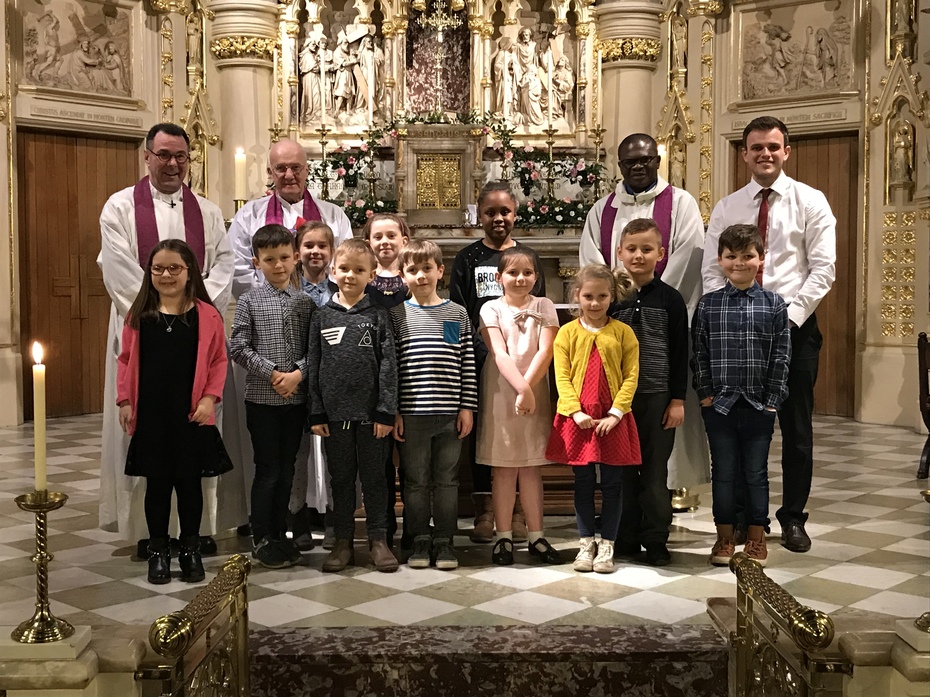 Come and See in Nursery - Family Liturgy – February 2018
Talking to God leaflet - stay and play
We are encouraging the children to 'Talk to God'. We shared a simple family liturgy with our parents and grandparents. We used a cross, the bible and a candle and we made the sign of the cross. The children are now familiar with these signs and symbols and now associate them with talking to God. We sang familiar songs from our liturgies, 'We can celebrate' and 'There is someone who knows me'. We then told the story of the presentation at the temple. We concluded the liturgy by sharing bread. Each family was given information and advice for supporting their child to talk to God at home. Thank you to everyone who joined us.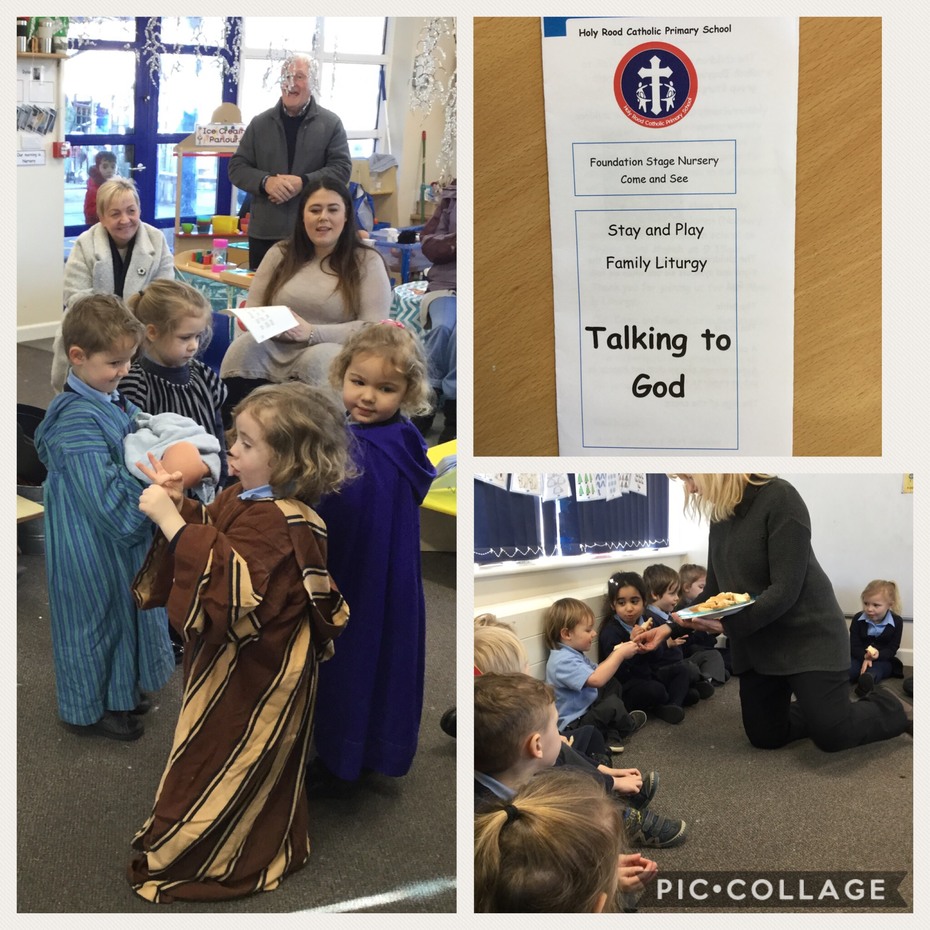 Come and See in Nursery – Celebrate – January 2018
The children are now beginning to take part in simple group liturgies. We thought about what a celebration is and also what and how we celebrate. We have welcomed new children into our nursery and we took the opportunity to celebrate them joining our group.