Nursery
Spring Term 2 2019
FS1 topic leaflet - Plant it, grow it, eat it - Spring 2
Spring Term 1 2019
FS topic leaflet - Holes, spaces and hiding places (F1) - Spring 1
Our focus for learning this half term is 'Holes, spaces and hiding places'.
We came into nursery to discover that it was dark. Black paper covered the windows. We thought about what to do - "pull it off", "chop it", "poke a hole in it".
We explored how to make holes using a variety of tools.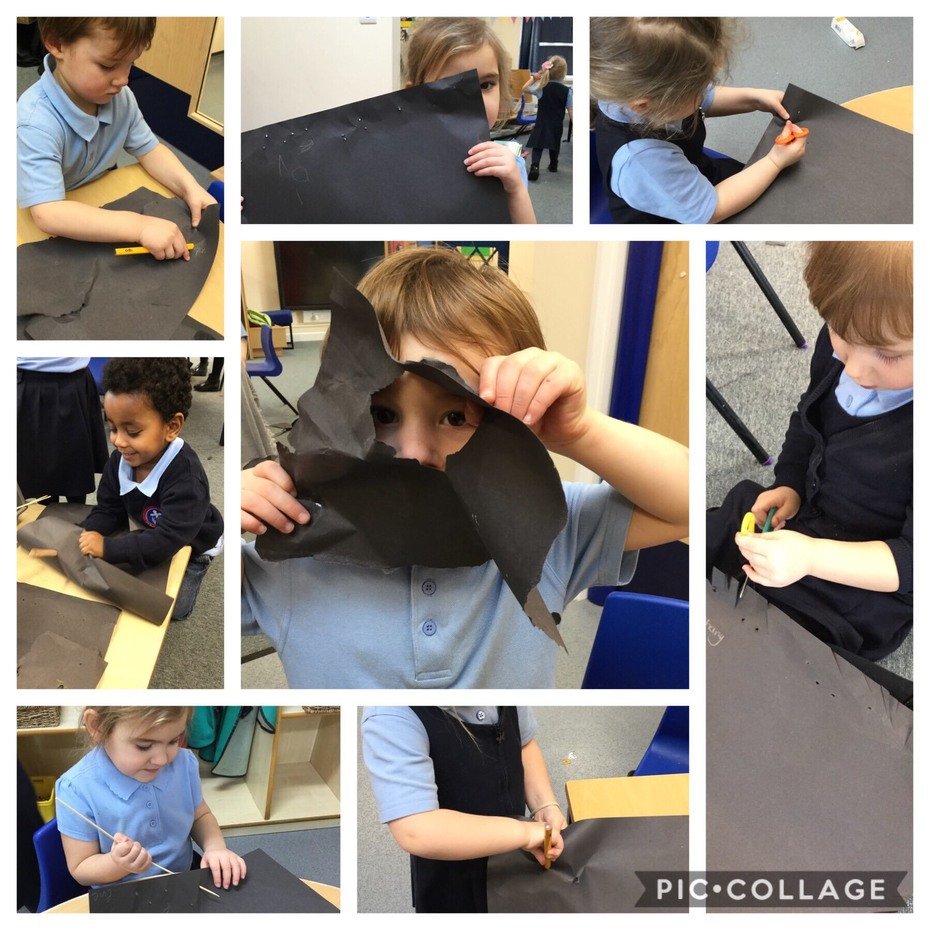 This interest in holes continued and so we made our own binoculars and set off on a hole hunt around school.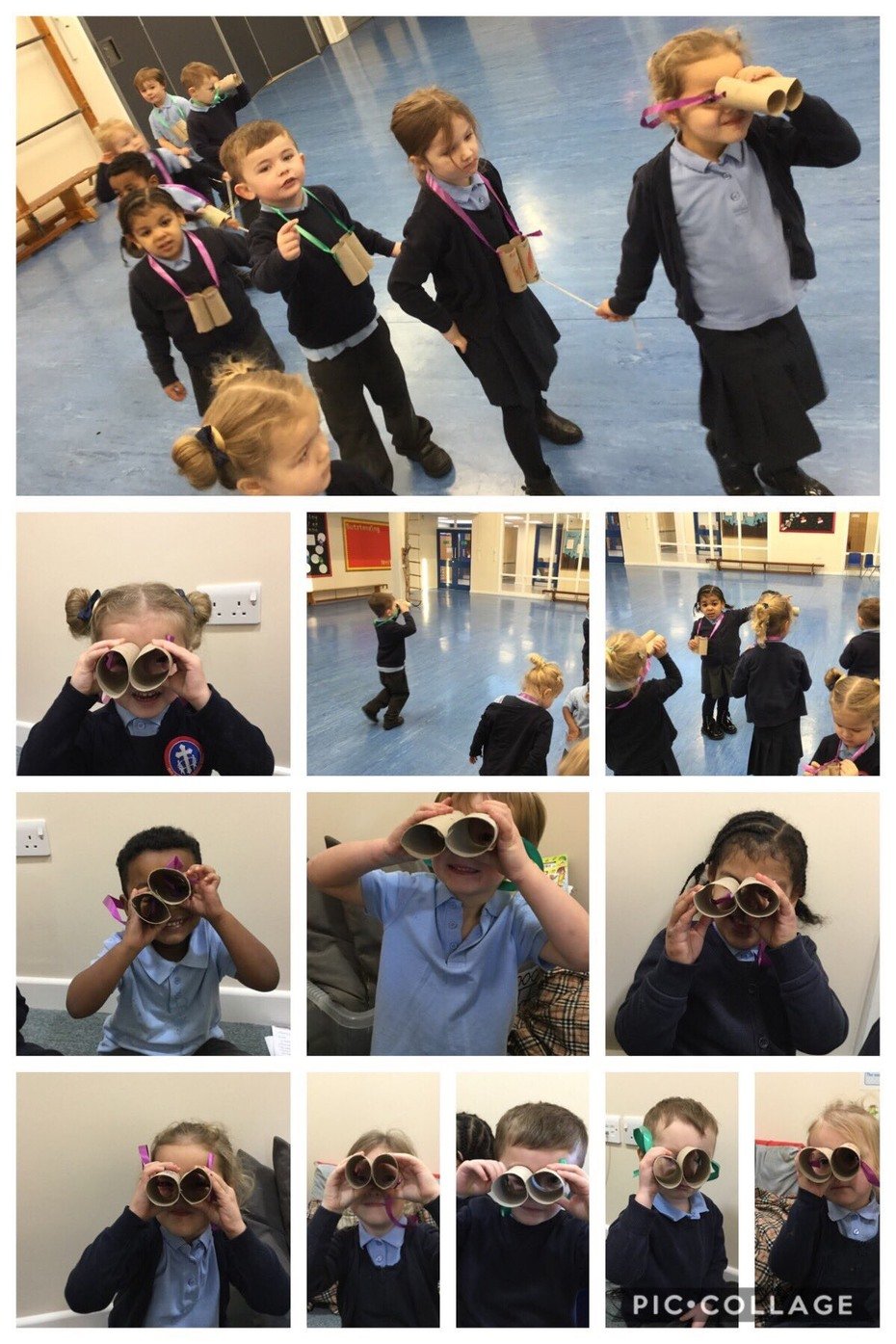 We discovered that holes came in lots of different shapes and sizes. This led to an exploration of shape.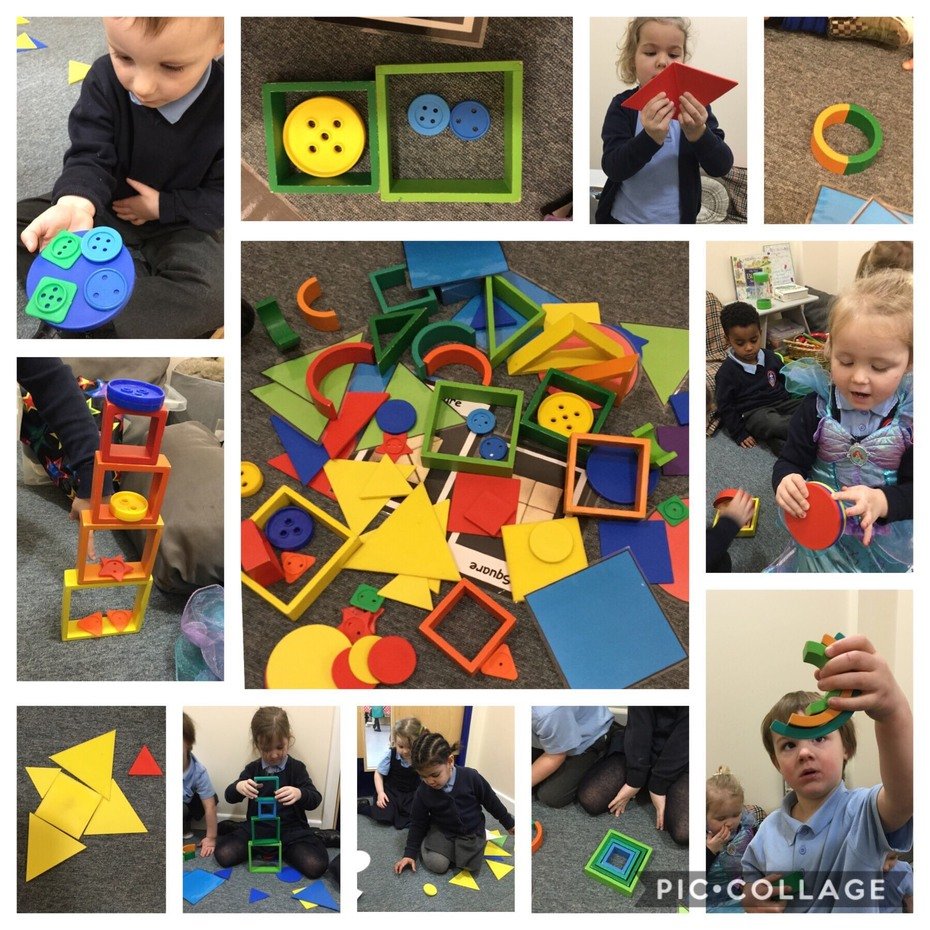 We are now shape experts and can identify circles, squares, triangles, hearts and stars. We are able to use these familiar shapes to construct models and make images.
We have also explored spaces and hiding places this half term. We constructed dens around the classroom and outdoors. The culmination of this focus was our family stay and play session where we welcome parents and grandparents in to share a nursery session with their children. We set the children and their families a den building challenge with a hook to encourage dads to join us.
To prepare for our den building challenge we looked at building plans and then drew around shapes to create our own. We had some great ideas including stairs, an attic, a swimming pool and a floor that transforms into a hideout!
We then worked together as a team to construct a den that was big enough for all of the children to get inside. Wow! This was a fantastic den. Good team work everyone.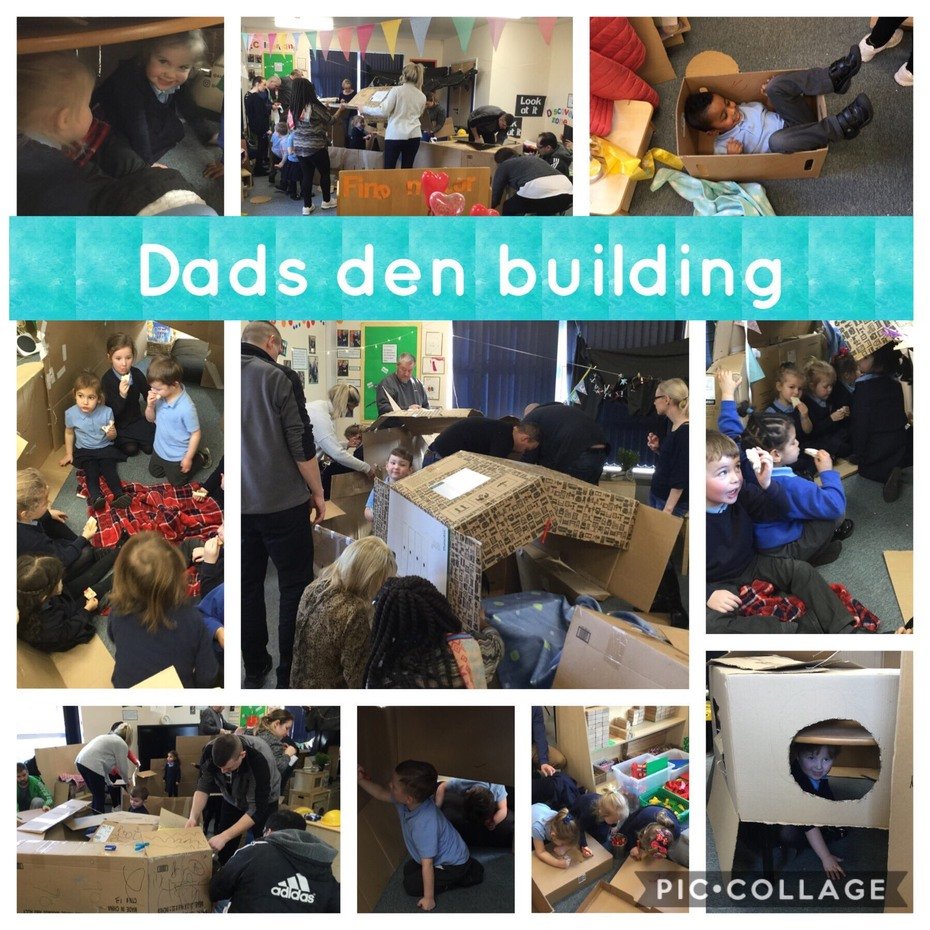 Autumn Term 2 2018
FS1 topic leaflet - Can we explore it
Focus: Can we explore it?
This half term we became explorers. We practiced good looking and good listening to explore our environment and to look closely at various objects provoking curiosity and encouraging conversation. We supported the children to 'look at it, talk about it, draw it and make it'.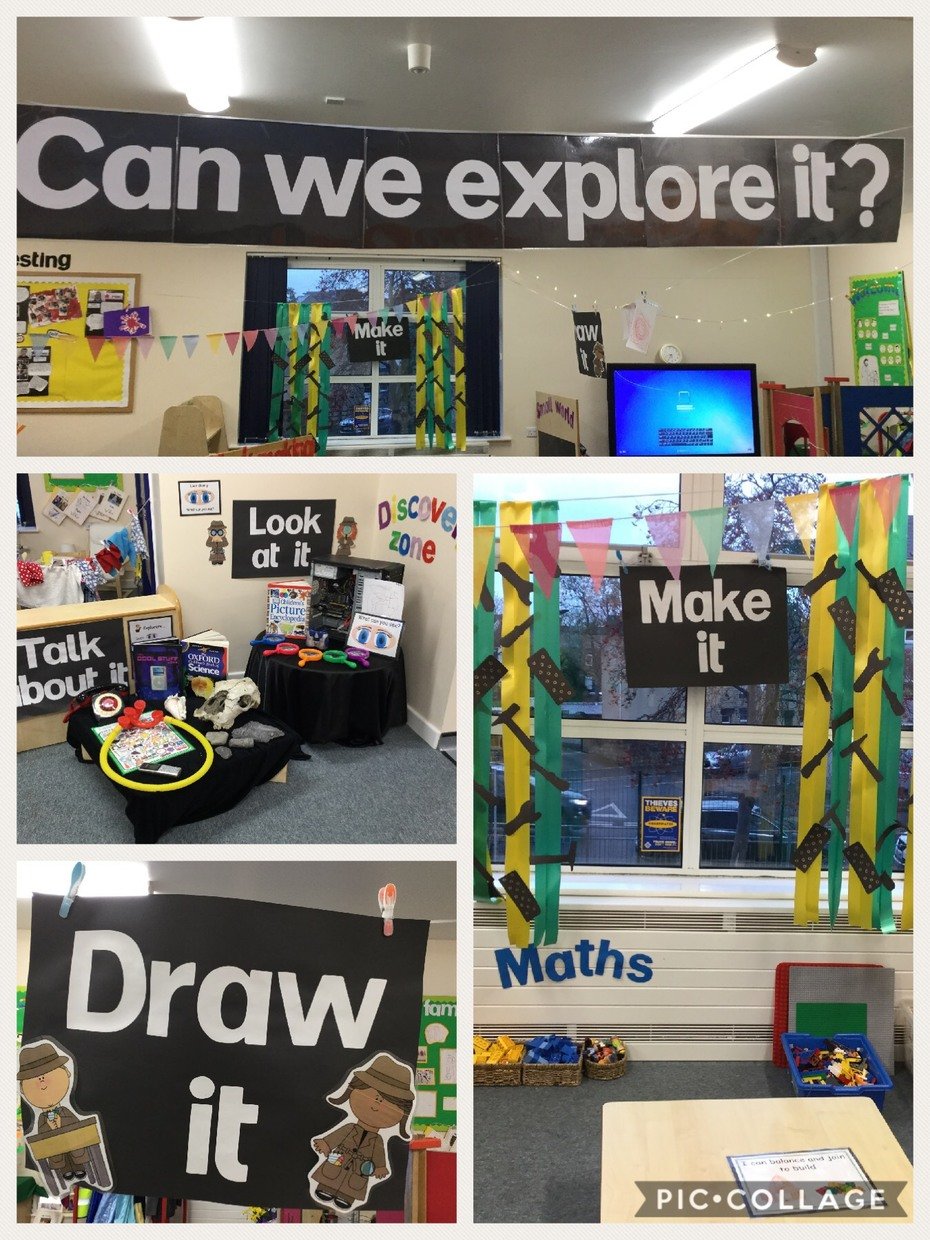 Focus: Advent
The children explored the first Christmas through a multi-sensory approach. We visited church to baptise and welcome a baby. We took part in weekly advent liturgies in nursery. We found out about the birth of Jesus by hearing and retelling the nativity story. The children also prepared their hearts to welcome baby Jesus by being kind and gentle to others to collect golden hearts on their advent heart. Our learning culminated in a nativity production for parents and grandparents. The children worked together as a team to sing, dance and tell the story of the Jesus' birth through our production 'A hole in the world'. We were extremely proud of our little ones for the bravery and respect they demonstrated.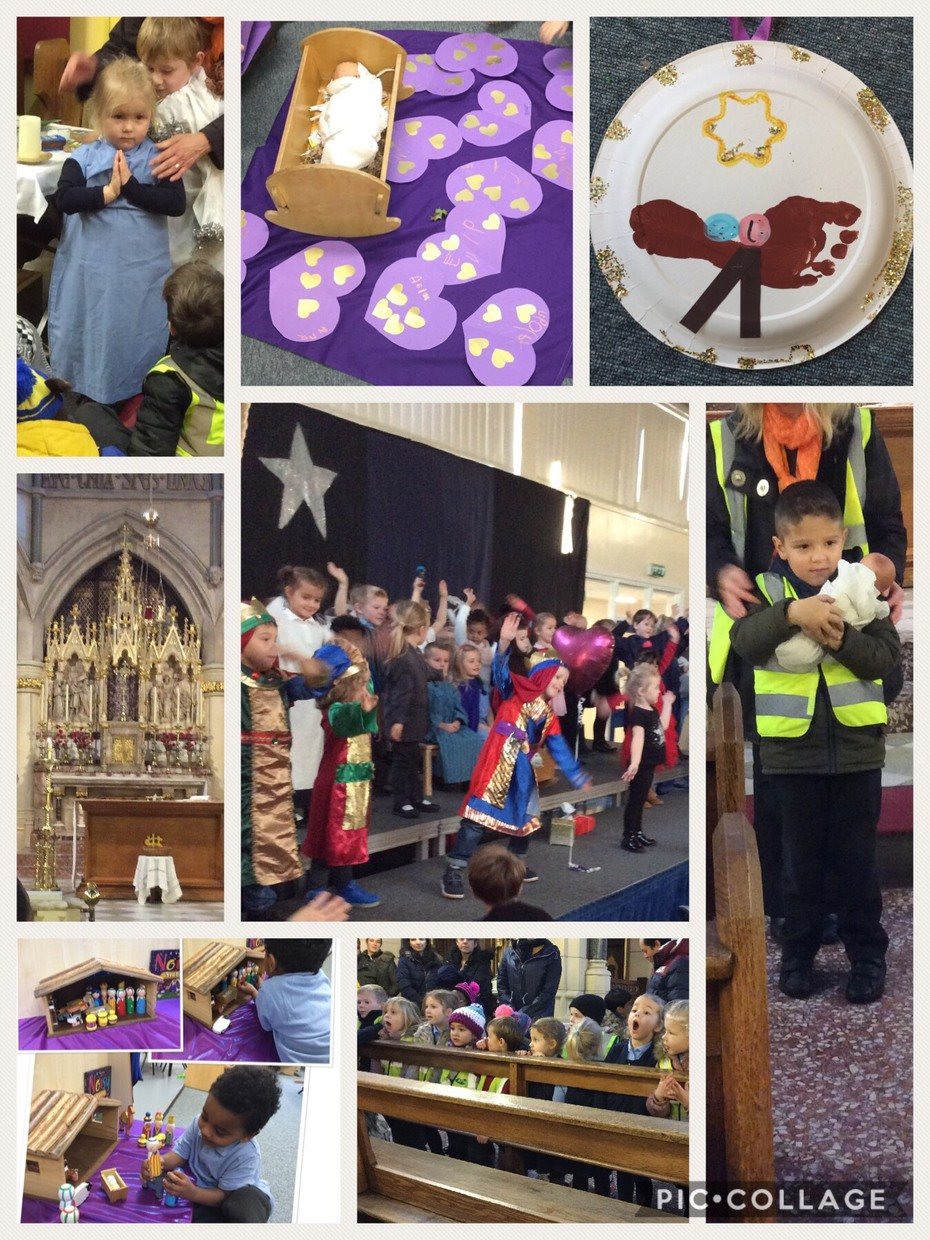 Our curiosities and interests this half term.
We continue to encourage and support the children to follow their own curiosities and learn through their interests. Here are a few examples of the learning taking place this half term...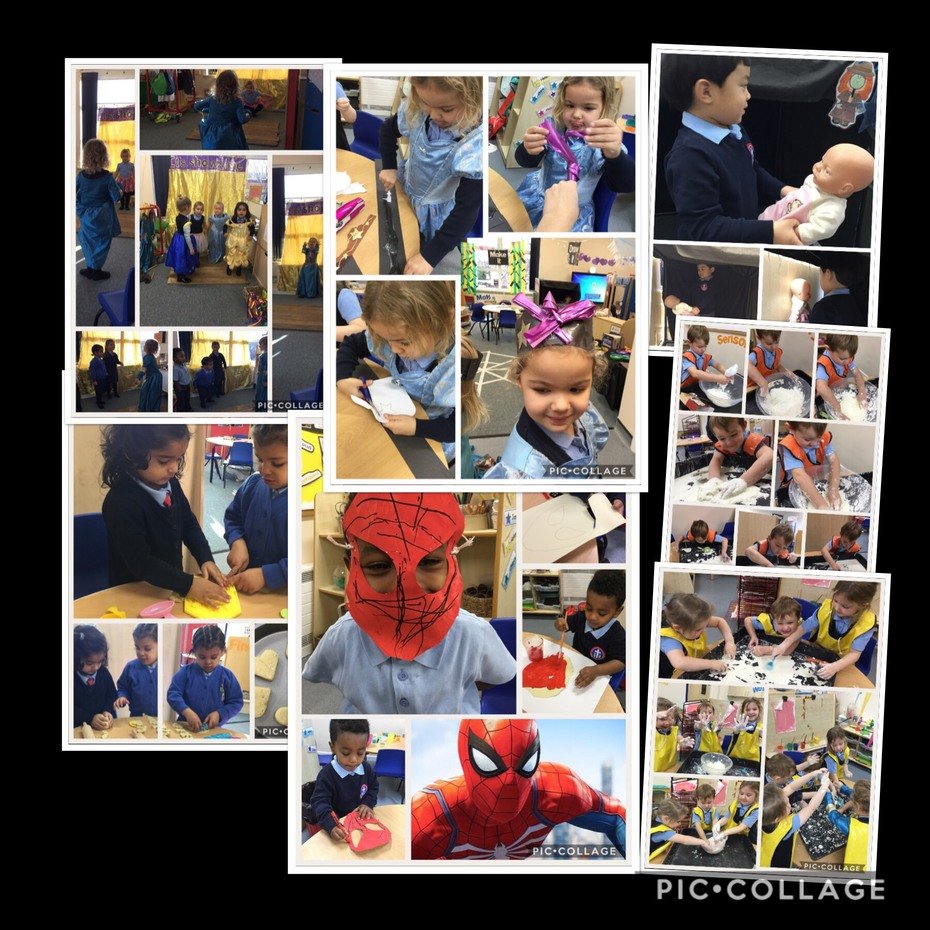 Autumn Term 1 2018
This year in nursery we are promoting learning and development though curiosity and interest. We have followed the children's ideas and interests in order to extend their learning and plan for their next steps. We have explored: mixing and baking; food preparation through Ava's kitchen; painting and colour mixing through Violet's paint station; an enveloping schema through Helena's hideout; a passion for chocolate cake; a love of bags through Aela's handbags; a link to my family through puppets and storytelling; the development of friendships and turn taking through an interest in 'PJ Masks' and a transporting schema through Henry's "think-a-soo".
We have been astounded by the engagement and involvement of our young children through this approach.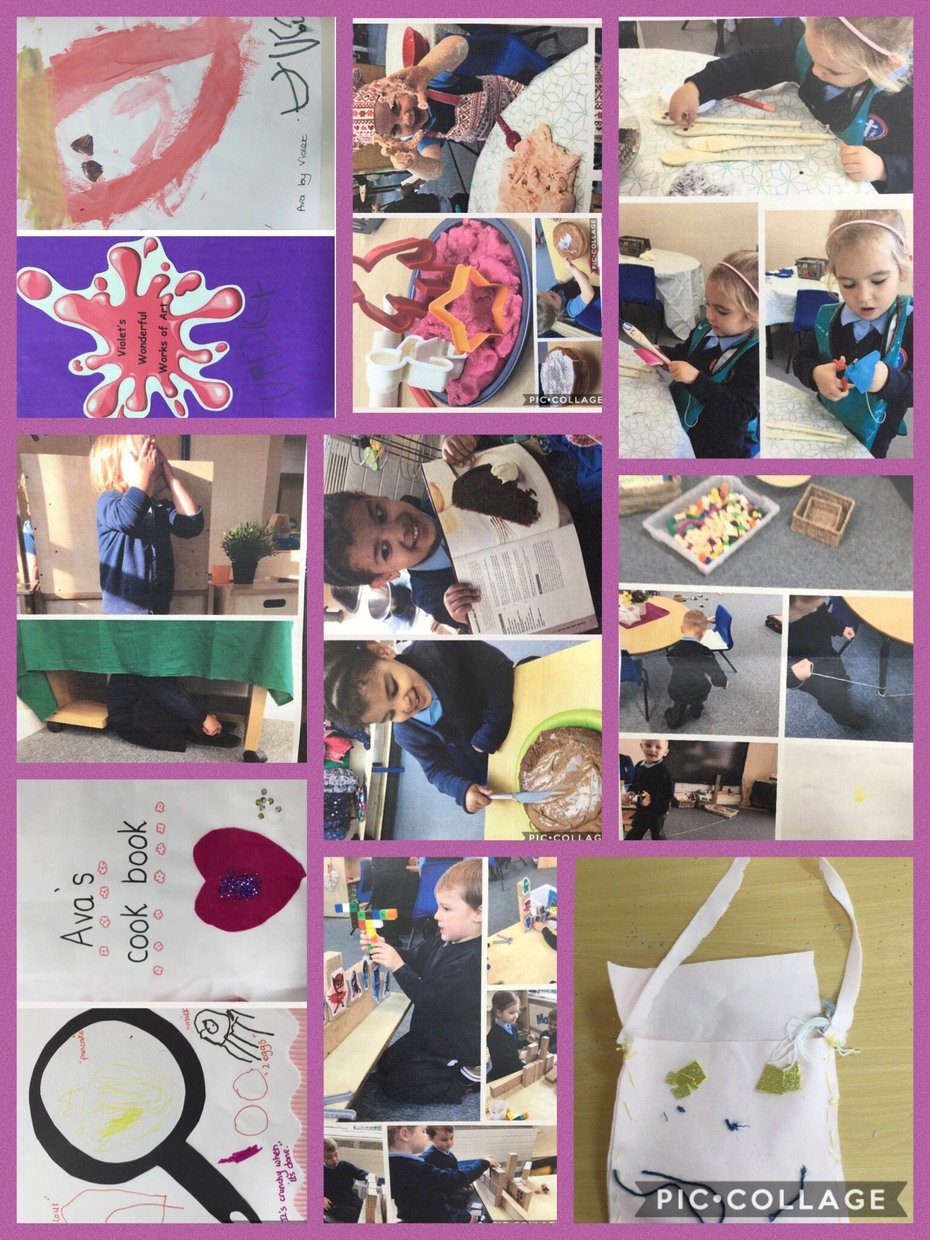 As well as following our interests we have also continued to explore our environment by noticing and observing seasonal changes during autumn. We visited Locke Park for our annual autumn walk. The children enjoyed collecting autumn treasures. When we returned to school we considered where we had been and what we did, recalling a past event through the use of 'first, next and then' vocabulary. The children drew maps to record what had happened.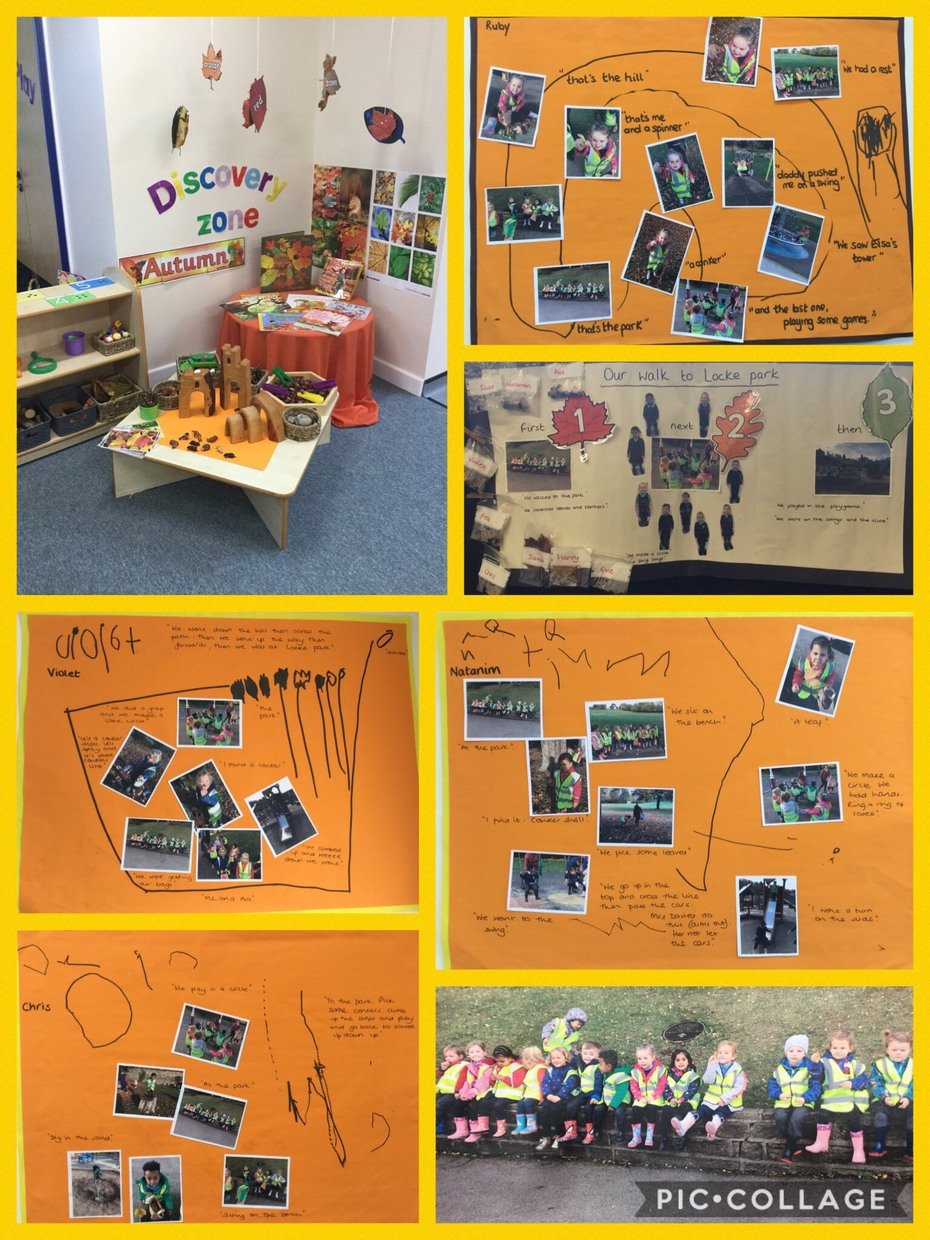 Summer 2 - How high can I jump?
This half term we have been very busy exploring what we can do with our bodies. We enjoyed a sports day and we all got very active. We thought about 'what's up?' by jumping as high as the sky and using the parachute to explore up trajectory. We also thought about what is down and explored 'as deep as the sea'. We created a beach and this then led to pirate play. We concluded with a pirate adventure day. We dressed up as pirates, played some pirate games and refuelled with a pirate picnic.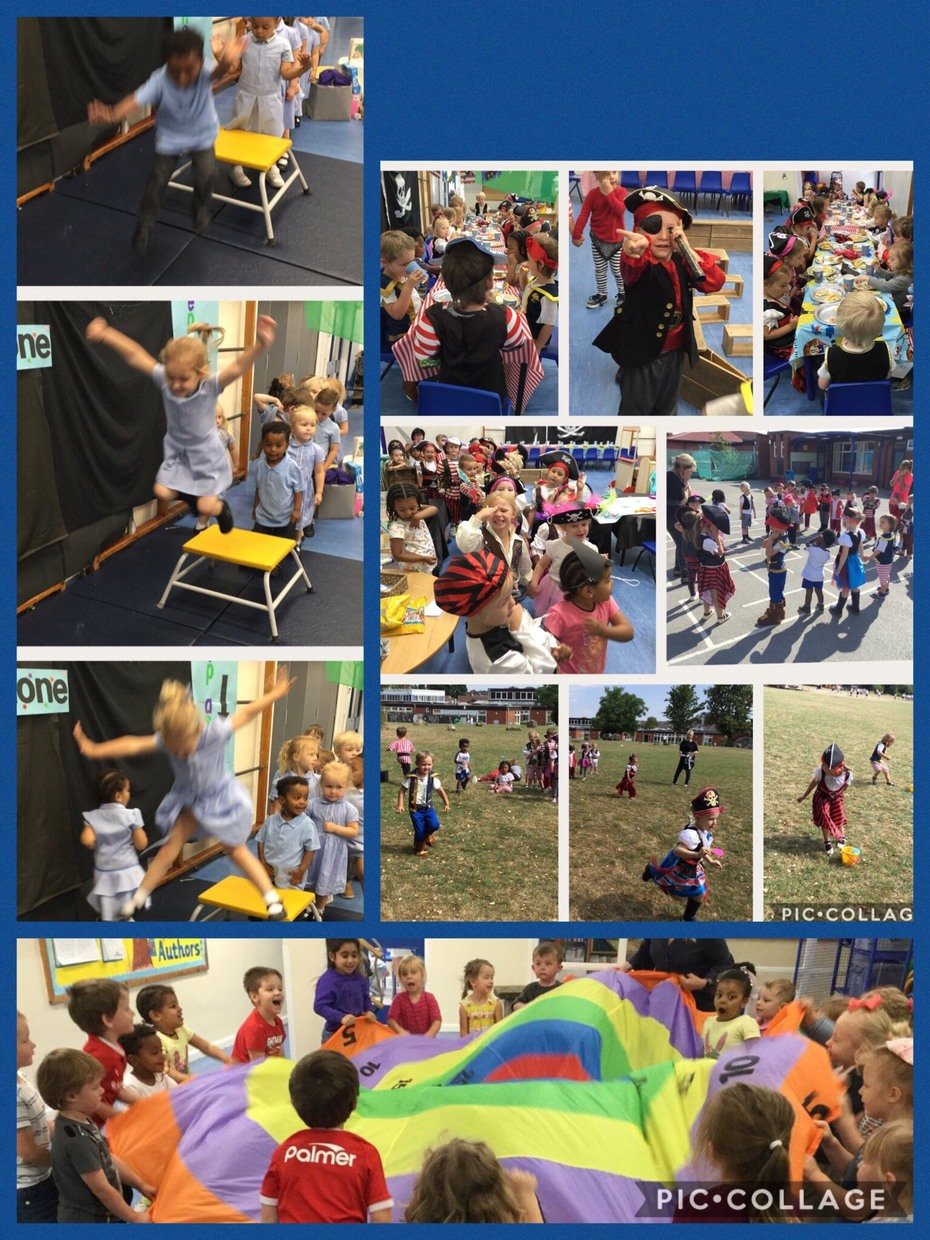 Summer 1
F1 topic leaflet - Down at the bottom of the garden - Summer 1
FS1 Homework grid - summer 1 - Down at the bottom of the garden.pdf
Focus: Tour de Yorkshire
We explored the bike race by firstly looking closely at bikes. We developed a bike repair shop, which was very popular indeed. We then invited parents and grandparents in to nursery for our half termly 'Stay and Play' session where we had a sponsored bike ride. We raised an amazing £371 to buy new bikes for our nursery children. The children thoroughly enjoyed this experience. Thank you so much to everyone who contributed and helped on the day.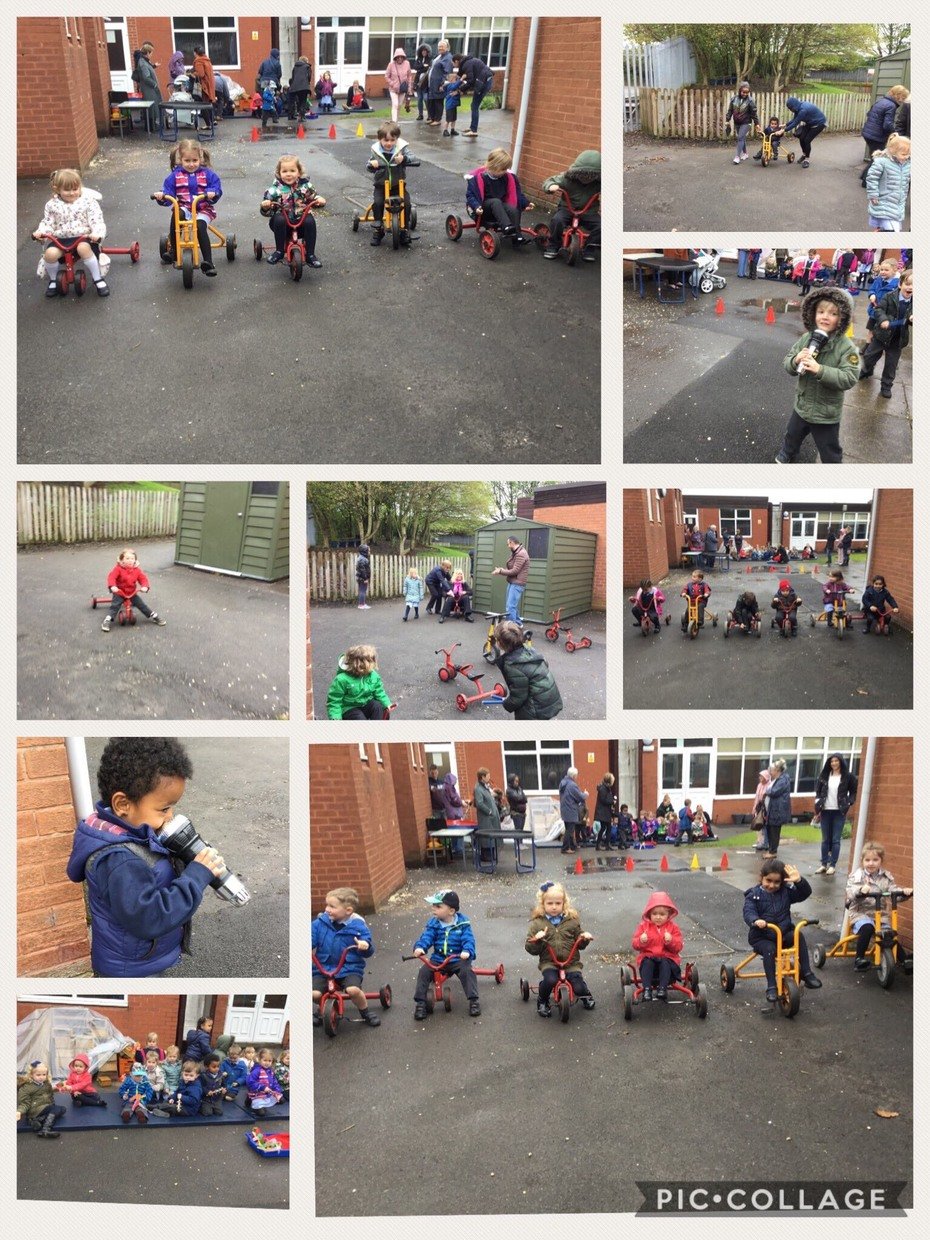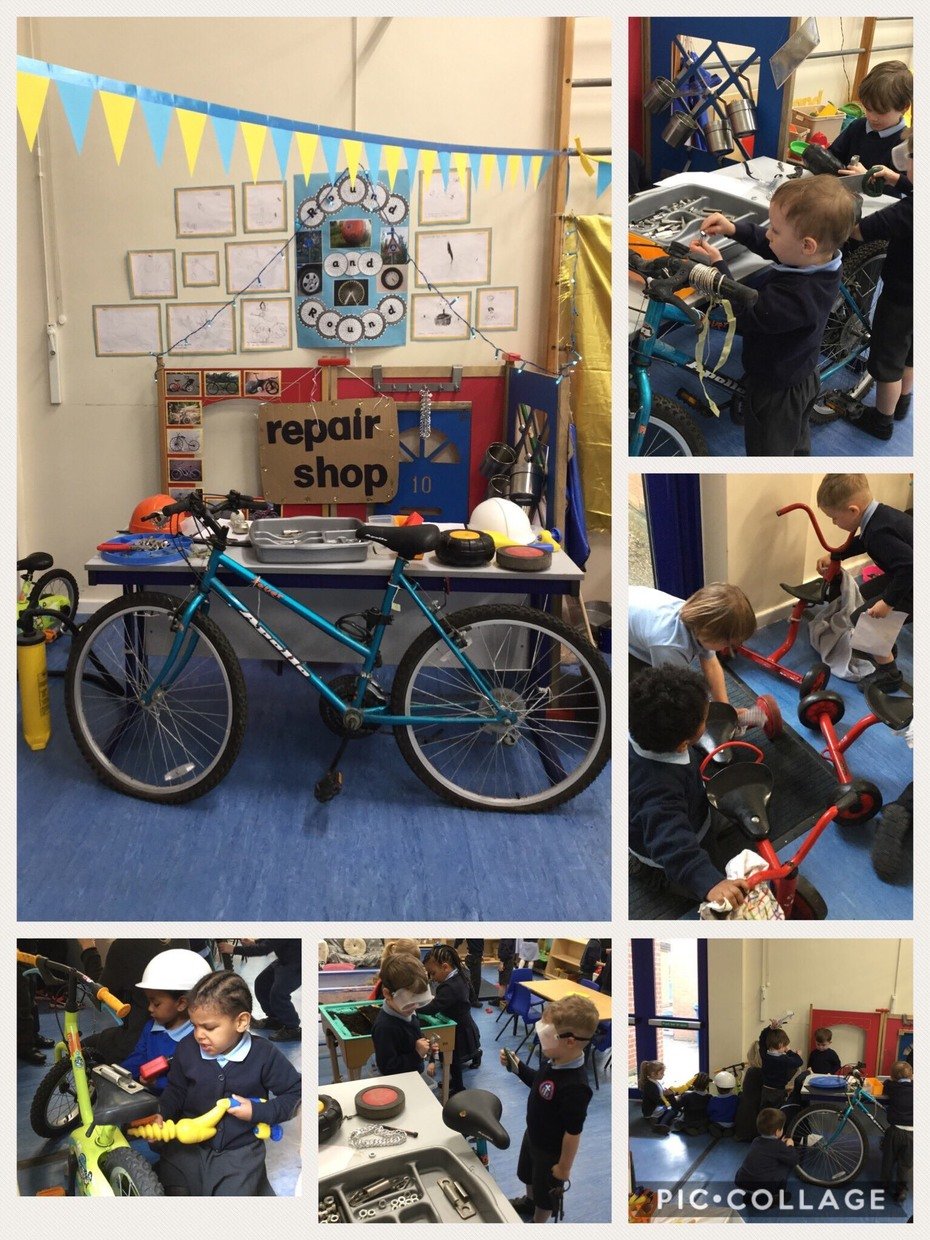 Focus: The royal wedding
We explored princes, princesses and castles in the lead up to the royal wedding. We sang 'There was a princess long ago' and used this to inspire our imaginative play. We transformed our home corner into a castle. The culmination was a wedding experience where we all came dressed in smart clothes or princess dresses. We played out a wedding, had party games and dancing and shared a wedding breakfast. Parents and grandparents were invited in to join us for our weekly 'Song and Rhyme Time' session. They greeted each little prince and princess and joined in with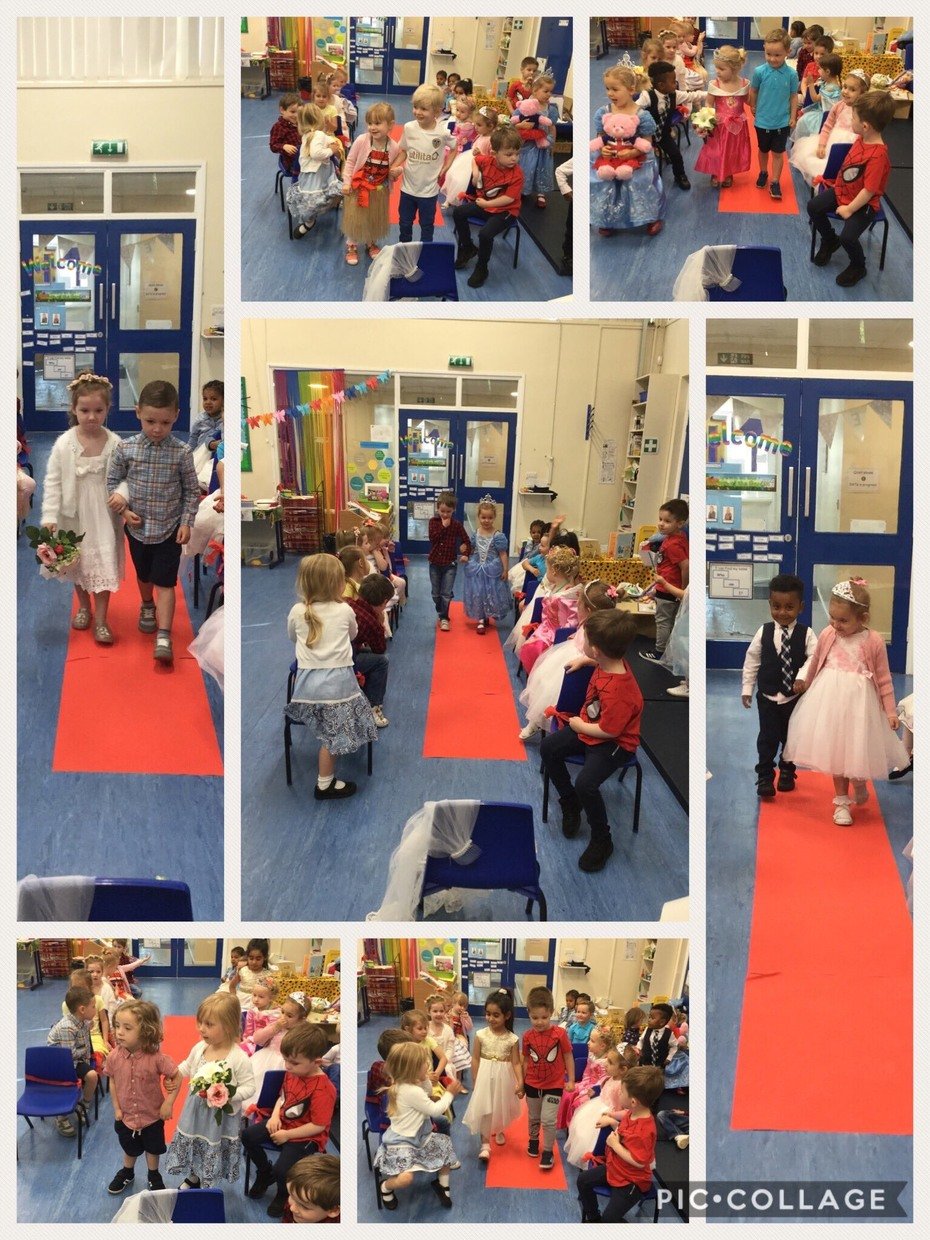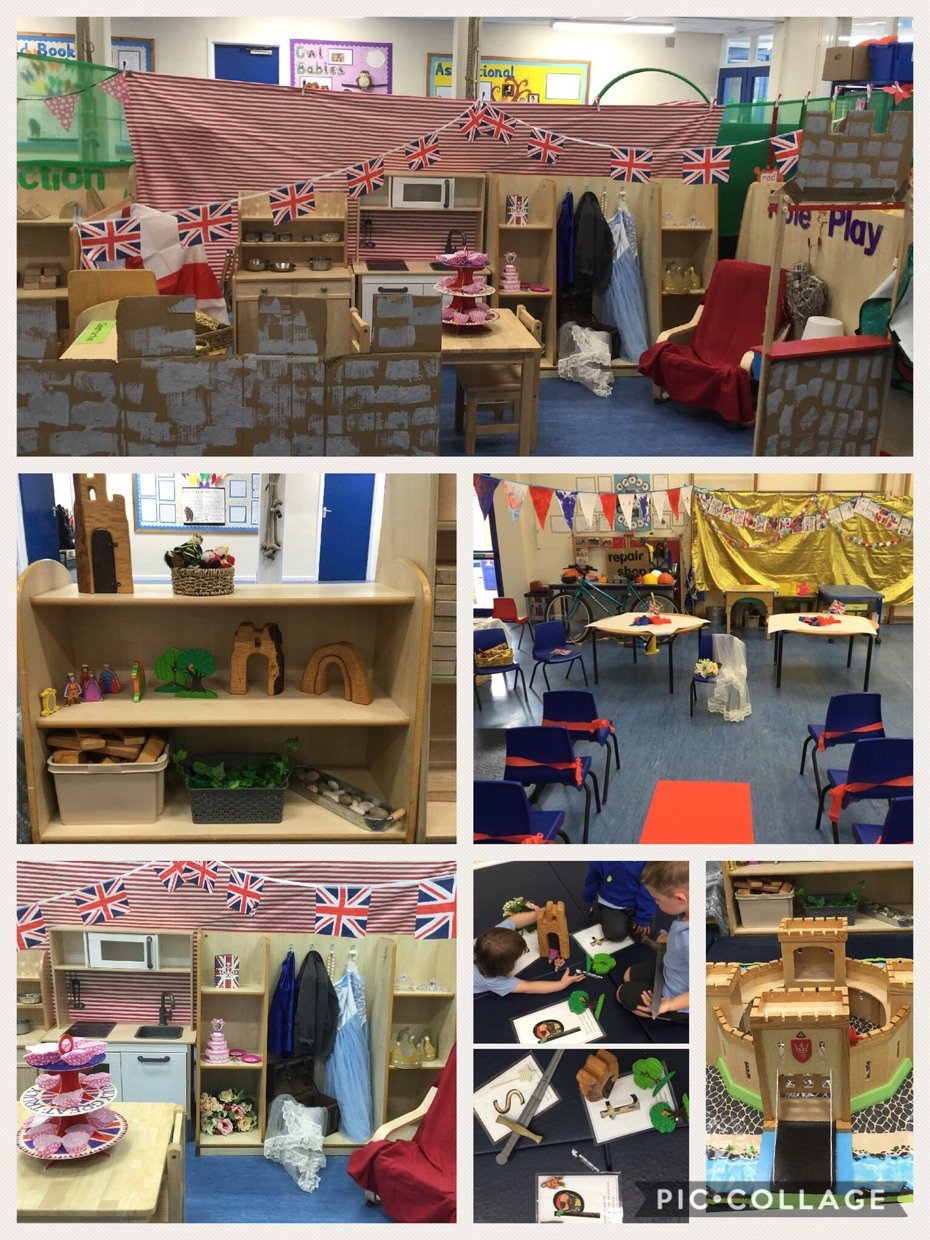 Focus: Down at the bottom of the garden
This half term we have explored the great outdoors. We began by looking in our own gardens. We planted seeds and explored beans. We thought about how we 'plant it, grow it, eat it'. We planted beans and watched them grow and we also made and tasted beans on toast. We became bug explorers and hunted for minibeasts in our outdoor area. We found out all about minibeasts and recreated them in our workshop.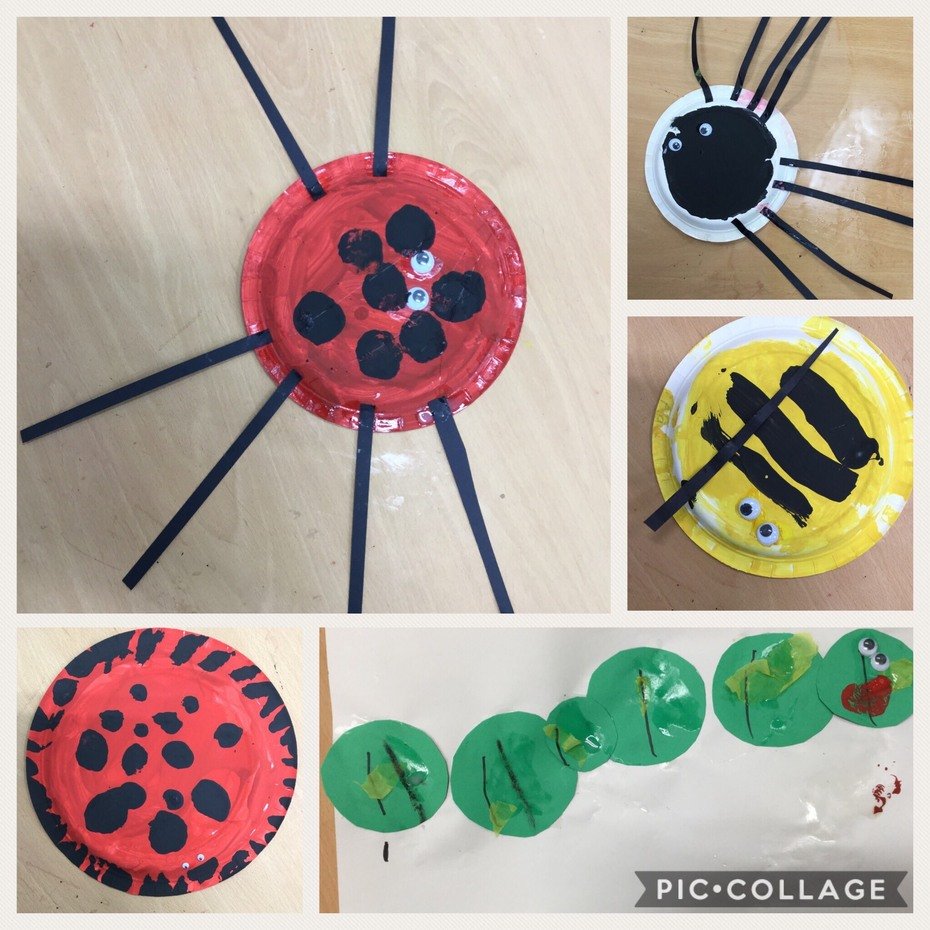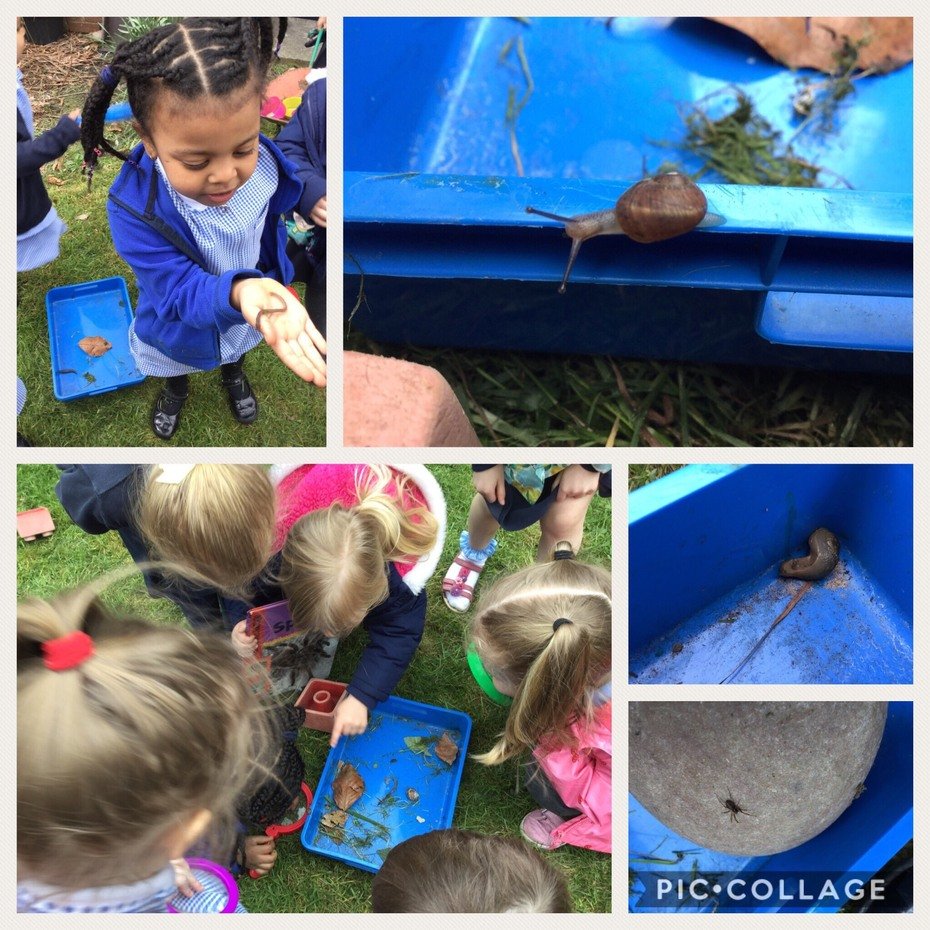 Spring 2
Nursery Homework grid - spring 2 - how does that building stay up
Focus: How does that building stay up?
Challenge 3 - can we plan it? We explored real building plans that the builders gave us and we then tried to draw our own. We used rulers and drew around shapes to create our own building designs.
Challenge 4 - can we fix it? We used a variety of construction materials to build structures as a team. We had a little help from our families. We're not sure which team were the winners. Take a look at the next entry and you decide...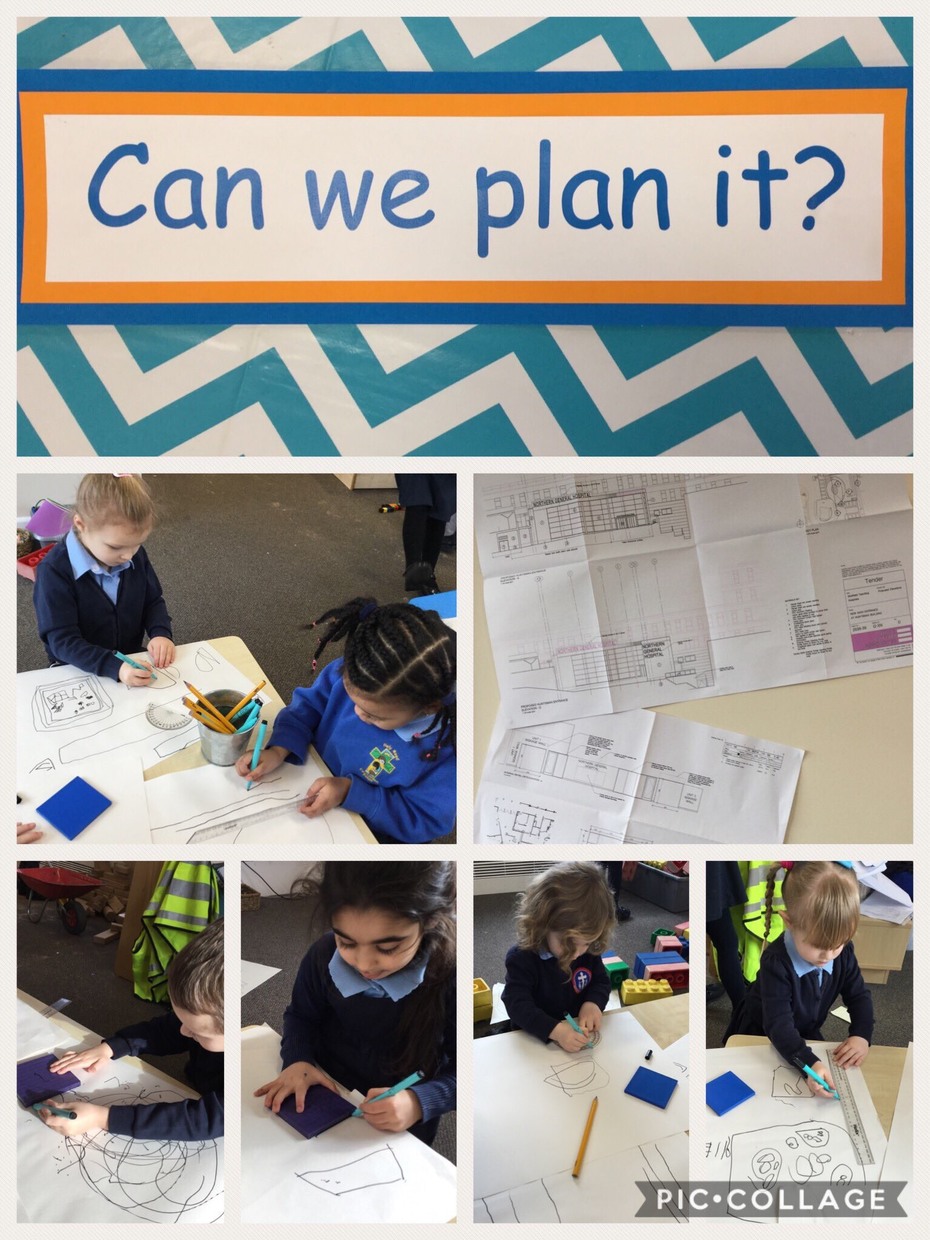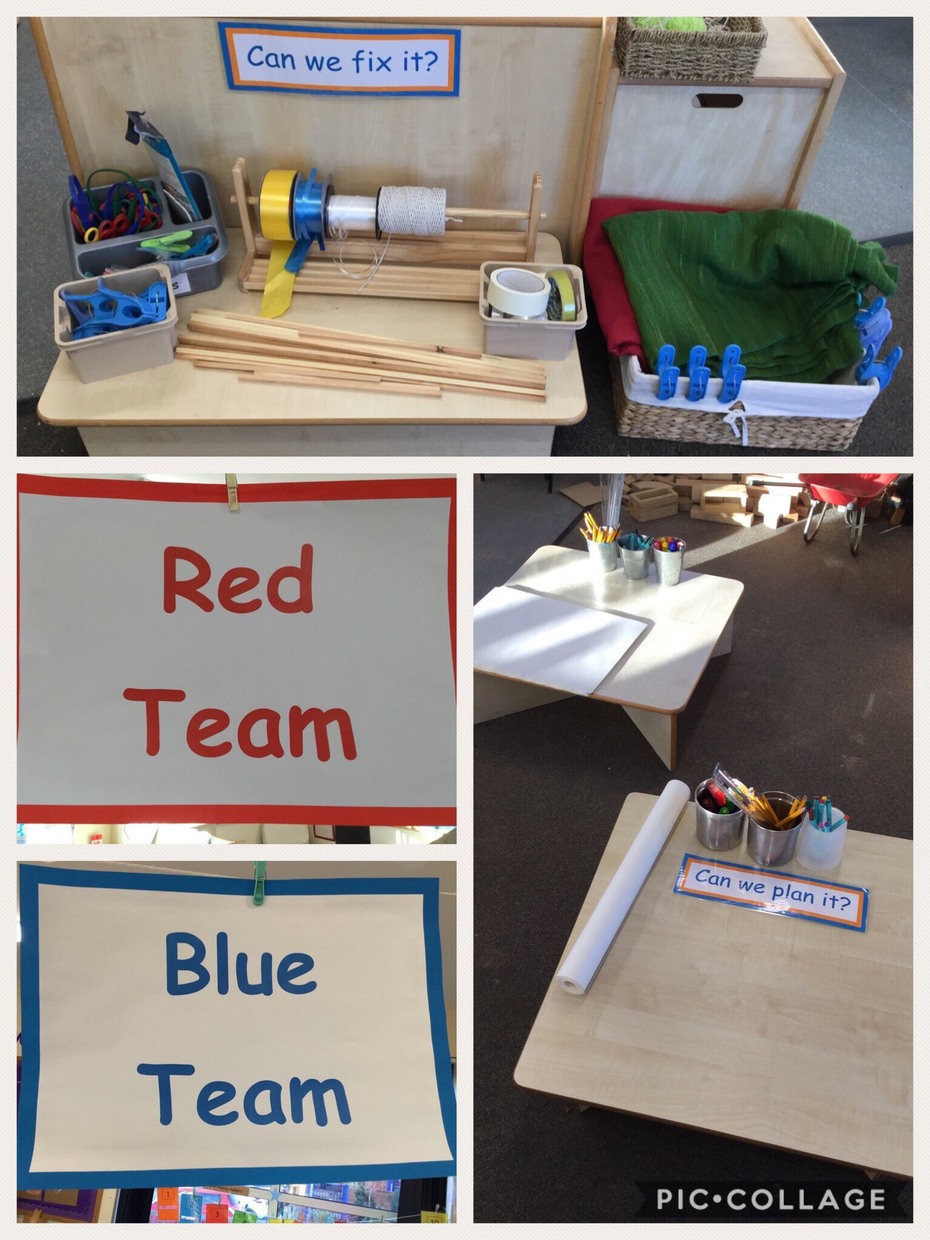 Focus: How does that building stay up?
Our Stay and Play session this half term was entitled 'Let's get building'. Here are our team structures.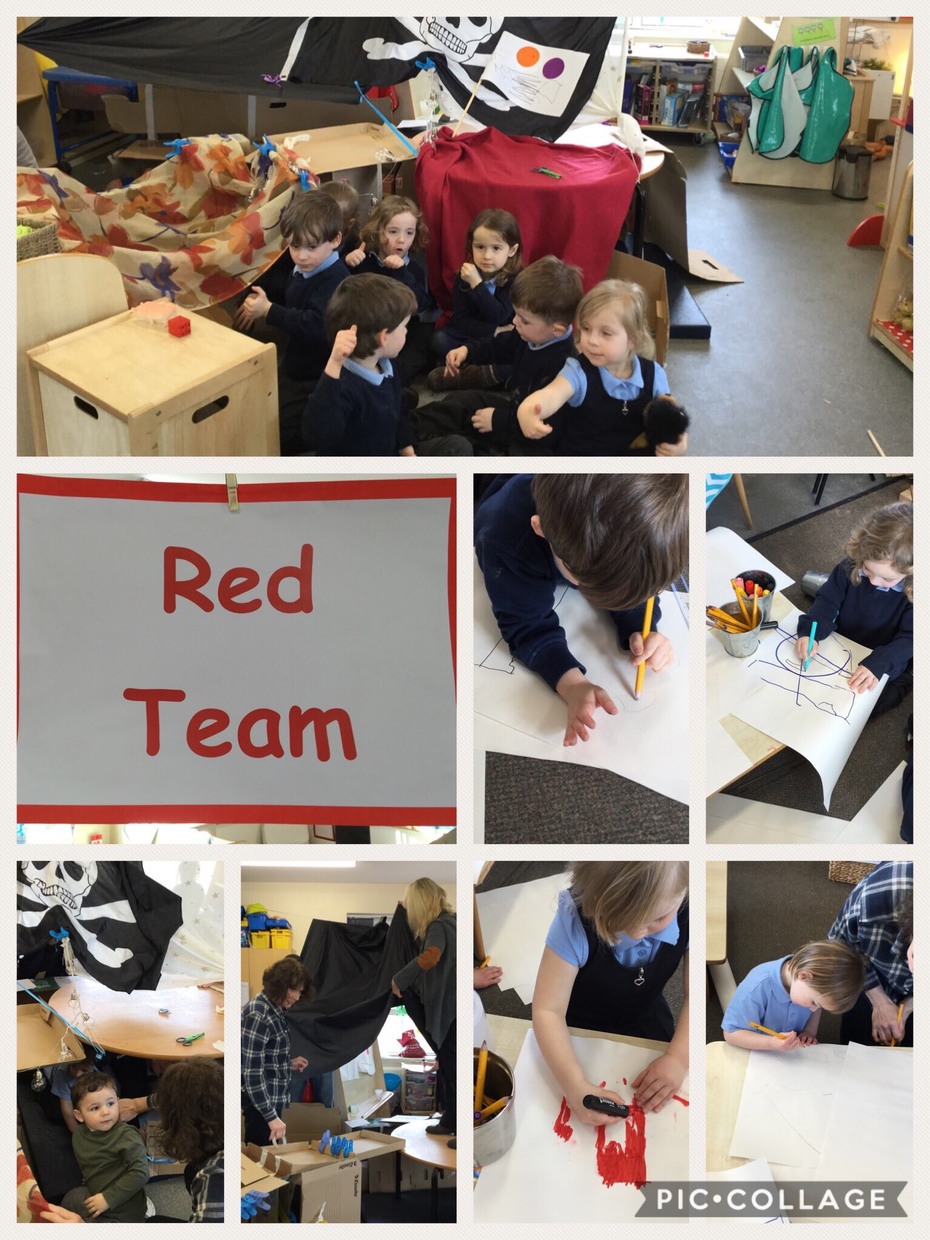 Focus: How does that building stay up?
We explored traditional stories this half term as we celebrated World Book Day. We were so impressed by how well the children engaged with these stories. They liked them so much that we explored them for two weeks.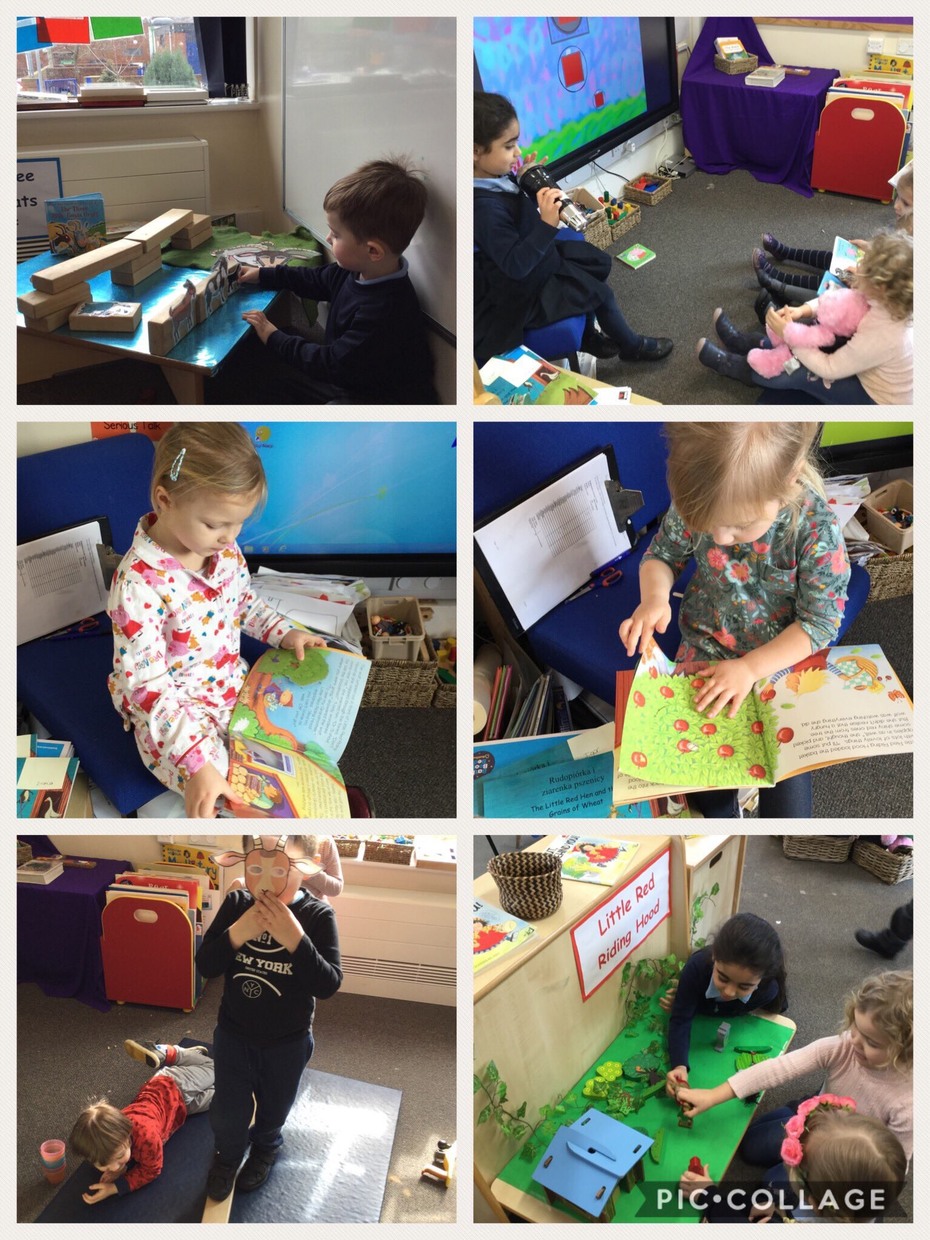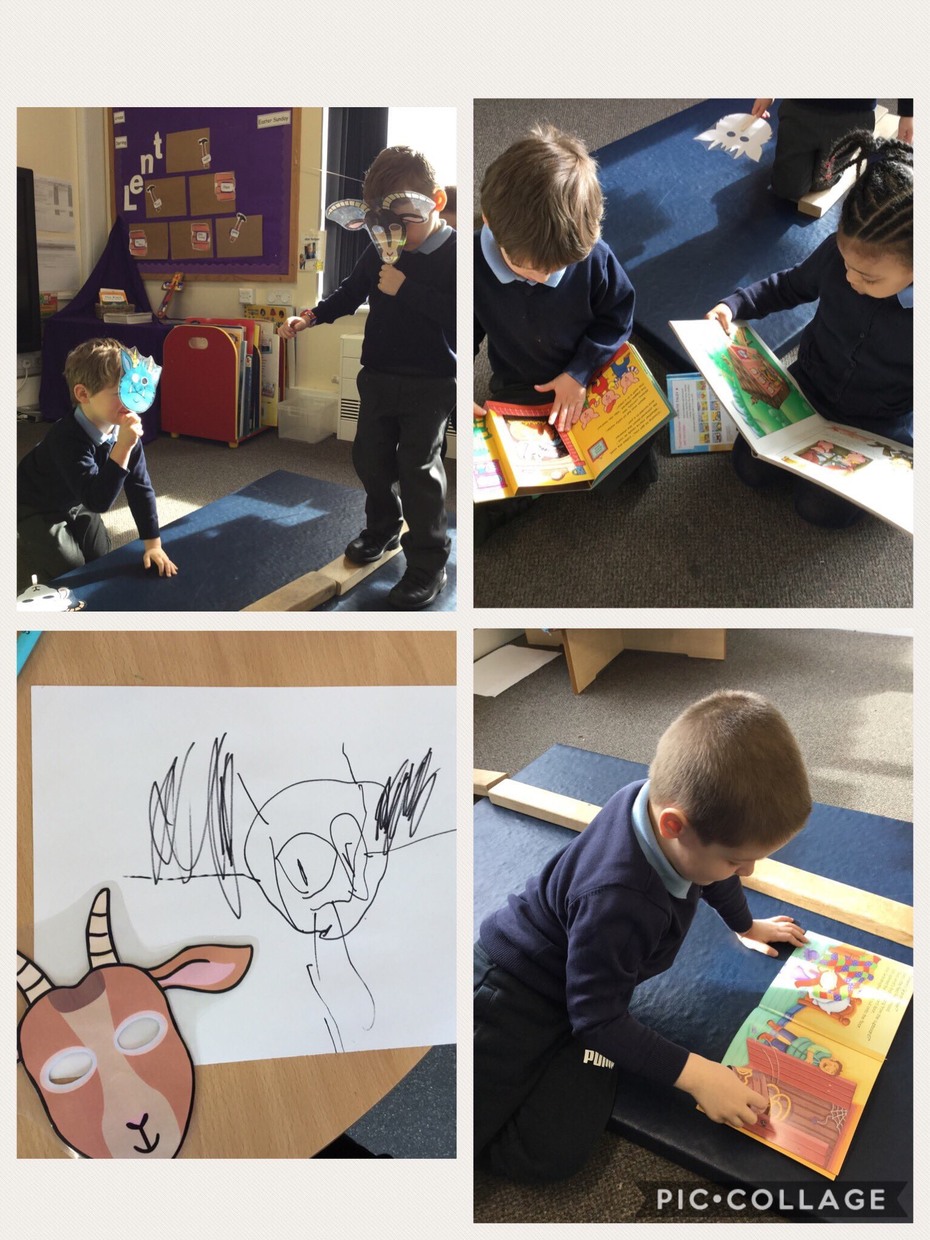 Focus: How does that building stay up?
Challenge 2: can we taste it? We prepared a picnic for Bob the Builder. The children made sandwiches. We shared them and then decided which one was our favourite - cheese, Branston pickle, ham or jam.
Focus: How does that building stay up?
We set the children a number of challenges this half term to extend their exploration of the construction theme and also to incorporate some sensory play.
Challenge 1: can we mix it?
We mixed dry sand and water to create mortar and then used it to enhance our building work. We also explored the parable of 'the wise builder and the foolish builder' to test building materials.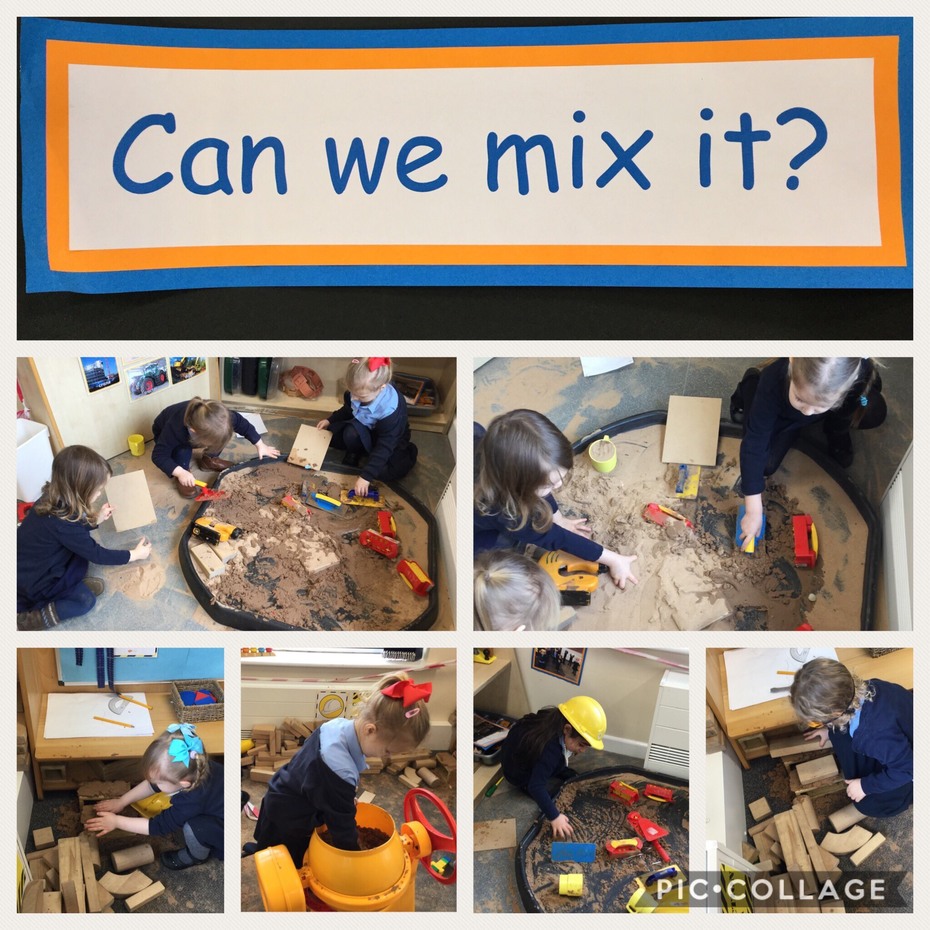 Focus: How does that building stay up?
We have explored familiar buildings by looking at our houses. We have explored shape this half term and so we made houses using common shapes. We have enjoyed drawing pictures of houses and building houses with the blocks and the Lego.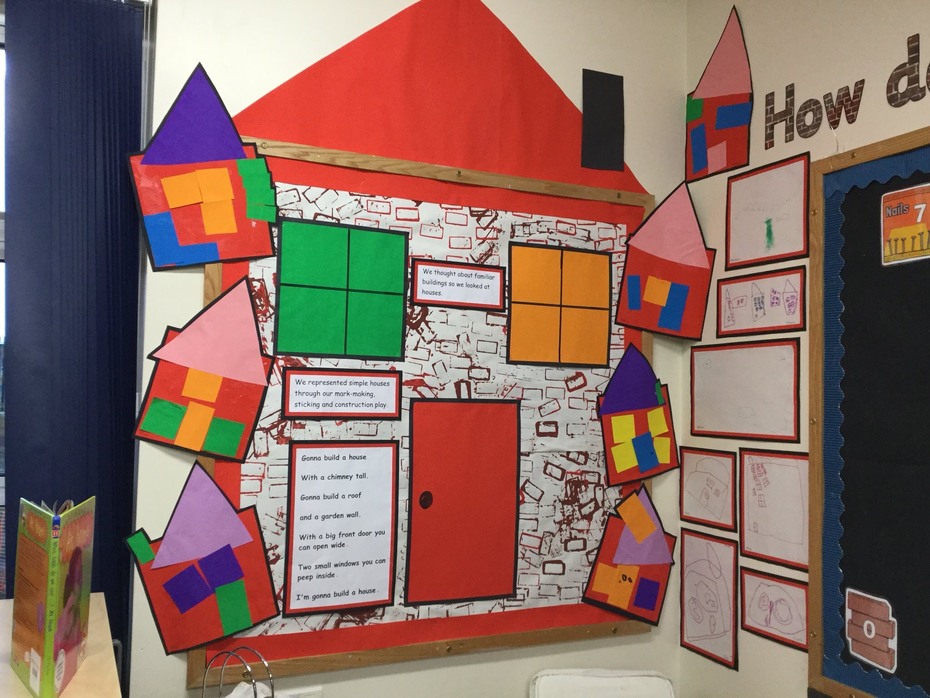 Focus: How does that building stay up?
The children were very excited to begin this focus by witnessing real building work! We are having a new Foundation Stage classroom and so the building work began right on our doorstep. We watched the crane arrive and lift out bike shed out of the playground. This inspired lots of 'builder' role-play and construction play.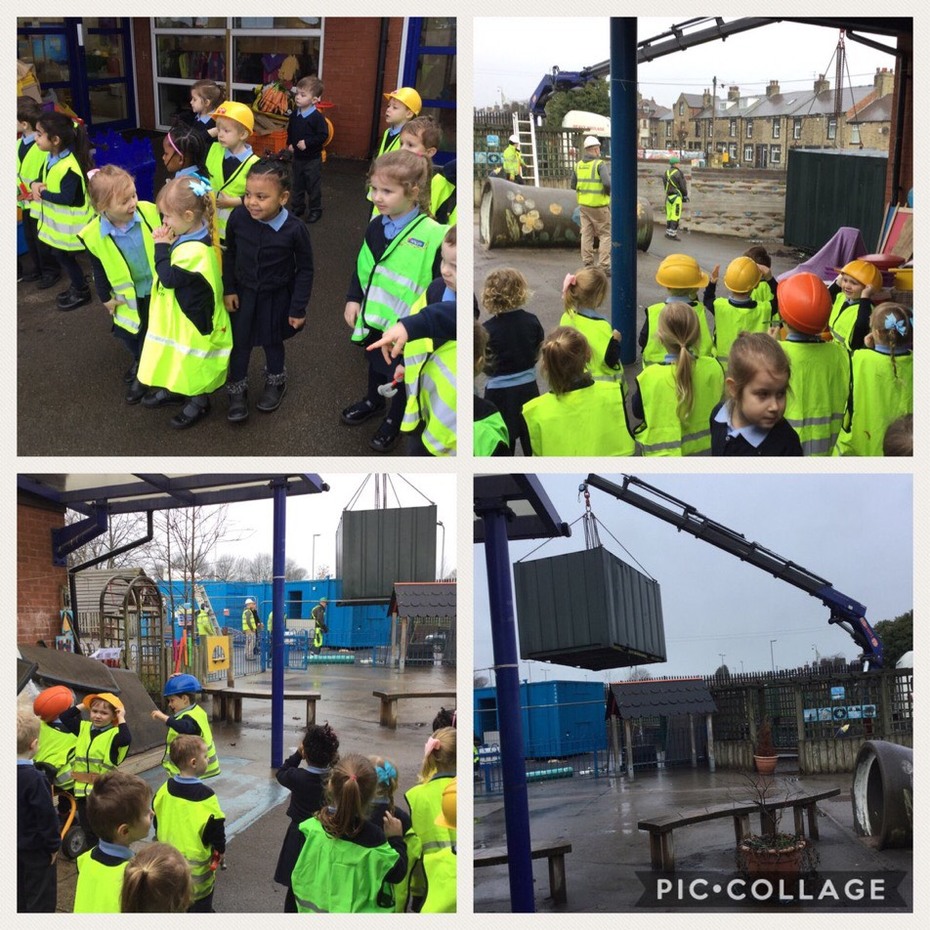 Spring 1
Spring 1 - Stay and Play
Talking to God leaflet - stay and play
The focus for this half terms Stay and Play session was 'Talking to God'. We began with a simple family liturgy where we used a cross, a bible and a candle and we made the sign of the cross. The children are now familiar with these signs and symbols and now associate them with talking to God. We sang familiar songs from our liturgies, 'We can celebrate' and 'There is someone who knows me'. We then told the story of the presentation at the temple. We concluded the liturgy by sharing bread. Each family was given information and advice for supporting their child to talk to God at home. Thank you to everyone who joined us.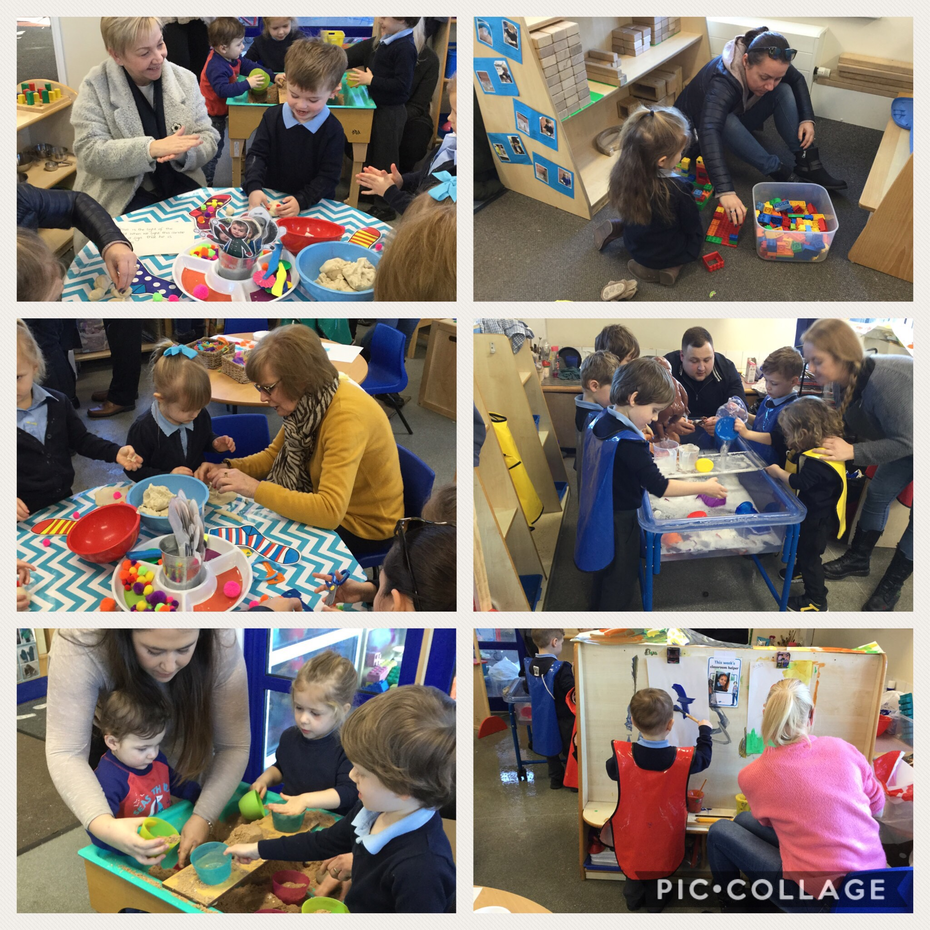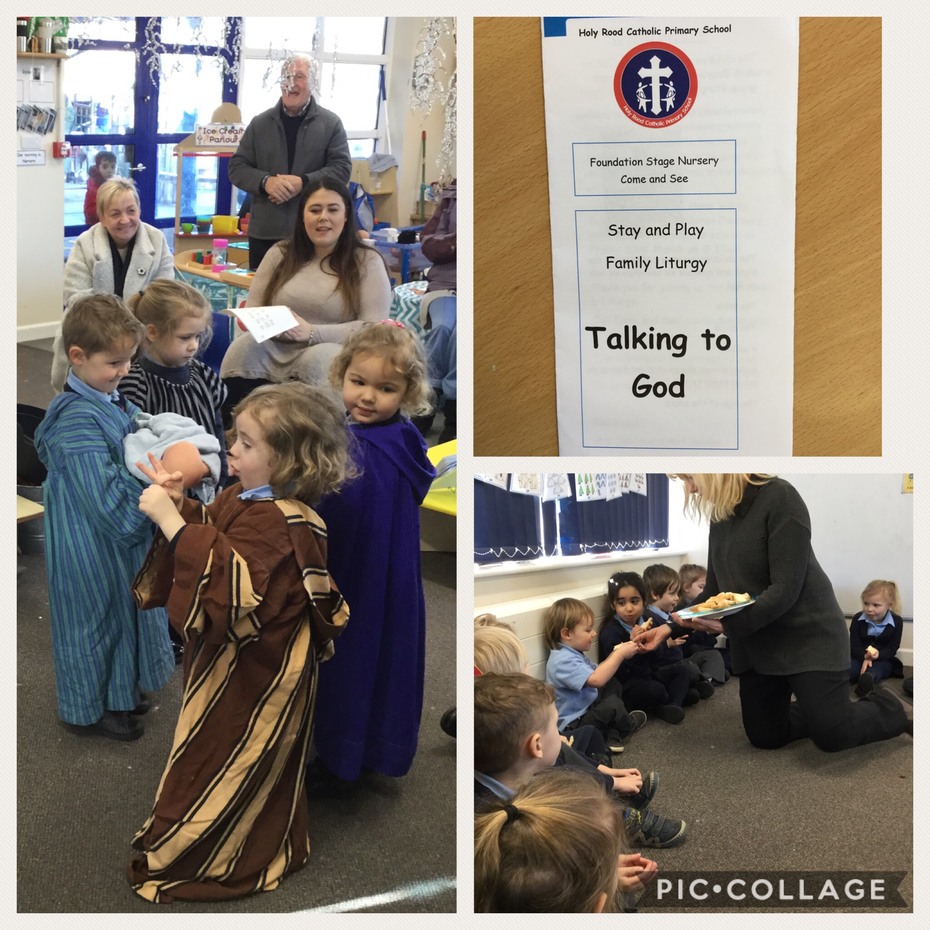 Focus - Where does snow go?
The culmination of this focus was a very dramatic experience where we discovered that our beloved Berty Bear outside. He had been outside all night and he had frozen. We brought him back inside and thought about how we could help to warm him up. The children had some excellent ideas and they took great care of him.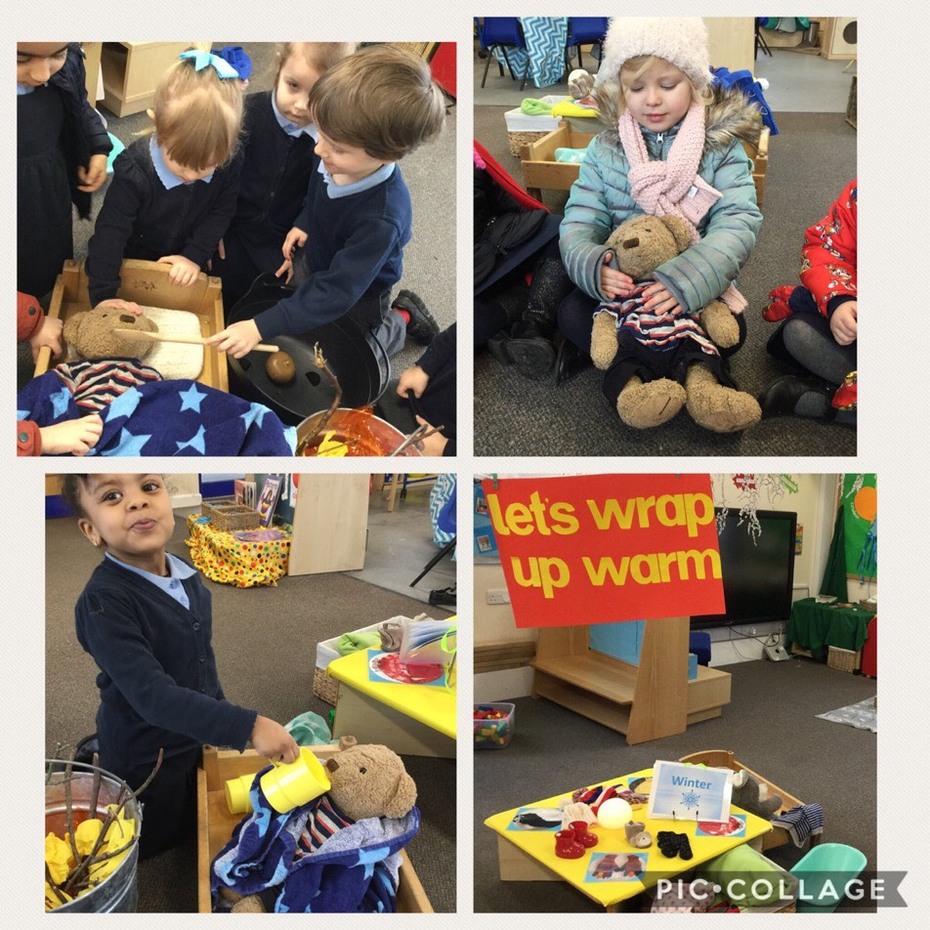 Converting media.
(Media will continue converting in the background)
Focus - Where does snow go?
We began thinking about ways to keep warm. We worked together to make vegetable soup. We used on of our focus rhymes 'Chop, chop, choppity chop' as we used real knives to chop our vegetables. We were all very careful.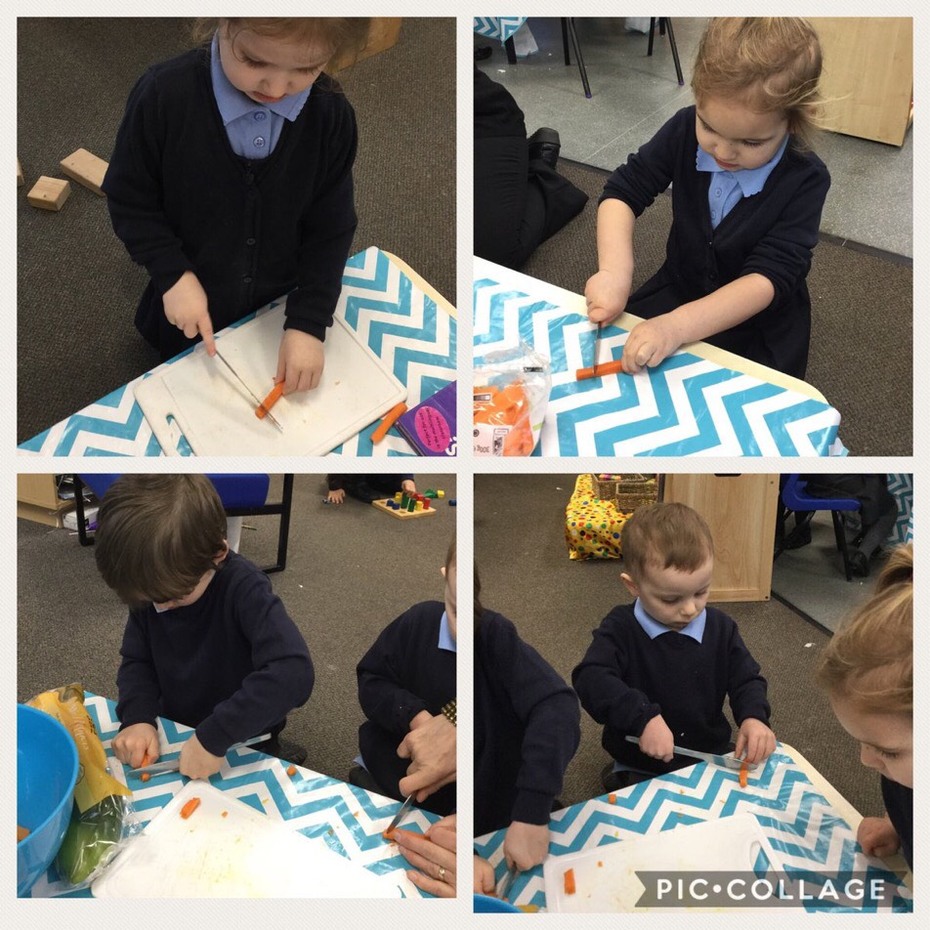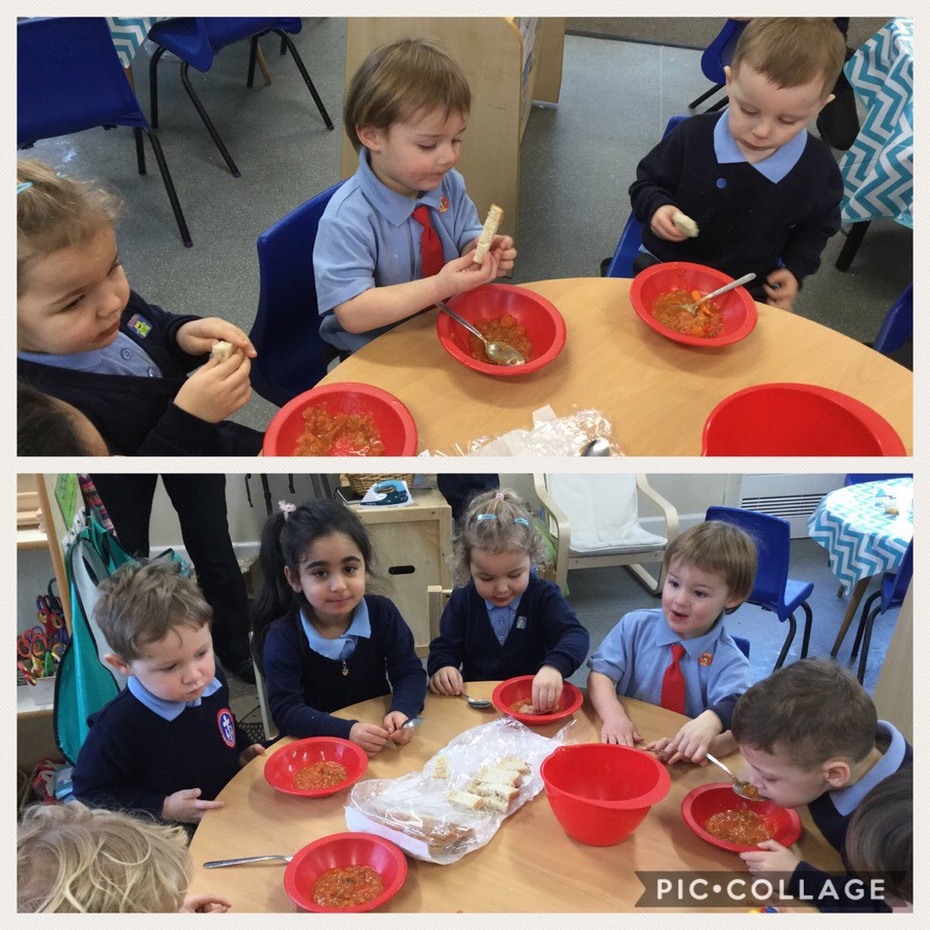 Focus - Where does snow go?
We explored ice and investigated freezing and melting. The children had an ice cube each. They touched it and observed it as it melted. We then came in to discover a 'mini-me' of ourselves frozen in ice. We became 'hero helpers' to free each other by melting the ice.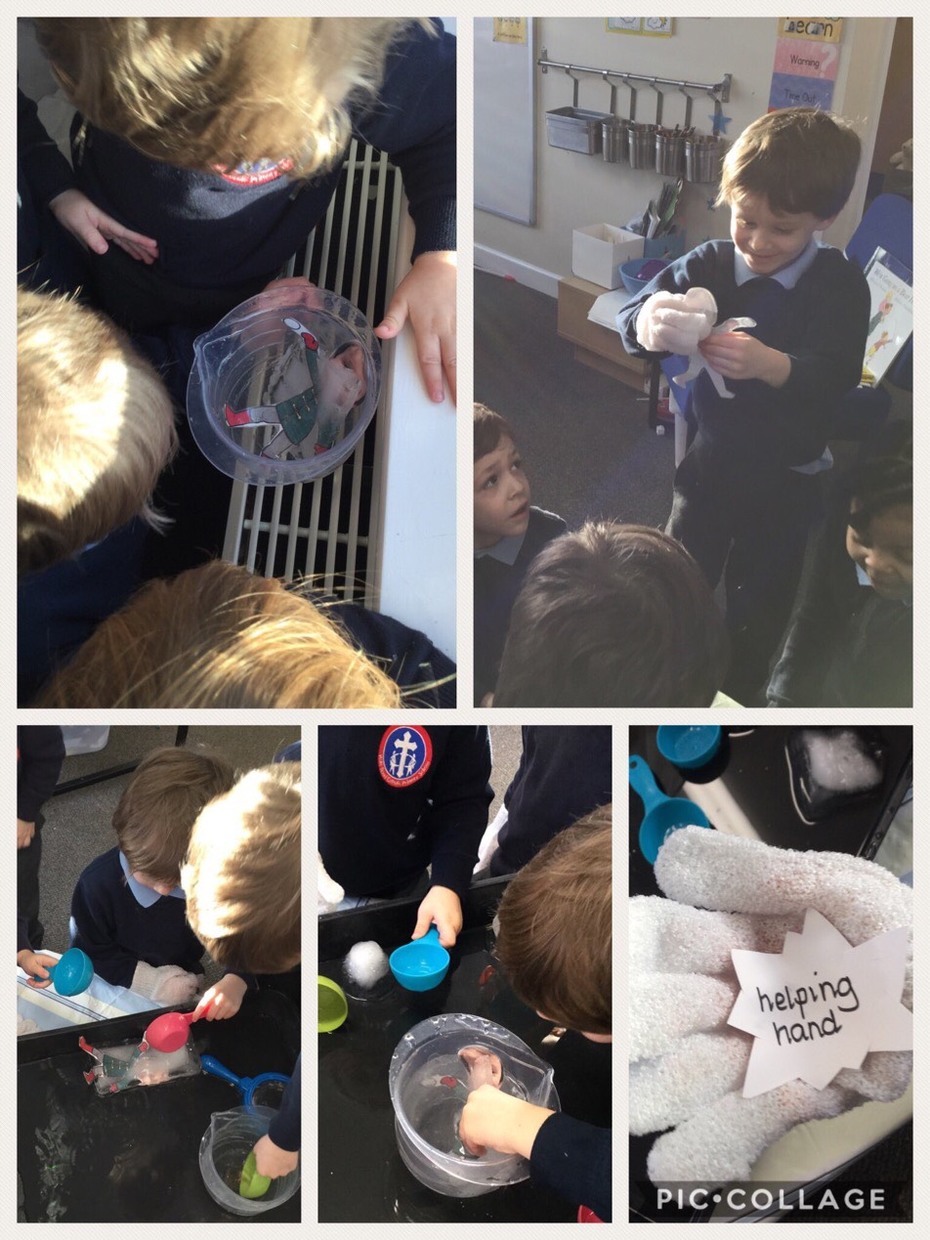 Focus - Where does snow go?
We introduced this focus by exploring our outdoor environment on a cold and frosty morning. We made creative representions of what we had seen on our winter walk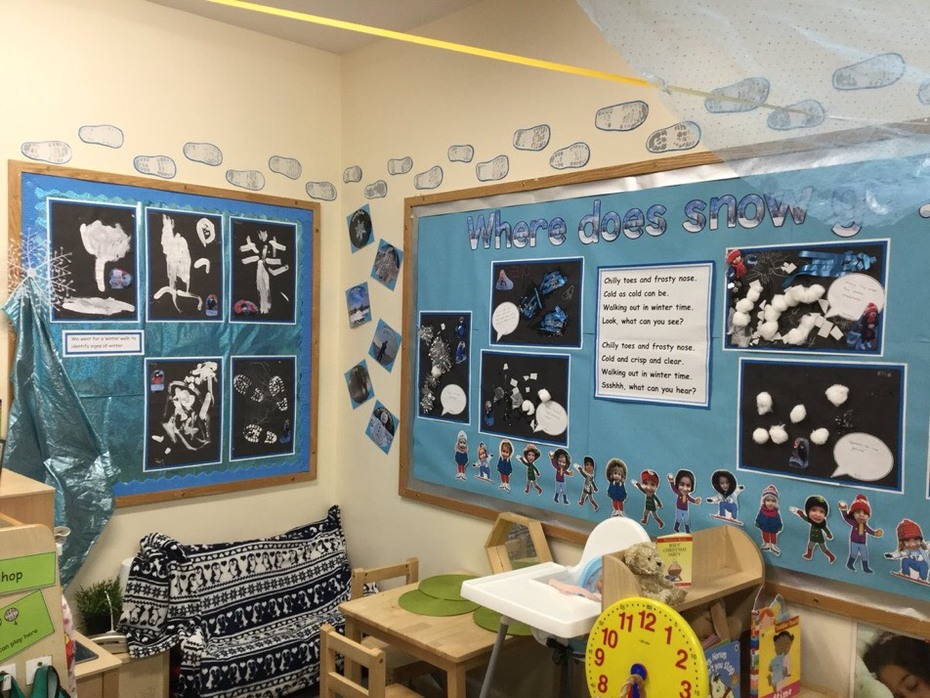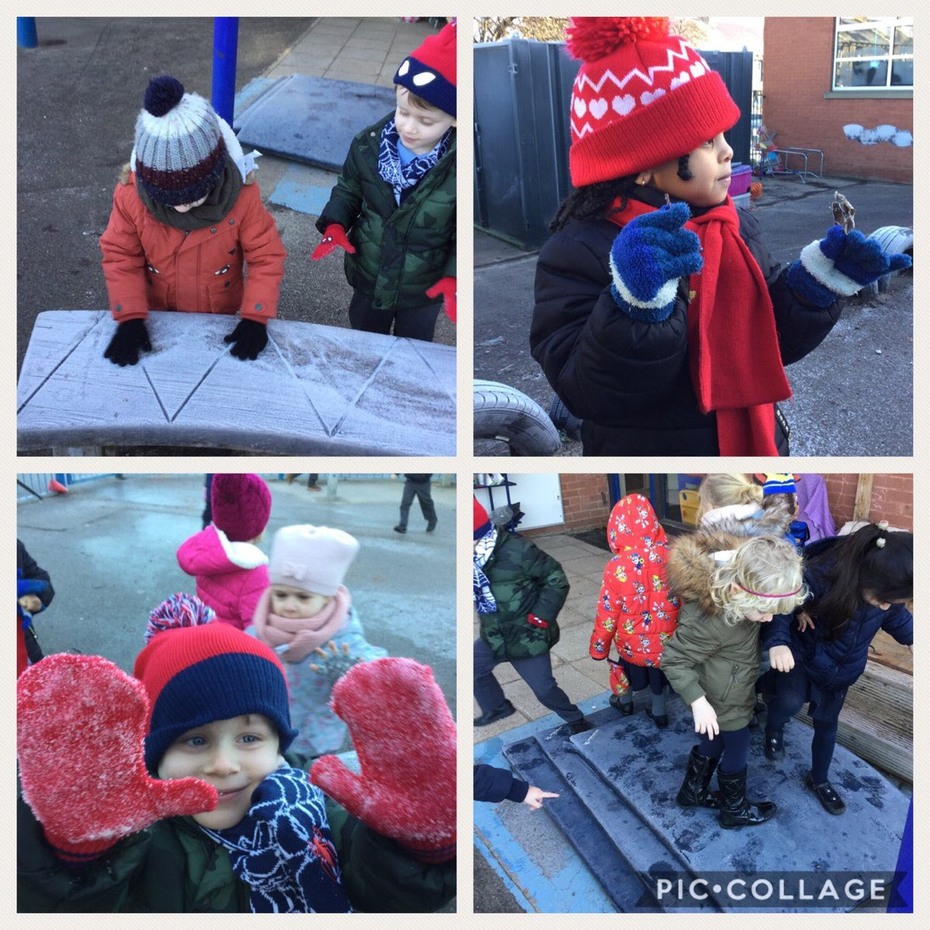 Spring Term 2018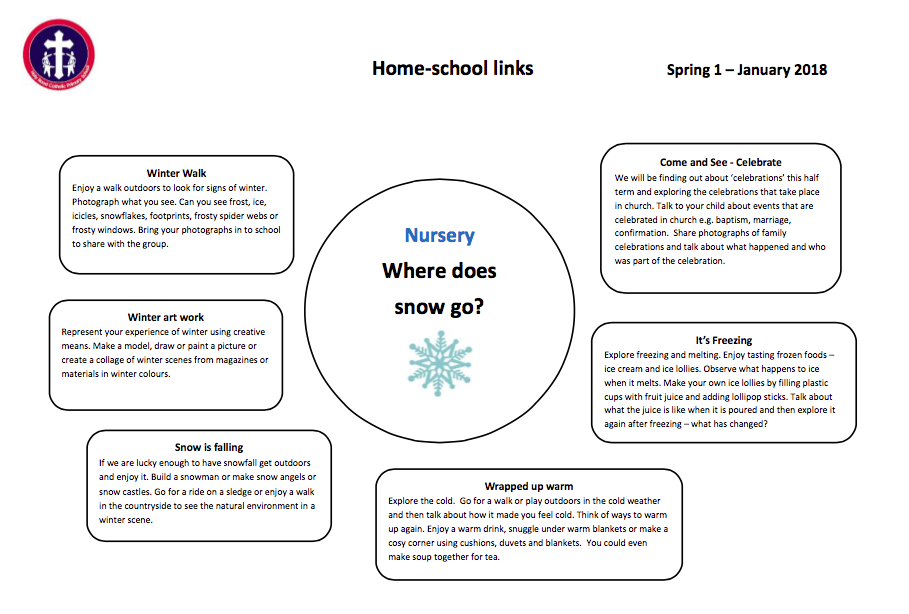 Autumn 2 2017
21.12.17 Our visit to Santa at Cannon Hall Farm
Today we visited Cannon Hall Farm. We were shown around the farm by 'Farmer Kate'. We were very lucky to see baby piglets and a baby calf and to feed some of the animals through the feeding tubes. The children listened well and were very well behaved. We had the opportunity to stroke a guinea pig and a giant rabbit and we were all very gentle. We then enjoyed a tractor trailer ride around the farm. We ended the visit with a Christmas sing-along with Santa's elves and were very surprised when Santa came down the chimney with a gift for everybody. A very enjoyable and memorable visit. Thank you to everyone who accompanied us on this occasion.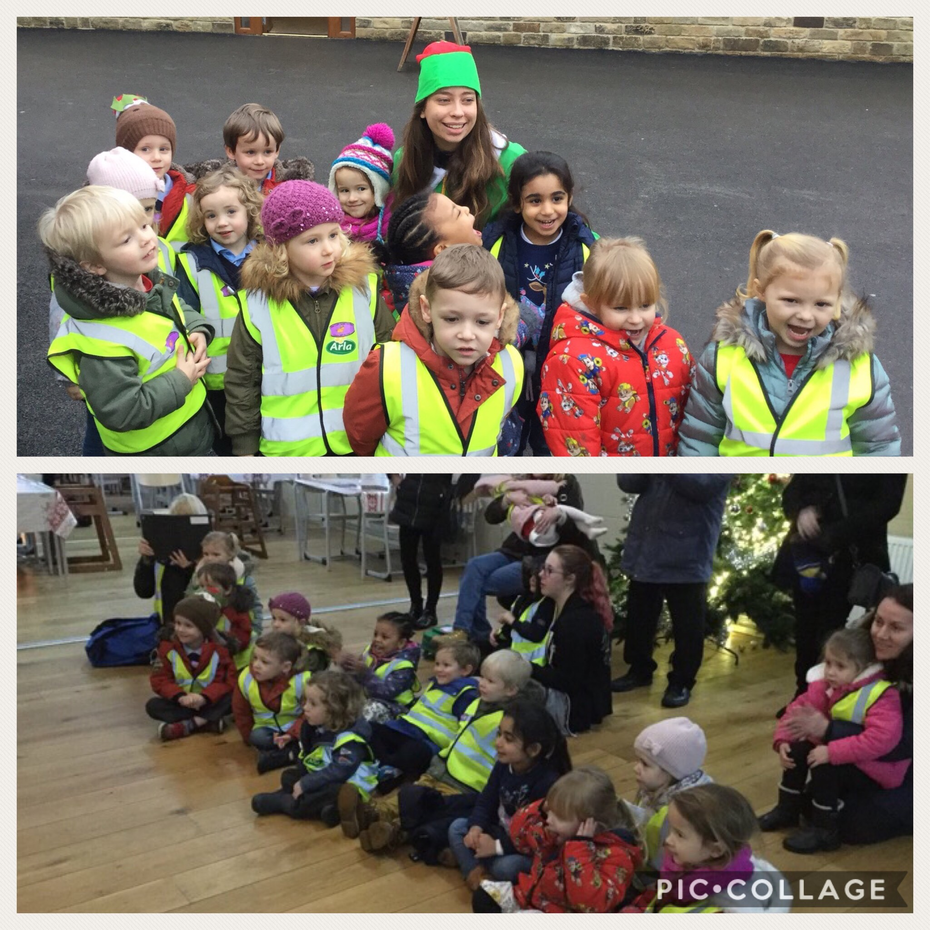 20.12.17 Four Advent Stars - Challenge complete
The children have worked so hard over the past three weeks to prepare their hearts to welcome baby Jesus. They all got 4 stars on their Advent dusters . Well done everyone. We are so proud of you.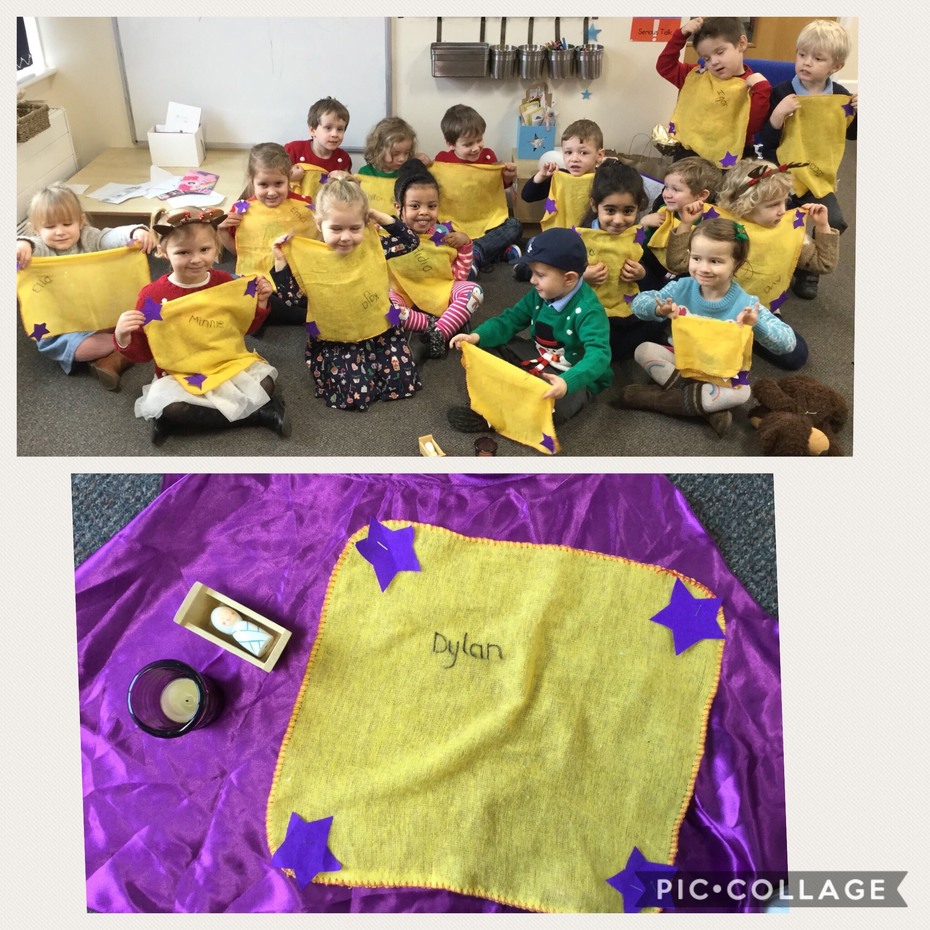 06.12.17 Our Advent Challenge
The season of Advent is now upon us and we are getting ready to welcome a new baby. The children have an Advent duster each. They are familiar with the act of 'dusting their heart' as we make this part of our weekly liturgies. The children are now using these dusters as they get their hearts ready by being gentle, helpful, kind and by doing their best. We will observe the children doing this and the aim is for them to collect 4 stars on their duster. Good luck everyone!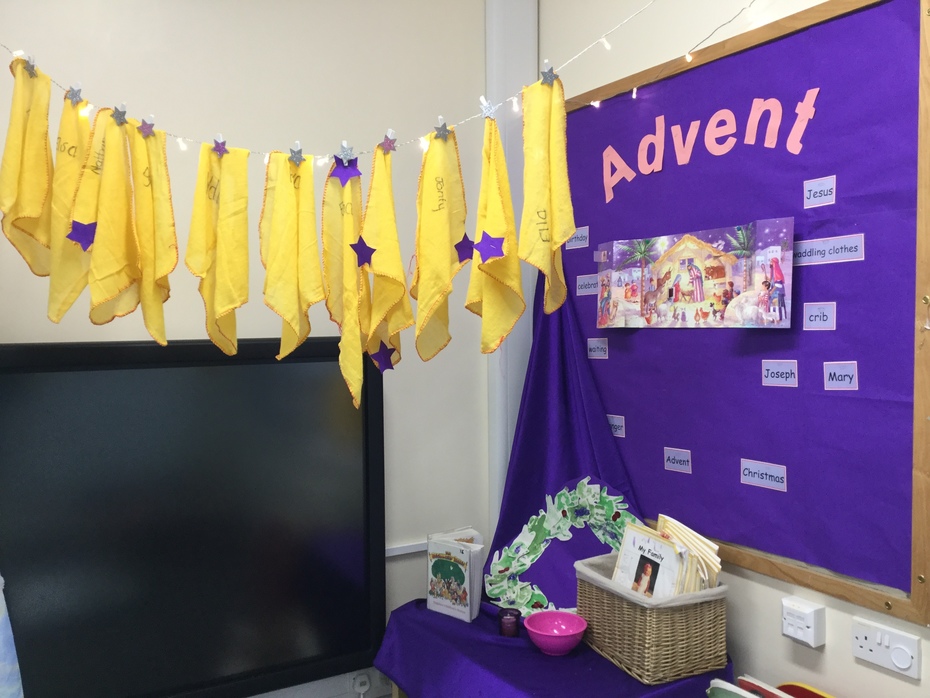 17.11.17 Stay and Play - Sponsored sing-along
Today the children performed for their families as we lead a sponsored sing-along to raise money to
'send us to see Santa'
The children worked hard to learn a series of songs linked to our current theme. They did a fantastic job and were very brave singing for an audience. Thanks to the generosity of our families we raised an amazing £172 towards our Christmas trip to see Santa. Thank you so much to everyone who contributed.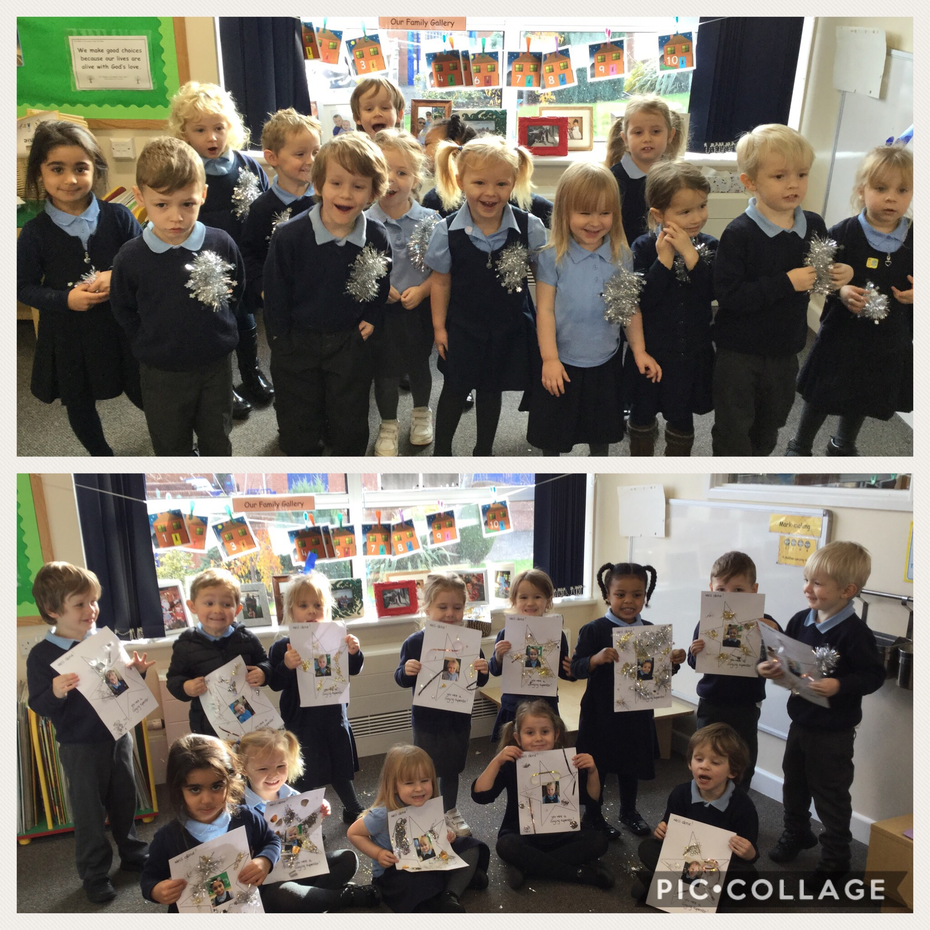 17.11.17 How to mend a broken star
Our beautiful shiny stars were left hanging from a dark sky yesterday. When we came in to nursery today we discovered that they had fallen from the sky and had broken, just like Laura's Star. We matched up the broken pieces and took them to our 'star repair shop'. The children used a variety of tools and materials to join the pieces and mend their broken star. Fantastic problem solving, well done everyone.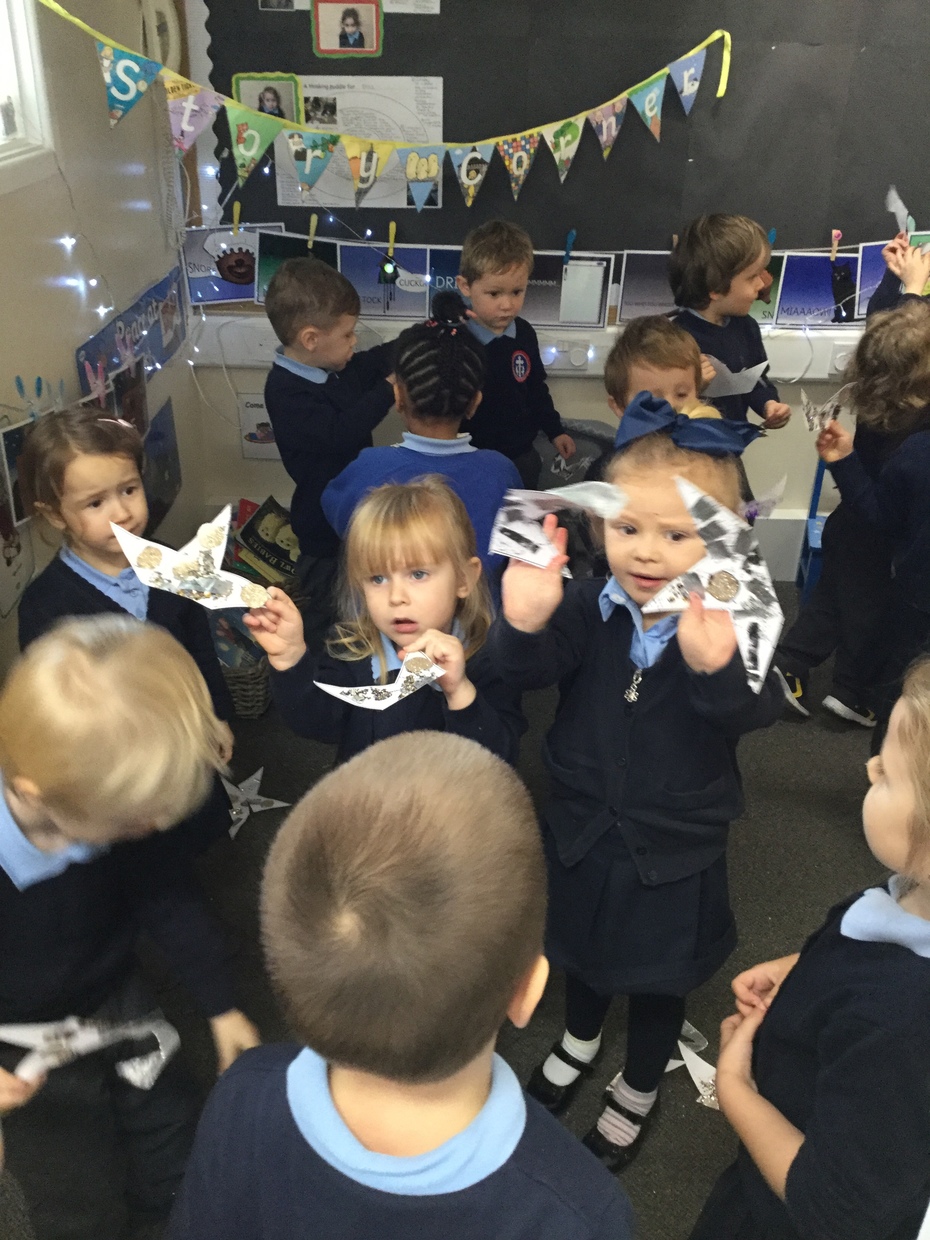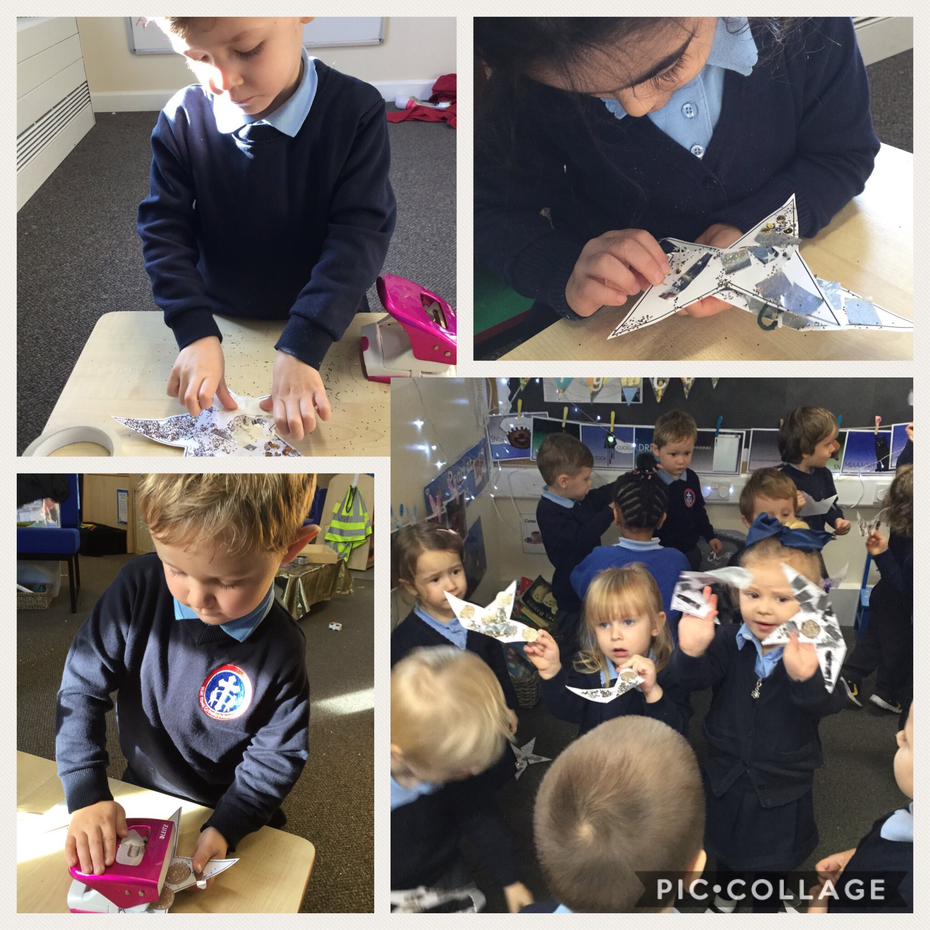 16.11.17 Laura's Star
We read the story 'Laura's Star'. We discovered lots of white stars and decided that they should be shiny like Laura's Star. The children used a variety of media to make the stars shiny.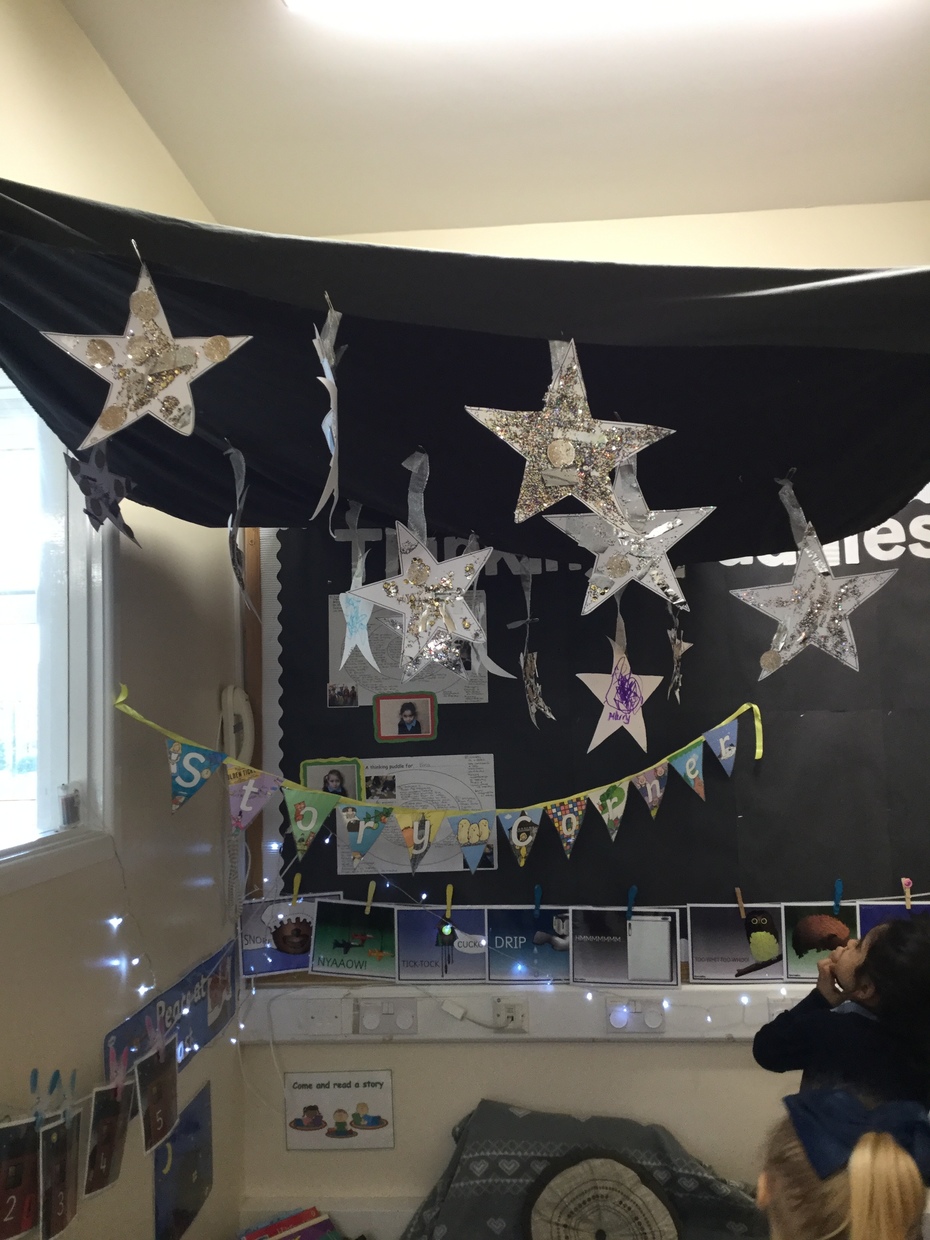 09.11.17 It is dark now
We will be exploring dark and light this half term through our focus 'Is It Shiny?'
We came in to nursery to discover that it was dark. The windows were covered with black paper. We couldn't see out and the light couldn't get in. We thought about how we could let the light in and we decided to make holes. The children explored a variety of tools and techniques for making holes. We snipped, pierced, poked and punched holes in the paper. When we put them back up at the window we were amazed as we had created a starry sky!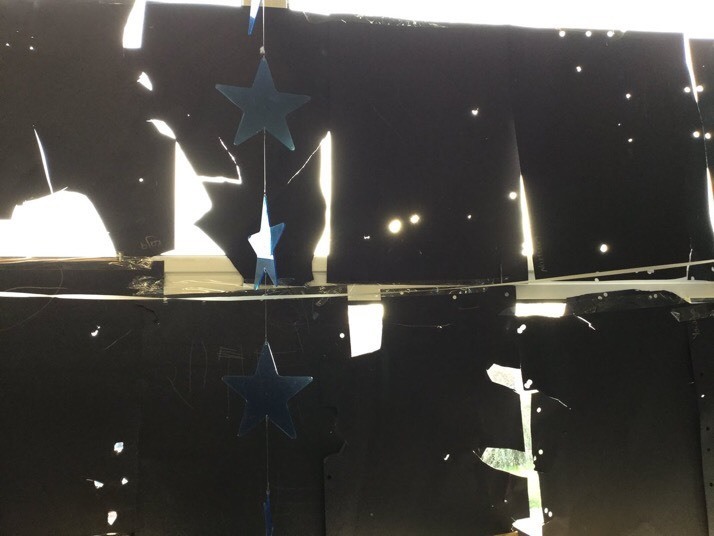 Autumn 1 2017
27.10.17 Our Autumn Lanterns
The children and their families were set a challenge to create an autumn lantern. We were delighted by the response.
It is getting colder now as winter is on its way. We wrapped up in warm blankets and enjoyed toast and hot chocolate by the warm glow of our lanterns.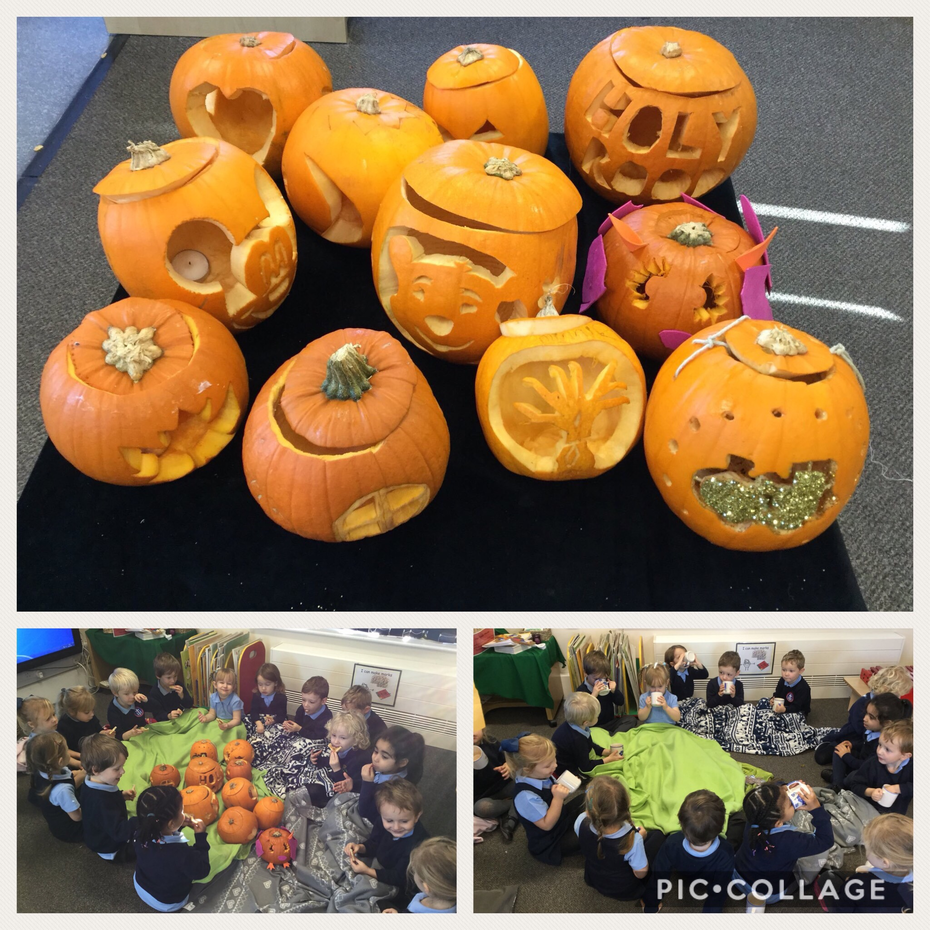 27.10.17 Timed Challenge number 4
The final timed challenge that the children attempted this week was to use scissors to cut strips of paper. This required coordination and physical control. We have been very impressed by how the group have approached these challenges this week. They have demonstrated their ability to maintain focus for a period of time, showing high levels of engagement and paying attention to detail. Well done everyone.
Challenge 4 - to cut...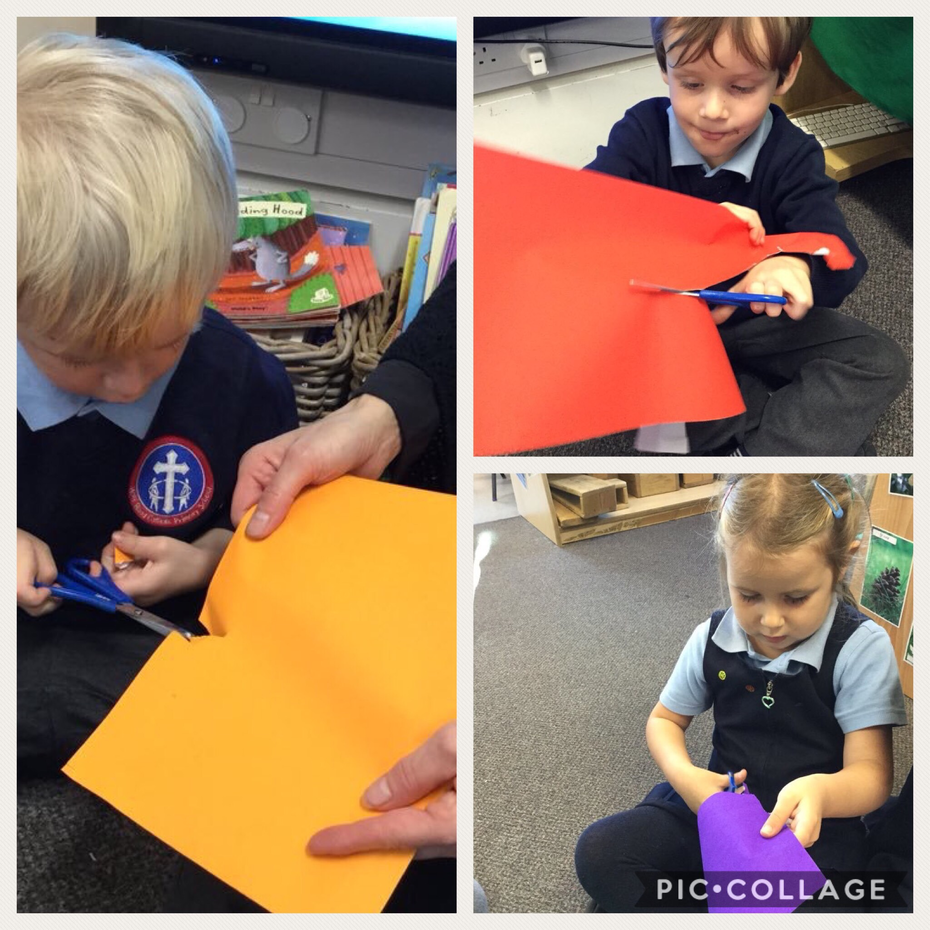 26.10.17 Timed Challenge number 3
Today the children were challenged to control a mark-making implement in order to carefully trace the initial letter shape from their name. The children had to work slowly and carefully to follow the lines and this required concentration and control.
Challenge 3 - tracing...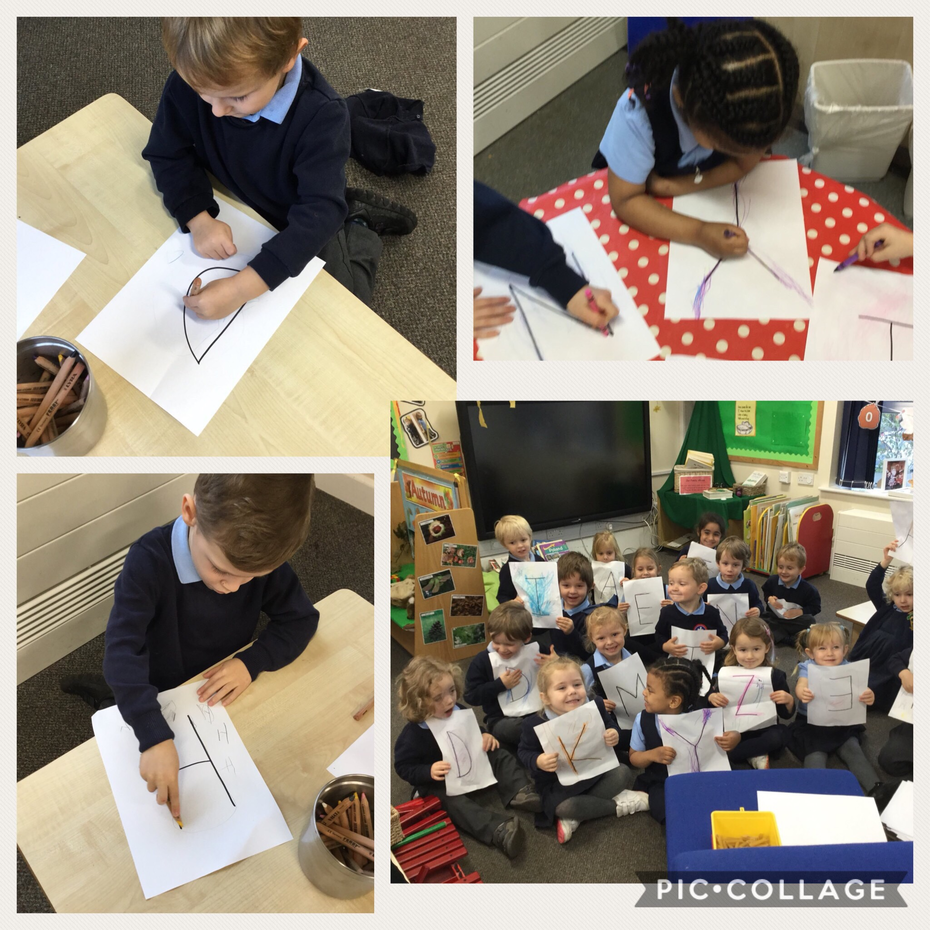 25.10.17 Timed Challenge number 2
The second of our series of timed challenges. This one is focused on hand-eye coordination and fine motor control, while again encouraging focus and concentration.
Challenge 2 - to thread...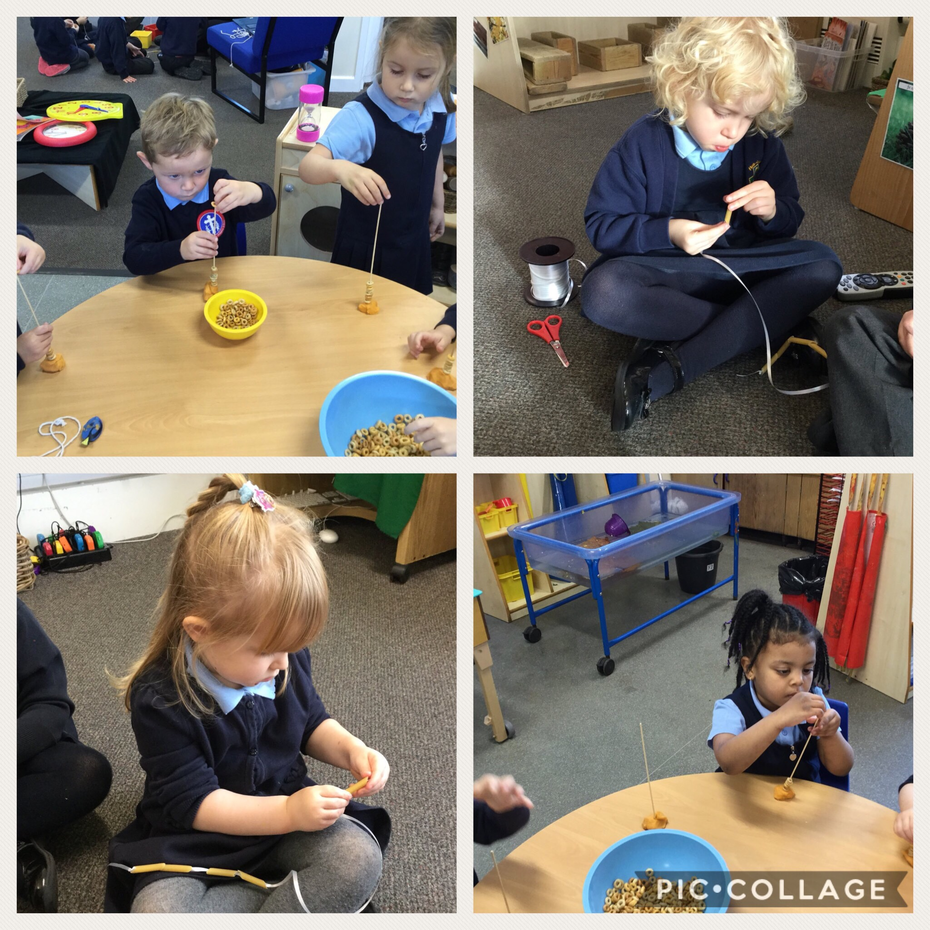 24.10.17 Timed Challenge number 1
We have been exploring time as we have looked at day and night and our daily routines. To extend this we are now looking at units of time. We have set the children a series of timed challenges this week where they will be set a specific task to complete in 3 minutes. These tasks are also designed to encourage the children to maintain focus and stay on task for a short time.
Challenge 1 - to build a tower...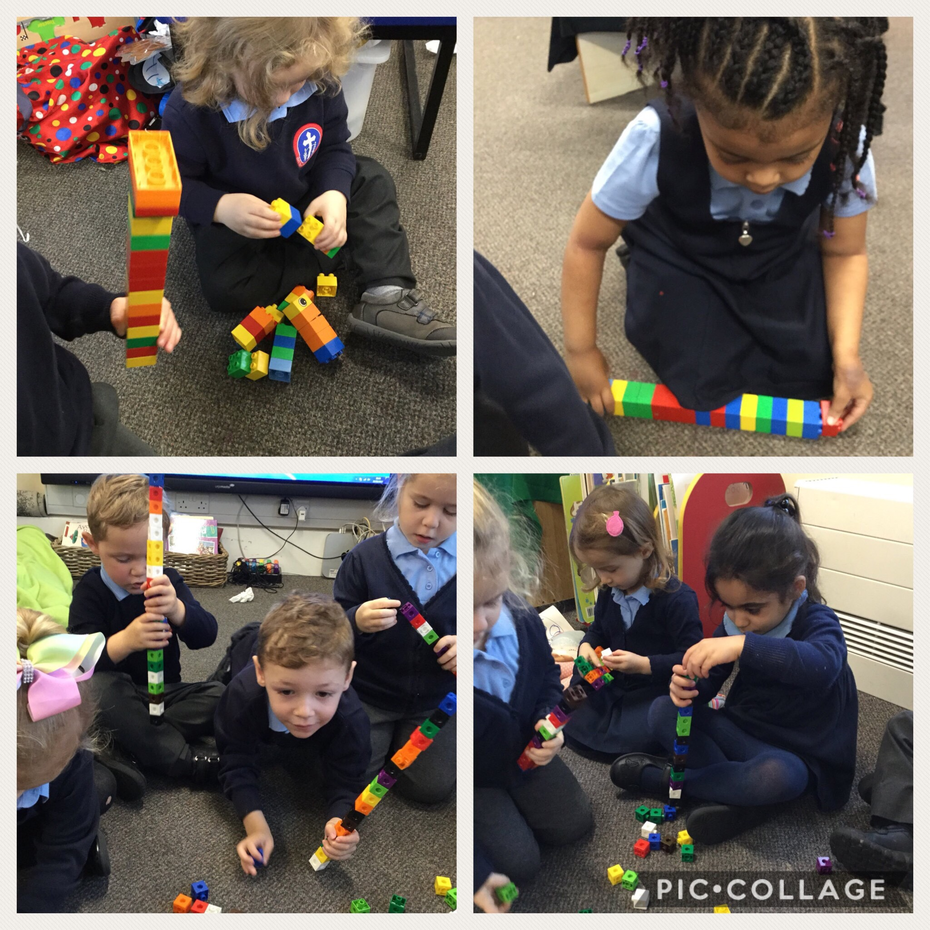 16.10.17 Look what we did at Locke Park
Following our visit to Locke Park the children represented their experience through mark making. Some children drew maps, others drew a picture of what they did at the park or the treasures they found. They had so much to say. We are very proud of how they recalled this very memorable experience.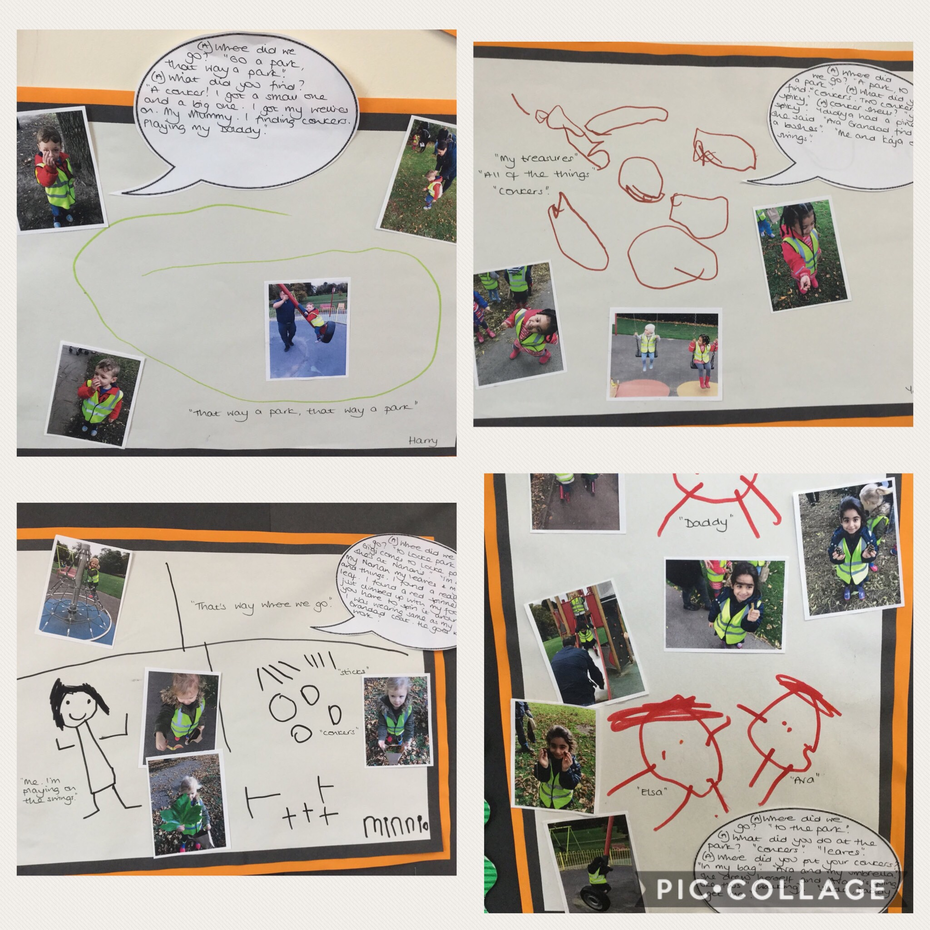 11.10.17 Our Autumn Walk to Locke Park
Today we had our annual walk to Locke Park to explore the season of autumn. We looked at environmental changes during autumn and the children collected lots of autumn treasures. The children's behaviour was impeccable and we were so proud of them. Thank you to all of the adult helpers who accompanied us on this local walk and kept the children safe and engaged.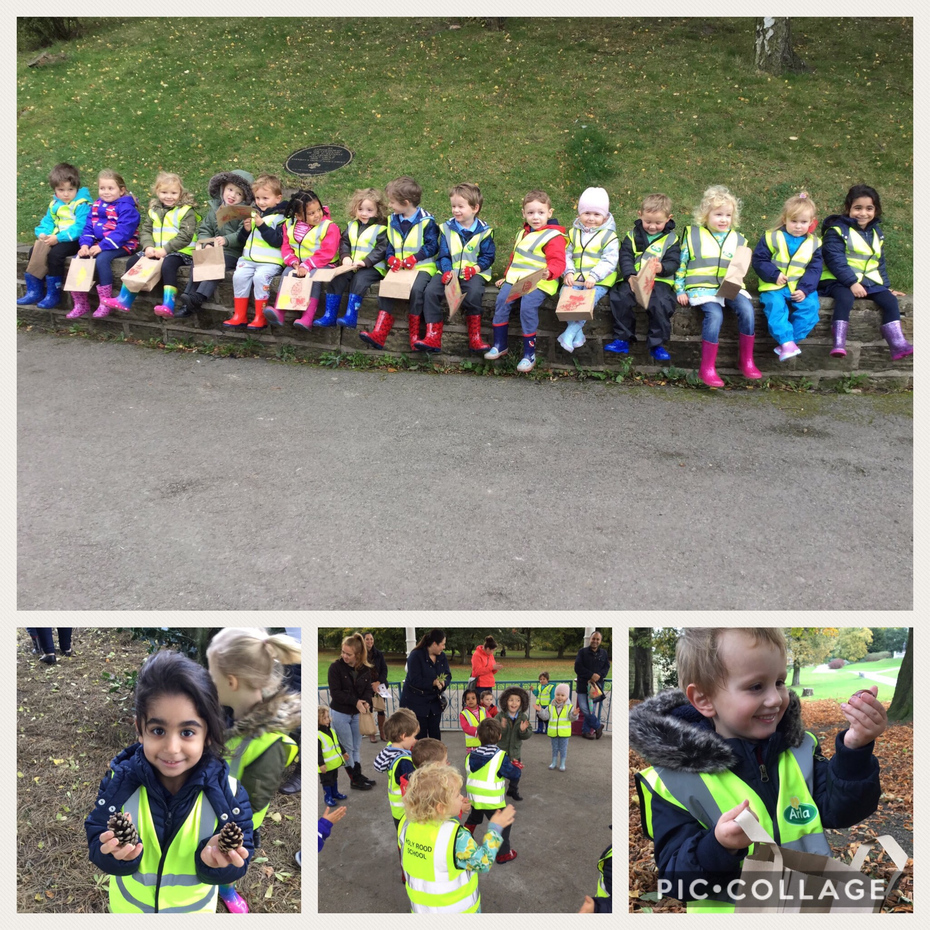 03.10.17 Stay and Play - Autumn Crafts
Today our Mums and Dads, Grandmas and Grandads joined us for a 'Stay and Play' session. We had a short family liturgy and then enjoyed a variety of craft activities with an autumn theme. Thank you to everyone who took part. The children thoroughly enjoyed sharing their nursery experience with you.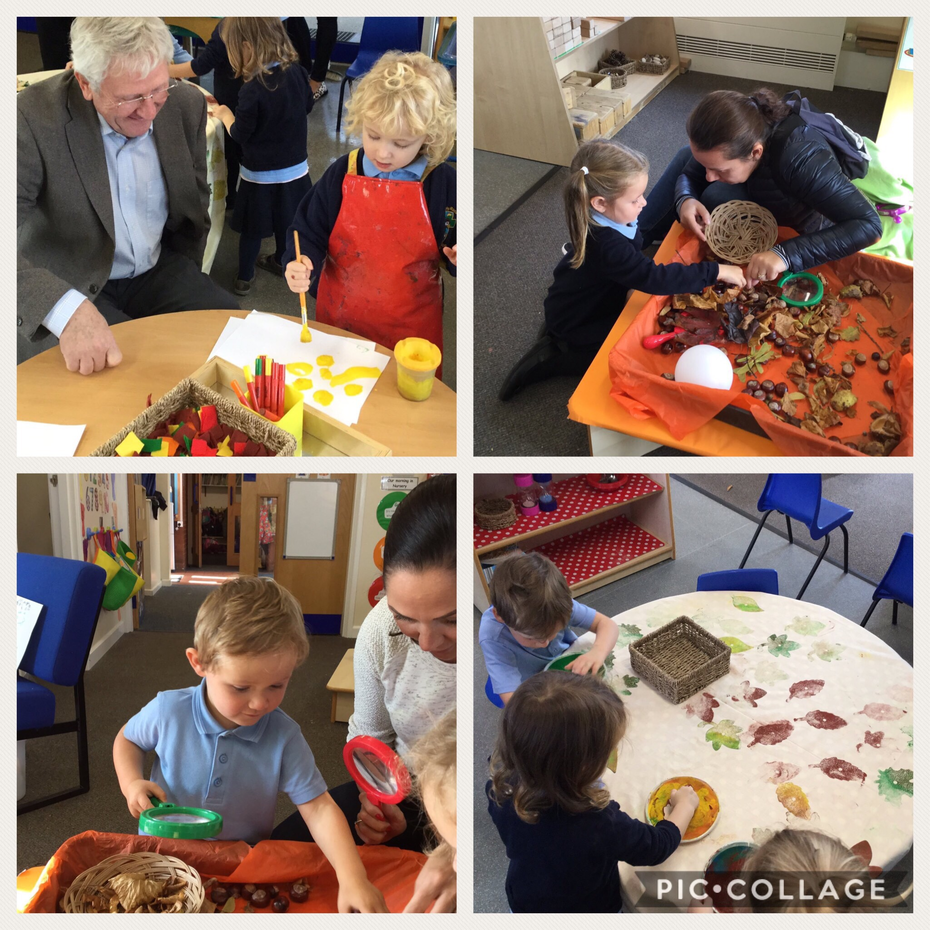 18.09.17
We are thinking about our families and the people who love us. We drew pictures and made playdough families. Thank you to everyone who brought in a family photograph. We have created a family gallery,of which the children are very proud.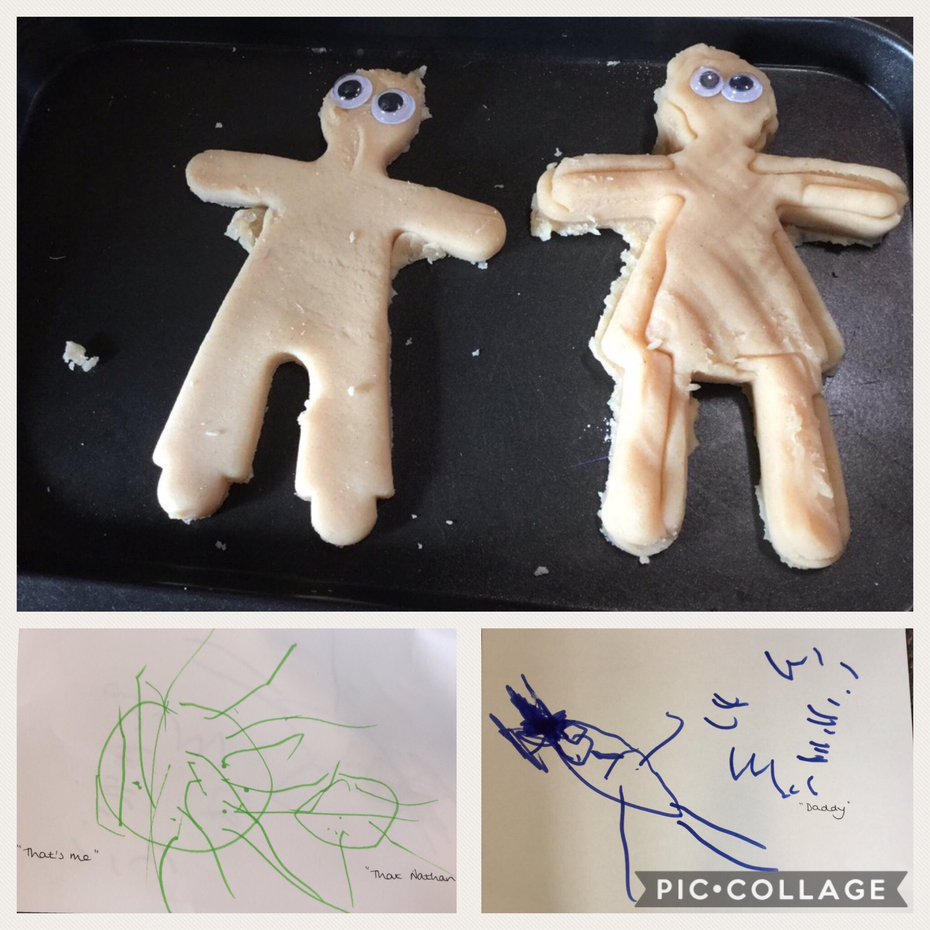 13.09.17 All About Me
We are finding out all about ourselves. We began by exploring faces. We looked at our faces in mirrors. We used the iPad to photograph our faces and we then made faces using a variety of objects.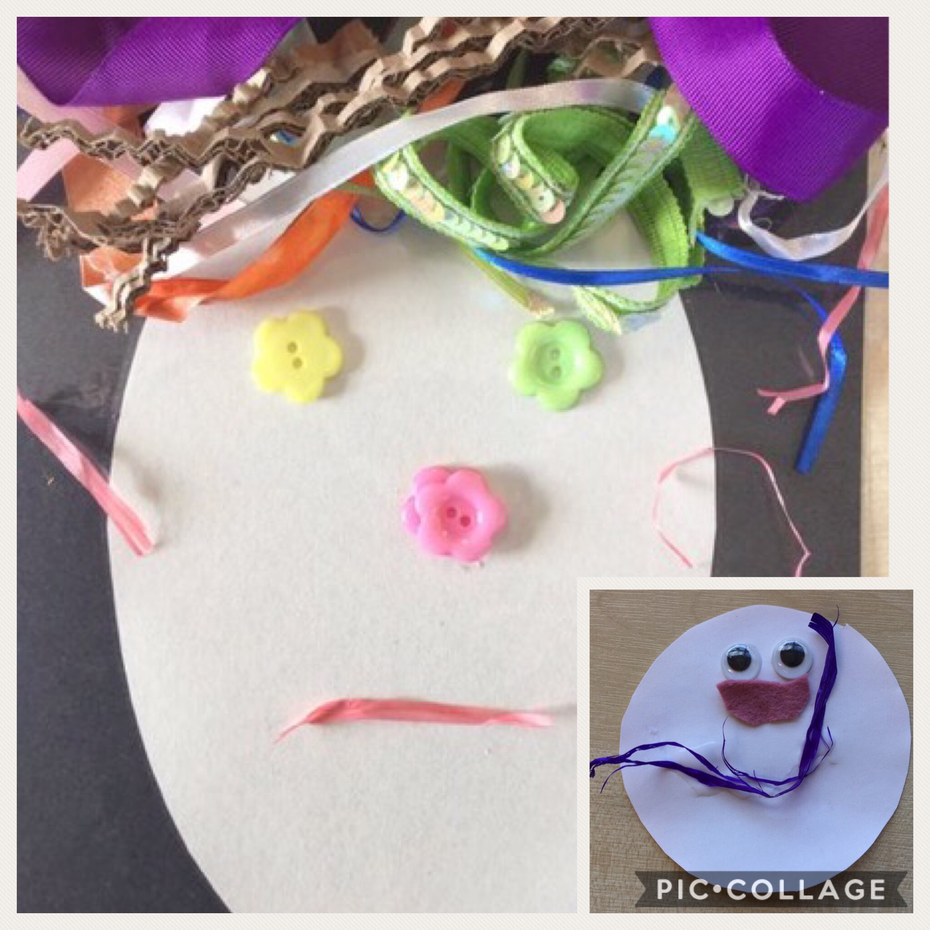 Welcome back. We hope you have enjoyed a lovely summer with family and friends and are now ready for a new school year. We have some young children joining our nursery for the first time this half term.
We would like to welcome:
Zofia, Dalton, Minnie, Igor, Jacob, Amelia, Ella, Jonty, Harry, Rishwan and their families.
We would like to thank you all for entrusting your children to us for the coming school year. We are looking forward to working closely with you and we will do our best every day to be your child's guide in learning and exploring the world around them.